Movie Review
Northwest Passage
MIGHTY DRAMA OF THE SAVAGE FRONTIER!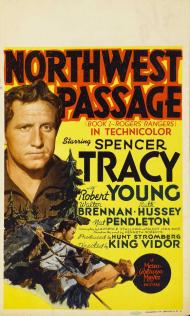 US Release Date: 02-20-1940
Directed by: King Vidor
Starring
▸
▾
Spencer Tracy

,

as

Maj. Robert Rogers
Robert Young

,

as

Langdon Towne
Walter Brennan

,

as

'Hunk' Marriner
Ruth Hussey

,

as

Elizabeth Browne
Nat Pendleton

,

as

'Cap' Huff
Louis Hector

,

as

Rev. Browne
Robert Barrat

,

as

Humphrey Towne
Lumsden Hare

,

as

Lord Amherst
Donald MacBride

,

as

Sgt. McNott
Isabel Jewell

,

as

Jennie Coit
Douglas Walton

,

as

Lt. Avery
Addison Richards

,

as

Lt. Crofton
Hugh Sothern

,

as

Jesse Beacham
Regis Toomey

,

as

Webster
Montagu Love

,

as

Wiseman Clagett
Lloyd Bridges

as

Uniformed Soldier / Officer
Reviewed on:
July 19th, 2012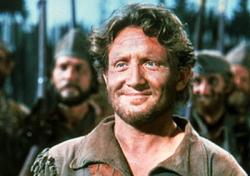 Spencer Tracy as Major Robert Rogers in Northwest Passage.
Northwest Passage is a big budget Technicolor historical epic from MGM. It hit theaters early in 1940 but was filmed during that most magnificent of all movie years, 1939. Based on the bestselling 1936 novel by Kenneth Roberts, starring Spencer Tracy, Robert Young, Walter Brennan and Ruth Hussy, and directed by King Vidor. It was shot mostly on location in Oregon and Idaho and features some spectacular Technicolor vistas in vivid shades of mountain greenery, silvery rapids, and towering blue skies.
The movie follows the first half of the novel. A sequel was originally planned but never happened, all of which makes the title a bit of a misnomer since the movie ends with the men heading out in search of the elusive titular water route across North America.
The story opens in 1759. Robert Young is a young man just expelled from Harvard. He returns to Portsmouth, New Hampshire where he proceeds to get in more trouble. After a tavern brawl he runs away with a friend (Walter Brennan) and soon crosses paths with the famous Major Robert Rogers (Spencer Tracy). The two men join Rogers' Rangers and adventure of the first order ensues.
Northwest Passage has been justifiably criticized for its depiction of Native Americans. For the most part they are presented as blood thirsty savages. There is one particularly offensive scene where Rogers tries to awaken a drunken Indian (played by a white man in red face). It's a bit uncomfortable to watch. It can be argued, however, that the film is merely representative of the prevailing attitudes of the historical period in which it takes place. At any rate it's a blemish on an otherwise flawless motion picture.
The action is plentiful. There is one scene that really stands out. Rogers' Rangers attack an Indian village at dawn after the natives have been drinking fire-water all night. They rampage through the village, shooting their muskets, lighting fires and engaging in exciting hand to hand combat utilizing tomahawks. It clearly cost a pretty penny to shoot this scene as it rivals the burning of Atlanta for sheer scope. It is easily one of the most impressive action sequences made during the classic studio era.
In another, nearly as impressive scene, the men make a human chain across raging rapids in order to cross a river. It was filmed with the faces of the men clearly visible so no stunt doubles were used. Some of the scene was filmed in a studio water tank but, like the majority of the movie, most of it was shot on location.
Another scene stands out for its grisly content. One of the Rangers goes mad and creeps around laughing maniacally while clutching an unknown object in his knapsack. He taunts the others by saying if they were smart they wouldn't have to eat parched corn. He then scurries off behind a large rock. Major Rogers follows and comes across him gnawing on the head of an Indian. It isn't graphically shown but it still manages to be quite a shocking scene, especially for 1940.
Northwest Passage is a stunningly gorgeous movie. The Technicolor cinematography was nominated for an Oscar but lost to the equally classic The Thief of Bagdad. It makes me wish more old movies had been shot in color. B&W cinematography was fine for film noir, screwball comedies and melodramas, but westerns and other action adventure movies really benefit from color. Northwest Passage is a classic case in point. It's an MGM adventure extravaganza made while Leo still had his roar.
Photos © Copyright Metro-Goldwyn-Mayer (MGM) (1940)