Movie Review
National Velvet
"The Story of a Girl and Her Horse."
US Release Date: 12/14/1944
Reviewed on:
December 14th, 2001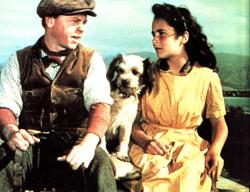 Mickey Rooney and Elizabeth Taylor in National Velvet.
Shot in vivid Technicolor and directed by the legendary Clarence Brown, National Velvet remains one of the most beloved children's movies ever made. This is the role that made twelve-year-old Elizabeth Taylor a star. She gives a heartfelt performance as young Velvet Brown who wins the beautiful and high-spirited horse Pie in a local lottery contest. After meeting wandering opportunist Mi Taylor (Mickey Rooney) she becomes obsessed with entering Pie in the Grand National, England's most prestigious horse race. Of course she (famously) winds up riding Pie in the race herself, disguised as a boy.
Elizabeth Taylor exudes a girlish innocence mixed with iron-willed determination and a deep passion for her beautiful steed. Her blazing intensity (not to mention those amazing violet eyes) coupled with an early feminist theme makes this rather ordinary story memorable.
Donald Crisp and Anne Revere play Velvet's parents and Angela Lansbury is her older sister Edwina. But make no mistake this is Elizabeth Taylor's movie from start to finish. Her radiant smile and infectious enthusiasm will have you cheering along as this saga of a girl and her horse unfolds. Mickey Rooney gives one of his best performances as well.
National Velvet is heartwarming family fare like they don't make anymore. Parents of young girls are forewarned: this movie has been known to cause insatiable yearnings for a pet horse.
Did you enjoy Patrick's review?

+18
You may only thumbs up a review once.
Photos © Copyright MGM (1944)
Related Review