Movie Review
The Narrow Margin
"NIGHT TRAIN WEST - LOADED WITH SUSPENSE!"
(0)
Reviewed on:
October 17th, 2009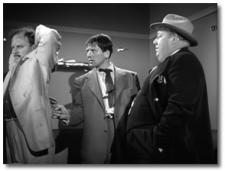 This is one taut thriller.
This is one taut thriller. It begins in Chicago at night. Two detectives have arrived to escort the widow of a gangster to the D.A. in Los Angeles. The action kicks off within the first few minutes and the tension never lets up. The hit men after the widow don't know what she looks like. Thus begins a game of cat and mouse that takes place almost entirely on a train. If you've never seen it, this is all the information you want.
For those unfamiliar with film noir this picture makes a great introduction. It features all of the classic elements. A man and a woman on a dangerous journey together; mistaken identities and lots of shadows. The Narrow Margin uses sound in a brilliant manner, especially the various noises of the train. The dialogue is stark and dramatic.
Charles McGraw is superb as the tough-as-nails Detective Walter Brown. His gruff speaking voice, stocky build and none to pleasing mug are just what the part called for. He barks out lines like "Shut up!" and "You're off your stick - way off." The rest of the cast are equally impressive.
Today's directors could learn a thing or two by studying the work that Richard Fleischer did here. This movie is only 72 minutes long and there isn't a wasted shot. The action is realistic and never over-the-top. It has thrills as well as heart and is cleverly shot. To the point that the train becomes another character. I realize I am gushing but I honestly can't find fault with this picture in any way. Check it out for yourself if you don't believe me.
Did you enjoy Patrick's review?
+
14
You may only thumbs up or thumbs down a review once.
Reviewed on:
July 8th, 2013
Charles McGraw and Marie Windsor in The Narrow Margin.
This tight little thriller was shot in just two week on a budget of roughly $200 thousand. It was one of RKO's most profitable pictures. Howard Hughes, then owner of RKO, enjoyed the film so much that he kept it from being released for 18 months as he pondered whether or not to remake it as an A-picture. It would eventually get remade as such, but not for almost 40 more years with Gene Hackman and Anne Archer in the lead roles. Unlike the original that remake was generally considered a disappointment.
As Patrick wrote, the film takes place almost entirely onboard the train. This creates an often claustrophobic atmosphere that director Richard Fleischer makes good use of. His camera follows his characters up and down the corridors and into state rooms. Accompanying the action is the constant sound of the train, which is the film's only soundtrack as the film is completely devoid of background music. You can see the influence of this film in later movies on a train, such as 1976's Silver Streak. You can also detect its influence on several of the James Bond novels such as Live and Let Die and From Russia with Love.
The acting is generally good with McGraw making a particularly good no-nonsense, tough guy cop. He doesn't so much speak his lines as growl them. Marie Windsor is also excellent as the femme fatale. You can feel the heat between her and McGraw even as she spits and claws at him like a wildcat. Jacqueline White seems downright dull by comparison as the "good girl".
Although the film is highly enjoyable, there are some dubious plot holes. They are impossible to discuss without giving away the ending, which comes with a twist, but suffice to say that with hindsight not all of the action makes sense. There are plenty of opportunities for Sgt. Brown to take a different action than he does, but always fails to do so. These moments don't really take away the fun of the film, but they are there if you want to look.
Not a completely perfect film, but definitely an entertaining one.
Did you enjoy Scott's review?
+
4
You may only thumbs up or thumbs down a review once.
Photos © Copyright RKO Radio Pictures (1952)