Movie Review
Nanny McPhee
"You'll Learn To Love Her. Warts And All."
(0)
Reviewed on:
January 28th, 2006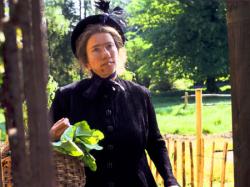 Emma Thompson in Nanny McPhee.
Nanny McPhee clearly demonstrates several cultural differences between Britain and America. In so many American movies, unruly children are rewarded for their unruly behavior whereas in British films, like this one, the children learn the value of discipline. On the flip side to that, this movie also clearly demonstrates the stronger role that class plays in Britain than it does here in the United States.
The movie centers on a widower, Cedric Brown (Firth), and his children who seem to be living in Victorian England (although a time period is never specifically given and there does seem to be electric lights). Since the death of their mother, the children have run wild, driving a total of 17 nannies from their home. Their father, who has only been able to support them with the financial assistance of his dead wife's aunt is ineffectual at raising them and is far more concerned with finding a new wife since that same aunt has decreed that either he remarry within a month or be cut off from her money.
When the local nanny agency refuses to hire him anymore nannies a mysterious and quite hideous looking woman appears at the Brown's doorstep, proclaiming herself to be Nanny McPhee (Emma Thompson), the children's new nanny. Through magic and the simple virtues of paying attention to them and not taking any guff off of them, Nanny McPhee quickly brings the children under control. However, it will take more than her magic to stop Cedric from marrying the hideous Selma Quickly and to make him instead notice Evangeline, the scullery maid, who is right under his nose and is obviously the perfect candidate for new wife and mother to the children.
Thompson also wrote the screenplay and it is thanks to her writing that the movie is as good as it is. Each of the children is given an established and distinct personality despite the limited amount of screen time given to each of them. And although some of the humor is quite silly and I'm afraid to say does include a food fight near the film's climax, this movie is after all, intended for the whole family and the younger children in the audience I saw this with seemed to enjoy the moments of slapstick.
Surprisingly and despite the title and the fact that she wrote it, Thompson limits her own time on screen. Her magical and mysterious nanny figure is never fully explained or rationalized, which leaves her an intriguing character and made me want to know more about her. Her time with the family is limited by her explanation that, "So long as you need me, but do not want me, I will stay. But when you want me, but no longer need me, I must go." And every time the children learn something from her, her appearance changes for the better. So at the beginning of the film, she is covered in warts and hair, but by film's end, she is transformed into the Emma Thompson we are all familiar with.
It's impossible to watch Nanny McPhee without drawing comparisons to that other British nanny, Mary Poppins, and while Nanny McPhee will never be considered a classic at the same level as that one, it is a light-hearted and enjoyable little film.
Did you enjoy Scott's review?
+
0
-
0
You may only thumbs up or thumbs down a review once.
Photos © Copyright Universal (2006)