Movie Review
The Muppet Movie
"More entertaining than humanly possible"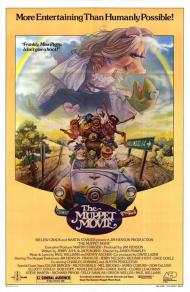 US Release Date: 06/22/1979
Directed by:James Frawley
Starring
▸
▾
Jim Henson

,

as

Kermit the Frog/Rowlf/Dr. Teeth/Waldorf/Swedish Chef
Frank Oz

,

as

Miss Piggy/Fozzie Bear/Animal
Jerry Nelson

,

as

Floyd Pepper/Robin the Frog/Crazy Harry/Dr. Bunsen Honeydew
Richard Hunt

,

as

Scooter/Statler/Janice/Beaker
Charles Durning

,

as

Doc Hopper
Austin Pendleton

,

as

Max
Edgar Bergen

,

as

Himself
Milton Berle

,

as

Mad Man Mooney
Mel Brooks

,

as

Professor Max Krassman
James Coburn

,

as

El Sleezo Cafe Owner
Dom DeLuise

,

as

Bernie the Agent
Elliott Gould

,

as

Beauty Contest Compere
Bob Hope

,

as

Ice Cream Vendor
Madeline Kahn

,

as

El Sleezo Patron
Carol Kane

,

as

Myth
Steve Martin

,

as

Insolent Waiter
Richard Pryor

,

as

Balloon Vendor
Telly Savalas

,

as

El Sleezo Tough
Orson Welles

,

as

Lew Lord
Paul Williams

,

as

El Sleezo Pianist
Cloris Leachman

,

as

Lord's Secretary
Scott Walker

as

Frog Killer

Reviewed on:
June 24th, 2009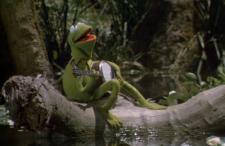 Some day, maybe we will find it.
The Muppet Movie came out 30 years ago. Wow, that makes me feel old. I remember watching it multiple times as a young boy and loving it. After rewatching it today, I found that my love for this movie hasn't dimmed all that much. I was still able to watch it with nearly the same sense of boyish wonderment as I did so many years ago. It holds up very well.
In plot, the movie is a road picture. Kermit is sent on his way to Hollywood by an agent who visits his swamp. Along the way Kermit meets Fozzie, Miss Piggy, Gonzo and all the other muppets. Adding tension is Doc Hopper, the owner of a chain of Frog's Legs restaurants who wants Kermit to be his spokes-frog. Kermit and co. go through all sorts of adventures, meet lots of different people and sing lots of songs along the way. Although Hollywood is their destination, the journey is the real reward here.
What allows this movie to stand up so well after 30 years and what allows it to be entertaining to me now as well as then, is the smartly written script. There are jokes here that were over my head as a boy, some that I laughed at more then, and most that I laughed at then and still laughed at now. Part of the brilliance of the script is that although the lead characters are all Muppets, they behave like adults and not cutesy children's characters. They fall in love, they drive cars, they drink alcohol and they speak like grown-ups. They and the script never speak down to the children in the audience.
The movie is also loaded with famous cameo appearances. As with the Muppet Show before it, Jim Henson was able to attract celebrities seemingly with ease. Old-time Hollywood stars like Bob Hope, Orson Welles and Milton Berle are featured as well as more contemporary performers like Richard Pryor, Steve Martin and Madeline Kahn, among many, many others. Seeing them now meant more to me then it did as a kid, especially since so many of them have now passed on.
It is impossible to write about this movie without mentioning the songs. Kermit's song, "The Rainbow Connection", was nominated for an Oscar and deservedly so. We owned the soundtrack back then (on vinyl!) and I had it memorized. I was amazed to discover that without having heard any of the songs in over 20 years, that I still knew them by heart. Several tunes, particularly "The Rainbow Connection" are filled with a melancholy sense of longing that still managed to affect me. They're not all winners. Dr. Teeth's "Can you picture that" is a clinker, but that's about the only exception.
Along with the songs, I also remembered so many of the lines. Lines that I know my brothers will still remember as well. In fact, believe it or not, there are lines in this movie that I still quote, but had almost forgotten where they originally came from. I can't count the number of times that I've opened a bottle of something and said, "Don't you want to smell the bottle cap?" as Steve Martin says in this movie. How about Fozzie's line, "Patriotism swells in the heart of the American bear."? Gonzo's "You could get lost in a sky like that."? And can anyone who's seen this movie forget the response to "Bear left"?
Too often movies that we saw when younger just don't stand up to the test of time. Happily, this one does. It not only recalled the boyish wonderment that I felt while watching it all those years ago, but I enjoyed it through the eyes of a grown-up as well.
Did you enjoy Scott's review?

+21
You may only thumbs up a review once.
Reviewed on:
April 4th, 2011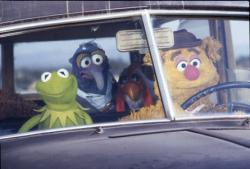 We picked up a weirdo.
"Right, Frog!" Yes this movie holds up well and filled me with nostalgia watching it for the first time in several decades. I agree with everything Scott wrote except that I even like Dr. Teeth's "Can You Picture That?" song.
I too found myself singing along, from the joyful up-tempo adventure song, "We're movin' right along, bumpeedum bumpeedum…" to Rowlf's musical complaint about the fairer sex, "I hope that something better comes along". I still love "Rainbow Connection" but was more moved this time by Gonzo's plaintive, "I'm going to go back there someday" sung under the stars in the desert.
The cameos are very impressive. This was the last screen appearance for Edger Bergen and Charlie McCarthy. Bergen died shortly after filming his scene and the movie carries an end credits dedication to him as he inspired Jim Henson's love for puppets as a child.

Scott you mentioned some of your favorite quotes, here are some of mine.
At the screening of the movie within a movie Sam the Eagle asks, "Kermit, does this film have socially redeeming value?"
Big Bird (after being offered a ride to Hollywood by Fozzie and Kermit): "Oh, no thanks. I'm on my way to New York City to try to break into public television."
Fozzie (upon opening the church door to find the Electric Mayhem members having a jam session): "They don't look like Presbyterians to me."
Miss Piggy (on phone with her agent): "Yeah Marty, whattaya got?"
And my personal favorite quote of them all comes after Gonzo explains his dream of going to Bombay, India to become a movie star. Fozzie quips to Kermit, "We picked up a weirdo."
From beginning to end this is a magical musical comedy. In terms of timeless appeal I would rank it with The Wizard of Oz and the original Willy Wonka. The final song goes like this, "Life's like a movie, write your own ending... Keep believing, keep pretending; we've done just what we set out to, thanks to the lovers, the dreamers, and you!" And thanks to the Muppets! Kermit, Fozzie, Miss Piggy, Gonzo, Animal, and all the rest, take a well deserved bow!

Did you enjoy Patrick's review?

+21
You may only thumbs up a review once.

Reviewed on:
April 19th, 2011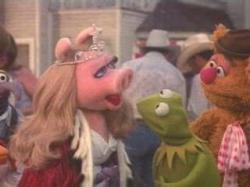 Gonzo, Miss Piggy, Kermit and Fozzy Bear.
Scott calls this a road movie and Patrick compares its appeal to The Wizard of Oz, the original road movie. In fact, The Muppet Movie is in some ways a remake of The Wizard of Oz. Both begin with the star singing a song about rainbows. They each take a journey, collecting friends along the way. Both have villains trying to interfere with their trip. Dorothy and company get to see the wizard and receive gifts while Kermit and company get to see the head of a movie studio and get a, "standard rich and famous contract."
Both of my brothers mentioned the diaologue and I love and remember all the lines. One of my favorite scenes from when I was a kid still put a smile on my face all these decades later. Mel Brooks, as the evil scientist, details what his machine will do to Kermit's brain, to a tied up Miss Piggy, "He won't know you from kosher bacon." The not-to-be trifled with egomaniac pork chop responds, "That does it! Hi-ya!" She then breaks lose and beats the crap out of everyone in the room.
My brothers also mention the songs written by Paul Williams. He was a huge success in the adult contemporary charts in the 1970s. He wrote the perennial wedding song "We've Only Just Begun", made famous by The Carpenters in 1970. He wrote "An Old Fashioned Love Song" for Three Dog Night in 1971. He won an Oscar with Barbra Streisand in 1977 for "Evergreen", the theme song for A Star is Born.
His songs for The Muppett Movie are spot on. "The Rainbow Connection" is a great, great song if you can just get past the fact that a felt frog is singing it. I watched this with my teenage sons and to my surprise neither walked out of the room. They both watched it all. My 15 year old even bopped his head along with "Movin Right Along." Thirty years old and still making new fans.
The Muppett Movie is a classic film, diminished only by inferior sequels and numerous television projects.
Did you enjoy Eric's review?

+16
You may only thumbs up a review once.
Photos © Copyright Henson Associates (1979)
Related Reviews