Movie Review
Mrs. Henderson Presents
"The show must go on, but the clothes must come off."
(0)
Reviewed on:
February 5th, 2006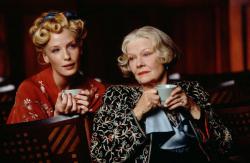 Judi Dench in Mrs. Henderson Presents.
Mrs. Henderson Presents is a very British movie. Filled with British pluck, repressed emotions and a nice amount of British humor, this is a movie that would have been very different had it been made in America.
Dame Judi Dench stars as the Mrs. Henderson of the title. Newly widowed in London of the 1930s, she buys a condemned theater on a whim. She hires Vivian Van Dam (Hoskins) to manage it for her and the two immediately begin a love/hate relationship that results in a musical revue that is the smash of the West End. But when the other theaters begin stealing their ideas and business goes down, Mrs. Henderson comes up with a new idea to pack the seats.
Her idea is to feature nude women in the show. However, since this was a time when such things were unheard of in legitimate theater, she must first get permission to be licensed for such a thing from the government. Fortunately Mrs. Henderson is quite well connected and after showing the Lord Chancellor a preview performance, he agrees to allow the nudity on one condition. The nude girls never move while on stage. This allows everyone to compare the nudity on stage to the nudity in a painting hung in a museum and thus it becomes art.
Although there is a fair amount of nudity in the movie, this is not a movie about sex or even really a sexy movie. The real story is about the eccentric Mrs. Henderson herself. As played by Judi Dench she is on the surface a rather flighty high society widow who is perhaps for the first time experiencing the unsheltered aspects of life and having fun while doing it. Her banter with Hoskins' Van Dam is the highlight of the film.
After World War II starts, Mrs. Henderson's nude review is the only show left running, in part due to the protests of the servicemen when the government tries to shut it down and in part to Mrs. Henderson's influence. "If we're going to ask our young men to give up their lives," she says, "The very least we can do is to show them a little joy before they do."
While this rather light-hearted movie might not seem the type of fare that generates Oscar nominations, Dame Judi's was fairly earned. Along with the comedy, but never detracting from it, she slips in several moments of drama. Mrs. Henderson's son died during the First World War and in a way her show for the boys in uniform is done for him. The London blitz also plays a dramatic part in the story. But most of all, the Oscar nomination was earned simply by how effortless Dench's performance is given. With decades of experience behind her she can say more with just her eyes than many young actresses of today can say with whole pages of dialogue.
Since the Oscar race for Best Actress seems to be focused entirely on Felicity Huffman and Reese Witherspoon, it's doubtful that Dench will pull off an upset, but with any luck the mere nomination will encourage others to see this small, but delightful movie.
Did you enjoy Scott's review?
+
4
You may only thumbs up or thumbs down a review once.
Photos © Copyright The Weinstein Company (2005)