Movie Review
The Mortal Instruments: City of Bones
You have been chosen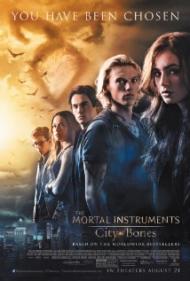 US Release Date: 08-21-2013
Directed by: Harald Zwart
Starring
▸
▾
Lily Collins

,

as

Clary
Jamie Campbell Bower

,

as

Jace
Kevin Zegers

,

as

Alec
Jemima West

,

as

Isabelle
Robert Sheehan

,

as

Simon
Robert Maillet

,

as

Blackwell
Kevin Durand

,

as

Pangborn
Godfrey Gao

,

as

Magnus Bane
Lena Headey

,

as

Jocelyn
Harry Van Gorkum

,

as

Alaric / Werewolf
CCH Pounder

,

as

Dorothea
Jared Harris

,

as

Hodge
Jonathan Rhys Meyers

,

as

Valentine
Aidan Turner

,

as

Luke
Stephen R. Hart

as

Brother Jeremiah

Reviewed on:
August 27th, 2013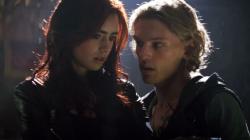 Lily Collins and Jamie Campbell Bower in The Mortal Instruments: City of Bones.
Mortal Instruments: The City of Bones is being written off as another Twilight clone and while the comparison is not without merit, it is also a bit unfair as this movie is at least mildly entertaining and far superior to any of the Twilight films. Yes, it's another story of a young woman who discovers there are hidden supernatural elements to our world and she's a part of it. Yes, there are vampires and werewolves and yes, there's a love triangle. At the very least though, you're not forced to stare at Kristen Stewart's sour mug for two hours. That alone gives Mortal Instruments a head start.
Lily Collins, daughter of Phil, stars as Clary, a young woman living in New York City (although apart from some establishing shots the entire film was shot in Canada and it shows) with her mother, where she hangs out with her platonic male friend Simon, who's secretly, but also quite obviously, in love with her. Her normal life is disrupted by the discovery that she is descended from a long line of Shadowhunters, a half angel/half human race of beings who fight demons but who are invisible to Muggles Mundanes, which is a shame because they seem to be made up entirely of sexy young people in tight or revealing clothing. Naturally, Clary falls in love with Jayce, the first Shadowhunter she sees, which as you can imagine, doesn't sit very well with Simon.
The plot is overly laden with exposition and in-world mythology. There's lots of fighting over a cup with magical properties and lots of talk about laws and deals made between the different supernatural races, which includes werewolves, vampires and warlocks, but not zombies apparently. While all of these little details might be of interest to fans of the book series this movie is based on, it only serves to slow down the action and extend the running time here.
Apart from having a more likable central character, the other thing this movie has over the Twilight films is its sense of humor. There are lighter moments sprinkled throughout and at times at least, the filmmakers seem to have a sense of how ridiculous the whole thing is. It's not quite bordering on camp, but it wouldn't take an enormous push to get it there.
Along with Twilight, the plot steals elements from other fantasy stories and films. The Mundane versus magical world is reminiscent of Harry Potter and the big twist about the villain is straight out of Star Wars. Sure, you could argue that no movie is truly original, but this movie comes close to plagiarism on occasion.
The pity of it all is that despite its many problems, there are some interesting ideas here, but they are mostly wasted. Reportedly a sequel is in the works, although it must be in doubt now that it has opened to less than stellar results. If it does somehow manage to get made, I only hope they hire new writers, ditch the excessive mythology and the warmed over love triangle and ramp up the humor and the action. With a little work, I'd be willing to revisit the City of Bones.

Reviewed on:
July 31st, 2014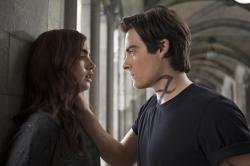 Jace's two sexual admirers; his sister (Lily Collins) and his best friend (Kevin Zegers).
I was not bothered by the excessive mythology as it added some interesting details that did not slow down the plot. The "warmed over love triangle," however, was a bit much. Clary has the hots for Jace who constantly makes sexually suggestive jokes to her such as, "If you wanted me to take off my clothes all you had to do was ask." And "Don't tell me. You've got a drawing emergency and you need a nude model. I'm not in the mood."
How awkward is the scene when Clary and Jace find Simon recovering in Clary's bed and Jace says, "Next time, it might be a nice idea to mention that you already have a man in your bed, so we can avoid such uncomfortable situations." An upset Simon asks, "You invited him to bed?" Jace, again thinking he is clever, adds, "I know, it's ridiculous, isn't it? We would never have all fit." Clary clarifies, "I didn't invite him into bed. We were just kissing." It is a truly creepy scene considering they turn out to be siblings.
Clary is not the only one romantically interested in Jace. Fellow shadow hunter, Alec, is also in love with him but gay love is not allowed in this group. I am not sure which is more messed up; the fact that a group of demon hunters are homophobes or that Alec is pissed that a girl is in love with his straight best friend. Do not feel too sorry for Alec as he has an admirer who comes to his bedside to heal him. These demon hunting "angels" seem awfully sidetracked by their libidos
This movie is full of action as shadow hunters, demons, vampires and werewolves do battle with each other. As Scott wrote, there is also some humor, such as when Simon says, "The werewolves are here to save us. Never thought I'd say that." I was never bored as any corner may be hiding another monster to be defeated or another person with romantic issues.
The Mortal Instruments: City of Bones is not quite as good as The Hunger Games but is, by far, superior to The Twilight films.
Photos © Copyright Sony Pictures (2013)
Related Review