Movie Review
Morocco
"Fate flings into her arms a man who offers everything a woman craves. But out of the Legion comes a lover who offers nothing but love. Which should she choose?"
(0)
Reviewed on:
November 14th, 2001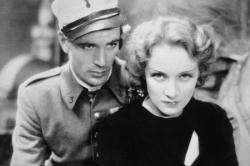 Gary Cooper and Marlene Dietrich in Morocco.
Morocco is classic Hollywood magic distilled to its most pure essence, as evidenced by the fact that nearly everything about this movie is now a time-honored cliché.
Gary Cooper plays Tom Brown a disillusioned yet noble American who has run off to join the French Foreign Legion. How many times has that plot device been used in a movie? Long before John Wayne, Cooper was famous for his strong silent types. He combined Gable's virility with Grant's looks into one potent combination.
Marlene Dietrich plays a sexy cabaret singer named Amy Jolly. Everyone from Mae West to Marilyn to Liza to Renée Zellweger and Catherine Zeta-Jones have done their own versions of this character, but Marlene was the first woman to make this image famous by performing a cabaret act in a movie. Everything she does in Morocco is iconic, including the scene where she comes out dressed in male-drag and kisses a woman on the lips.
Enter the impeccably tailored and charmingly mannered Adolphe Menjou. For those not familiar with his work, trust me when I say that 'Class' like his just doesn't exist anymore. And then there's the brilliant Josef von Sternberg, with his highly dramatic visual flair, directing a movie with as exotic a classic Hollywood setting as you are likely to find. In this case the African Sahara, specifically the city of Mogador.
Tom Brown's legion marches into town just as Amy Jolly arrives from Paris to work at Lo Tinto's cabaret. He catches her act and they are quickly attracted to each other. But life is ever complicated and when he overhears a proposal to Amy from the very wealthy and honorable Monsieur La Bessiere (Menjou) he knows in his heart that he can never offer her as much and so he nobly leaves town.
There are a few minor plot twists leading to the unforgettable final shot. Amy, unable to give up her passionate love for Tom, sacrifices everything by walking out into the desert with all the other heartsick women who follow the Legion around from place to place. In one long shot we see her climb a small sand rise, take off her shoes, grab the rope around a donkey's neck from one of the other women and then slowly disappear from sight down the other side...
Did you enjoy Patrick's review?
+
21
You may only thumbs up or thumbs down a review once.
Photos © Copyright Paramount Pictures (1930)