Movie Review
The Little Vampire
"They're Not Just Best Friends. They're Blood Brothers."
(0)
Reviewed on:
October 29th, 2000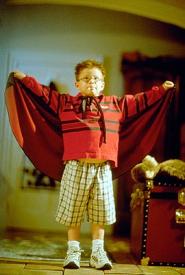 Jonathan Lipnicki in The Little Vampire.
The Little Vampire is a delightful romp for anyone whose age is still in single digits. What child wouldn't enjoy flying through the sky, outwitting adults, staying up late, and saving the day. This is a nice, light adventure for children.
An American boy named Tony, that kid from Jerry Maguire, is living in Scotland with his Mom and Dad who has a job building a golf course.
Tony has no friends, and is picked on by a couple of local bullies. Soon he befriends a vampire close to his own age, give or take 300 years. Together they get back at the bullies, dodge a vampire killer, and search for an amulet that will save all the vampires from a curse.
One of the best aspects this film offers is the way it works around the whole vampire drinking blood routine. It is briefly mentioned that they could drink human blood but they prefer to drink from cows in the field as to not attract attention to themselves. This is definitely not Interview With A Vampire. Your children will not have any nightmares from this movie.
For adults this is a 2 star movie but for kids I give it 3 stars. Hey, how bad can a movie be that has flying vampire cows?
Did you enjoy Eric's review?
+
3
-
0
You may only thumbs up or thumbs down a review once.
Reviewed on:
July 29th, 2012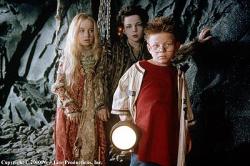 Anna Popplewell, Rollo Weeks and Jonathan Lipnicki in The Little Vampire
Eric's right about the target audience for this movie. There's not much here for anyone above the age of 9. I'd never heard of the series of children's books that it's based on, but apparently they were quite popular.
While little Jonathan Lipnicki's career has faded, two of his co-stars have become more well known. Anna Popplewell, the young blonde vampire who develops the odd crush on Tony, would grow up to play Susan in the Narnia films. And fans of Downton Abbey might be surprised to see Jim Carter, who plays the Butler, Mr. Carson, on that show, here playing the uncouth vampire hunter complete with earring.
As I said, the crush that Anna develops on Tony seems odd. She's about 150 years older than him and he's just a little boy. Sure, she's still in the body of a young girl, but if you stop and think about it, it's kind of creepy, albeit in a completely innocent way.
Like Eric I found the flying vampire cows to be funny. The movie needed more moments of extreme lunacy like that one, although I could have done without the cow manure on the windscreen. Despite the oftentimes silly premise the story remains fairly low key.
The scenery is quite beautiful. Little Tony might be disappointed to be living there, but Scotland certainly comes across as very green and appealing.
Definitely not for grown-ups, but if you have small children they might be entertained by the vampiric shenanigans. Hell, it's a better vampire movie than any of the Twilight films.

Did you enjoy Scott's review?
+
3
-
0
You may only thumbs up or thumbs down a review once.
Photos © Copyright New Line Cinema (2000)