Movie Review
The Little Mermaid
Somewhere under the sea and beyond your imagination is an adventure in fantasy.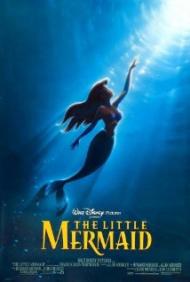 US Release Date: 11-17-1989
Directed by: Ron Clements, John Musker
Starring
▸
▾
Jodi Benson

,

as

Ariel (voice)
Samuel E. Wright

,

as

Sebastian (voice)
Pat Carroll

,

as

Ursula (voice)
Christopher Daniel Barnes

,

as

Eric (voice)
Paddi Edwards

,

as

Flotsam & Jetsam (voice)
Buddy Hackett

,

as

Scuttle (voice)
Jason Marin

,

as

Flounder (voice)
Kenneth Mars

,

as

Triton (voice)
Edie McClurg

,

as

Carlotta (voice)
Will Ryan

,

as

Seahorse (voice)
Ben Wright

as

Grimsby (voice)


Reviewed on:
January 21st, 2015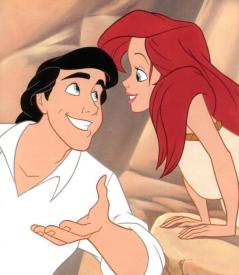 Eric and Ariel in the Little Mermaid
The Little Mermaid is an extremely important movie in the history of Walt Disney films. For two decades, Disney churned out classic animated movies based on famous fairy tales, beginning with Snow White and the Seven Dwarves (1937). For some reason they broke from the winning formula after Sleeping Beauty (1959) and began focusing on live action films. With the release of The Little Mermaid in 1989, Disney animation was back and once again dominating a genre it pretty much invented. This was also the last Disney animated feature to use hand-painted cels.
The Little Mermaid is loosely based on the story by Hans Christian Andersen. The film makes a nod to him with the teenage mermaid, Ariel, striking a pose in the film that matches the one of the little mermaid statue in the Copenhagen harbor.
Ariel is the youngest daughter of King Triton, the leader of the Mermen. She is fascinated by the human world, collecting things from sunken ships, such as utensils, jewelry and thingamabobs. Her father does not approve, leaving her to do it in secret, with only her fish companion Flounder. One day she spots Prince Eric aboard a passing ship and rescues him when it explodes. It is love at first sight for them both but as they are different species, Ariel quickly swims away. A sea witch, Ursula, makes Ariel a deal that she will turn her into a human in exchange for her voice. Ariel then has three days to get Eric to kiss her or she becomes a ghastly addition to Ursula's garden.
What follows is humor, action, tension, romance and some of the best Disney songs to be heard in years. Although this is Ariel's story, Sebastian comes extremely close to stealing the entire film. Sebastian makes like Jiminy Cricket trying to direct Ariel in the right direction. His action scene in the kitchen is the movies most exciting moment. He gets caught up in Ariel's romantic endeavor, prompting him to sing the calypso tinged, "Kiss the Girl" in an effort to get Eric in the mood.
Speaking of songs, Samuel E. Wright as Sebastian also performs the now considered classic, "Under the Sea." It has been played countless times in commercials for Disney Cruises. Jodi Benson's musical moment comes with the beautiful ballad, "Part of Your World." It almost did not make it into the final cut but is now considered an emotional highlight of the film.
The songs by Alan Menken and Howard Ashman were so strong that they also wrote the songs for Beauty and the Beast (1991) and Aladdin (1992), which was Ashman's last work as he unfortunately died of AIDS in 1992. Menken continues to work for Disney in their musical department with a growing list of credits on many of their animated features.
Speaking of Beauty and the Beast and Aladdin, both featured a single scene with computer animation. It was a sign of things to come. The Little Mermaid may have looked better had it been computer animated but it would not have been any more fun.
Reviewed on:
April 29th, 2015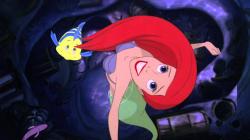 Arial just wants to be a part of our world in The Little Mermaid.
Eric's right when he calls this film important. It marked the rebirth of Walt Disney as an animation behemoth and was the first in a string of hits for the studio. In later years it has been overshadowed by Beauty and the Beast and The Lion King, but neither of those two films would likely have been made were it not for the success of this one. And neither of those two films is more fun than this one. That the film happened at all was something of a lucky break as at first the idea was rejected as Disney was busy working on a sequel to their live action mermaid themed movie, Splash!, and felt the plots were too similar. Fortunately for Disney and audiences alike, studio executive Jeffrey Katzenberg changed his mind the day after rejecting the idea.
Samuel E. Wright is a scene stealer as Sebastian. His "Under the Sea" musical number is a showstopper and the film's most catchy tune. His character was first envisioned as having a stuffy English voice, but lyricist Howard Ashman suggested he be Jamaican, which lead the musical team in new directions that used Calypso inspired themes. The late Buddy Hackett also steals your attention as the silly and slapsticky seagull.
The character of Ursula was written for Bea Arthur and physically based upon the drag performer Divine. After Bea Arthur turned it down, Elaine Stritch was hired to voice the character, but left the project shortly thereafter due to creative differences. The part eventually went to Pat Caroll who really runs with it. She makes a truly memorable villain, particularly as she belts out her big number, "Poor Unfortunate Souls".
Broadway veteran Jodi Benson provides the voice for Arial and sells her heart out on "Part of their World", which is this film's "I want" song, something that would become standard in all future Disney musicals. Arial is a great bridge between the classic and modern Disney princesses. Like the princesses of old her main goal is to get married, but like the modern princesses she isn't content to sit passively and let events unfold around her. She's strong-willed, independent, and brave. She rescues Eric before he ever gets the chance to rescue her.
It had been literally decades since I had watched this film and I wondered if it would live up to my memory of it. I needn't have worried. It actually surpassed my memory. A big advantage of hand-drawn animation like this is that they age very well. The original Toy Story is still entertaining, but computer animation has improved so much that it looks dated, but that's not the case with The Little Mermaid. It merely looks like what it is. A classic.
Reviewed on:
May 1st, 2015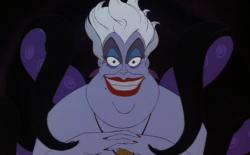 Ursula the sea witch in The Little Mermaid.
I loved this movie in 1989 and I still love it today. It is, quite simply, one of the most purely entertaining animated features ever made. The pacing is perfect, the characters are colorful, the songs are catchy, and there's plenty of humor and pathos. Disney had a great run in the late 80s/early 90s with The Little Mermaid, Beauty and the Beast, Aladdin, and The Lion King. All are worthy additions to the Classic Walt Disney cartoon pantheon but scene for scene and note for note, The Little Mermaid just might be the best of the bunch. It's my personal favorite at any rate.
Ursula is one of the all-time great Disney villains. I love that she was modeled after Divine (see photo) and she does appear to be quite masculine in some shots. She's like an underwater drag queen - human/octopus hybrid. Like Scott I think her "Poor Unfortunate Souls" number is a musical highlight in a movie filled with them. Eric mentioned "Under the Sea" and "Kiss the Girl" both of which are now iconic songs.
I have little to add to my brothers' opinions so instead I'll make a comparison that I noticed while watching this movie. Last week I watched Bruce Jenner's interview with Diane Sawyer about his transitioning from male to female. The thought struck me that the plight of transgendered individuals is not unlike the problem faced by Ariel. Whereas a transgendered person feels as if they were born in the wrong body, so Ariel feels like a young human woman trapped in the body of a mermaid.
Think about it, her fascination with all things human predates her ever seeing Prince Eric, so it isn't just about her falling in love. Her pre-existing desire to be human is poetically put into words in her song "Part of Their World". Ariel has a secret stash of human treasures much like Bruce Jenner with his closet full of women's clothes. Also like someone undergoing sexual reassignment surgery, Ariel is willing to endure extreme physical changes to her body in order to feel complete. I'm not suggesting that any of this was done consciously by the folks at Walt Disney Studios but it is a rather apt comparison in my opinion.
I couldn't agree more with my brothers, The Little Mermaid is now a timeless classic.
Photos © Copyright Walt Disney Pictures (1989)