Movie Review
Life or Something Like It
Destiny is what you make of it.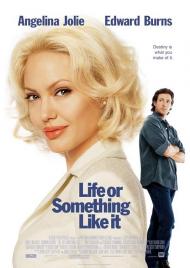 US Release Date: 04-26-2002
Directed by: Stephen Herek
Starring
▸
▾
Angelina Jolie

,

as

Lanie Kerrigan
Edward Burns

,

as

Pete
Tony Shalhoub

,

as

Prophet Jack
Stockard Channing

,

as

Deborah Connors
Christian Kane

,

as

Cal Cooper
James Gammon

,

as

Pat
Melissa Errico

,

as

Andrea
Gregory Itzin

,

as

Dennis
Veena Sood

,

as

Doctor
Patrick McEnroe

as

Rick

Reviewed on:
April 28th, 2002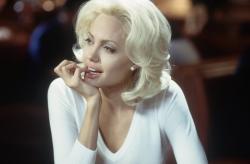 Angelina Jolie in Life or Something Like It.
Life or Something Like It examines the question, what would you do if you found out you only had a week to live? It is told from the perspective of Angelina Jolie's character, who is a reporter on a local Seattle news show. She has what is apparently the 'perfect life'. She's successful, beautiful, engaged to a star baseball player, and is even up for a job with a network morning news show.
Then one day, while doing a human interest story about who will win tonight's football game, she is informed by the psychic she is talking to, that she will die in one week's time. This sets her thinking about whether or not, despite all of her success, she is really happy? And just what is happiness anyway?
Edward Burns plays a camera man with whom she once had a brief tryst. His life is the exact opposite of hers. Material things, a strong work ethic, and a long lasting relationship are not things about which he worries very much. After her athletic, but verbally inadequate, baseball playing boyfriend proves unable to help her with the issues she suddenly finds herself facing, she turns to Burns's character for the answers and they soon find themselves falling back in love with each other.
While the movie poses some interesting questions and the cast is quite good and likable, this movie ultimately falls short, providing no real answers and certainly nothing original. It is also bogged down in parts with an unnecessary back story detailing Angelina's early family life and her sibling rivalry with her bitchy older sister. Very enriching for her character and all, but not very helpful towards moving the story along.
As I said, the cast is good, Angelina is dead on as the big blonde-headed newscaster with the permanent smile, and Edward Burns plays his usual easy going, very relaxed, blue collar character that he perfected in his own movies. Stockard Channing is superb, if vastly underused, as the Barbara Walters clone. And Tony Shalhoub of Wings fame, who has made a career in movies for himself, playing odd characters (Men in Black, Galaxy Quest) plays the prophet with charm and quirkiness. With a few tweaks to the script, this same cast could have made quite a bit more out of this mediocre film.
Still, the movie does possess a certain charm and humor that will certainly not damage anyone's career in the process.

Reviewed on:
May 1st, 2002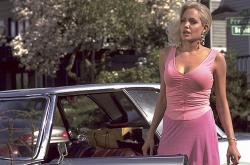 Angelina Jolie in Life or Something Like It.
Life Or Something Like It is not, as Scott wrote, about what would you do if you found out you only had a week to live. This movie is about justifying your life so far. To be more specific, it is about a high maintenance reporter trying to discover if she has had a wonderful life or just wasted a whole lot of it.
Scott really did not get this movie. He wrote that it "poses some interesting questions....but no real answers." The whole movie is about Lanie, Angelina Jolie, evaluating her life. She visits her dad. She talks to her sister, who is so much more than just "bitchy", as Scott wrote. She confronts her boyfriend in one of the best scenes in the movie. She is wearing glasses. She has, gasp, skipped her regular workout. Her Marilyn Monroe inspired hair is disheveled. It is in this scene that she acknowledges that her high maintenance life style has not brought her the happiness she always thought it had.
The movie does answer the question it asks. "Is life really about the things we have or the person we are?" The question is answered several times in several ways. When she visits her sister we see that her sister is as phony as she is, only in a different way. She gives the appearance of a perfect life through her big fancy house and family. But she is not completely happy. She is obviously jealous of her famous sister. The scene at the end of the movie where Lanie asks the famous newscaster if it was worth giving up true love for the high profile job and fame she now has, gets answered wonderfully.
This movie puts materialism and fame up for examination. Is it worth giving up so much to have it? In real life so many people have said yes. Just look at all of the famous people who have gone through so many marriages and love affairs. However, this is a movie, and in here she gives it all up for love.
This is the part I had a hard time with. She gives up everything to be with a man she only knows occasionally. Sure, there is the scene where he says he has always loved her, but it really did not seem sincere. If he had always loved her then why wasn't he pursuing her all this time?
Another thing I didn't like was the chemistry between the actors, as well as the characters. Ed Burns is not an actor. He is himself through every movie he ever plays. So what does an average Joe see in a high maintenance material girl? The movie never answers that question. Their relationship is completely based on a prior sexual encounter and a couple of days of conversation. Even her best friend has had sex with him. The love story was far too weak. There is no spark between Burns and Jolie. I felt more heat between her and her arrogant baseball playing fiancée than I did between them.
This film is nicely put together when it comes to the life altering question. It fails miserably in the love story that is suppose to be the answer to said question.
Reviewed on:
May 28th, 2013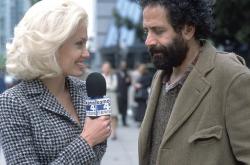 Angelina Jolie and Tony Shalhoub in Life or Something Like It.
Eric wrote that Scott didn't get this picture but Eric I think you over analyzed it. It's not about, "a high maintenance reporter trying to discover if she has had a wonderful life or just wasted a whole lot of it". This movie is not that deep. It's just a simple romantic dramedy. An ambitious and very attractive female television news reporter is told she will die in a week just as she is up for a life altering promotion. She never dwells on her past. She simply worries about the likelihood of her impending death, breaks up with her boyfriend, and meanwhile falls in love with an old fling. At the end she makes the obvious Hollywood choice of love over career.
Oh and Eric, the script very clearly spells out what Pete sees in Lanie. It occurs after the scene where she goes on an all night bender and then does an on the street interview with striking transit workers while drunk out of her mind. Later on Pete explains that this is the real Lanie, relaxed and down to earth, not the high maintenance, incredibly ambitious woman she thinks she is. This is the Lanie he's been in love with since he first laid eyes on her. He even introduces this Lanie to his young son. And of course everything gets wrapped up neatly and tied with a bow. Lanie gives up the career opportunity of a lifetime for love.
The script is very uneven. Sometimes it goes for big broad laughs and at other times tries to pull the old heart strings with cheesy montages. And Prophet Jack is such a Hollywood version of a homeless character. He's too sane and far too clean to be a real homeless guy and the alley he calls home is an obvious movie set.
I'm in agreement with Eric that Ed Burns is no great actor but then Angelina Jolie is pretty awful here too. In her hands Lanie is more of a caricature of a type than a fully rounded individual. And I never before realized what a ham she is. I'm not surprised to learn she was nominated for a Golden Raspberry for Worst Actress. Life or Something Like It has its moments. The scene on the plane is quite funny. But for the most part this is an inconsistent mess with poorly written characters and bad acting. I see why it only grossed 17 million dollars worldwide on a 40 million dollar budget.
Photos © Copyright Regency Entertainment (2002)