Movie Review
The Life Aquatic with Steve Zissou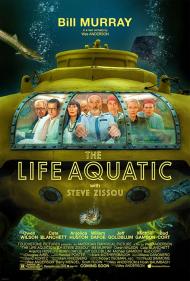 US Release Date: 12-10-2004
Directed by: Wes Anderson
Starring
▸
▾
Bill Murray

,

as

Steve Zissou
Owen Wilson

,

as

Ned Plimpton
Cate Blanchett

,

as

Jane Winslett-Richardson
Anjelica Huston

,

as

Eleanor Zissou
Willem Dafoe

,

as

Klaus Daimler
Jeff Goldblum

,

as

Alistair Hennessey
Michael Gambon

,

as

Oseary Drakoulias
Robyn Cohen

,

as

Anne-Marie Sakowitz
Seu Jorge

,

as

Pele dos Santos
Waris Ahluwalia

,

as

Vikram Ray
Bud Cort

,

as

Bill Ubell
Noah Baumbach

as

Phillip

Reviewed on:
December 9th, 2004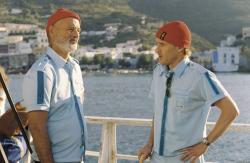 Bill Murray and Owen Wilson in The Life Aquatic with Steve Zissou.
Sometimes the best comedies are the ones that are tinged with a hint of sadness. Writer/director Wes Anderson seems to recognize this as evidenced in previous films Rushmore and The Royal Tenenbaums and now with his latest work, The Life Aquatic with Steve Zissou. Each of his movies feature funny, quirky characters, but with an underlining sadness that gives his stories depth.
Like those two previous films, this one also stars Billy Murray and Owen Wilson. This time around Murray is playing Steve Zissou, a Jacques Cousteau type documentary filmmaker who's past his prime. Wilson is Ned, the pilot who's traveled to Italy where Zissou is based, because he believes that Zissou is the father that he never knew. Together they lead a team of wacky characters played by a superb supporting cast on a trip to kill the mythical Jaguar Shark that recently ate Zissou's partner.
While not perhaps as deep as some of Anderson's earlier work, it more than makes up for it with humor. Murray is as dryly funny as he's ever been. And Dafoe is a scene-stealer as the German sidekick occasionally moved to heights of emotion. Wilson and Angelica Huston play the straight men to the group of quirky characters.
The look of the film is colorful and original. Zissou's ship, The Bellefonte, is built as a cutaway set, like the back of a doll's house, and the fish and other sea life are created by stop motion photography.
If there's any problem with the movie, it's in how the plot moves all across the board. At times, it's a completely zany comedy, at other times it becomes an adventure story complete with Pirates attacking the ship, with most of the emotion coming from Zissou's attempts to come to grips with his son and his fading popularity. Each aspect of the story works, but the humor is definitely the movie's strongest angle.
In the hands of less capable filmmakers this quirky fish tale might have sunk itself, but Murray and Anderson manage to reel it in.

Reviewed on:
June 2nd, 2005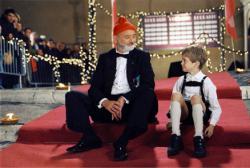 Bill Murray in The Life Aquatic with Steve Zissou.
They reel it in but the line is a bit tangled. As Scott wrote, the mood of the movie is all over the place. Showing the topless girl is funny but it does not fit in with the rest of the film. But Bill Murray gives a very consistent performance that holds the movie together.
Bill Murray is one of the best at delivering a sarcastic line. Some of my favorites of his are: "Please don't make fun of me. I just wanted to flirt with you." "Don't point that gun at him, he's an unpaid intern." "That pregnant slut is playing us like a cheap fiddle."
Anderson does great stories dealing with family dynamics and relationships. He finds humor in serious subjects and is not scared to be politically incorrect. "We were both bad husbands, weren't we. But I had an excuse. I'm part gay."
Reviewed on:
February 11th, 2013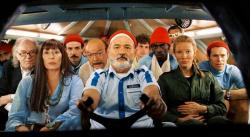 Bill Murray and cast in The Life Aquatic with Steve Zissou.
As Scott pointed out, Wes Anderson has a reputation for making quirky movies that combine silly humor with dramatic situations. Such is certainly the case with this movie. With a production budget of 50 million dollars, The Life Aquatic with Steve Zissou also has the distinction of being Anderson's most expensive film to date (by comparison last year's Moonrise Kingdom cost a paltry 16 million). It proved a disappointment at the box office however, earning back only about two thirds of its budget in world wide revenue.
The cast, led by Bill Murray, are all great in their roles but then you can't really go wrong with such tried and true talents as Owen Wilson, Cate Blanchett, Anjelica Huston, Willem Dafoe and Jeff Goldblum now can you?
Anderson dedicated the movie to Jacques Cousteau and it is filled with little homages to the famous Frenchman and world renowned deep sea explorer. The red woolen caps worn by everyone on Zissou's crew is one obvious example. The name of Zissou's ship is the Belafonte. This is a tribute via one degree of separation as Cousteau's ship was called Calypso and Harry Belafonte famously recorded Calypso songs. Jacques Cousteau's son Philippe died in a seaplane crash similar to the fate of Ned (the supposed son of Steve Zissou) in this movie.
The story is loosely based on Moby Dick. Like Captain Ahab, Zissou becomes obsessed with hunting down and exacting vengeance against a specific fish.
Whether being humorous or serious the script is clever. Here are examples of both between Zissou and Ned... Ned Plimpton: "Stevesy, what's going on? Are those hijackers?" Steve Zissou: "Well, out here we call them "pirates" Ned." (spoken in that famous deadpan delivery of Murray's) And... Ned Plimpton: "Why didn't you ever try to contact me?" Steve Zissou: "Because I hate fathers, and I never wanted to be one." (Ouch!)
The Life Aquatic with Steve Zissou is filled with quirky Wes Anderson touches like having a character translate and perform David Bowie songs in Portuguese. Overall though it isn't as satisfying as it should have been. For my money The Royal Tenenbaums remains his best movie.
Photos © Copyright Touchstone Pictures (2004)