Movie Review
Laura
"The story of a love that became the most fearful thing that ever happened to a woman!"
(0)
Reviewed on:
February 13th, 2006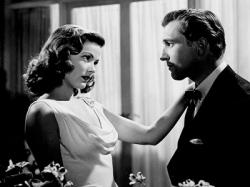 Gene Tierney and Vincent Price in Laura.
Laura is a fine example of 1940's film noir. Released in 1944, directed by Otto Preminger, and featuring a very successful title song written by David Raksin and Johnny Mercer, Laura is a classic movie in every sense of the word.
The story involves the murder of a beautiful New York advertising executive and the men in her life who suddenly find themselves suspects. Gene Tierney was absolutely gorgeous. She perfectly embodies the character of Laura. The portrait of her that hangs in her apartment plays a big part in the movie. Detective Mark McPherson (Dana Andrews) begins falling in love with the woman whose murder he is investigating.
Clifton Webb was Oscar nominated for his role as Waldo Lydecker. This character was based on the acerbic critic Alexander Woollcott (he was a popular "type" in those days, Monty Woolley played Sheridan Whiteside, another version of Woollcott in 1942's The Man Who Came to Dinner and All About Eve's Addison DeWitt was also said to have been based on him). He spouts lines like, "I don't use a pen. I write with a goose quill dipped in venom." And, "In my case, self-absorption is completely justified. I have never discovered any other subject quite so worthy of my attention."
Laura clocks in at under an-hour-and-a-half. The pacing is brilliant and the story features some surprising twists. Still the murderer is apparent long before the conclusion. The supporting cast includes a rather melodramatic Vincent Price and the wonderful stage actress Judith Anderson.
The men in the movie are all given fairly well-rounded personalities. It is only the enigmatic Laura that we are never allowed to really know. Whether this was just bad screenwriting or an intentional device used by the director, I don't know, but it works. Each man sees reflected in Laura what they desire her to be.
Now Clifton Webb was pretty well known to be gay, which in itself was pretty remarkable for the time period. It is very easy to read his character as gay. Does he really lust for Laura or does he want to live vicariously through her? He does seem smitten with Dana Andrews. And what's up with his bath scene at the beginning of the movie? Anyway, it gives the movie an interesting subtext that might not have existed if another actor had played the role.
Laura is another "must see" for any movie buff.
Did you enjoy Patrick's review?
+
7
You may only thumbs up or thumbs down a review once.
Photos © Copyright Twentieth Century Fox (1944)