Movie Review
Jules and Jim
"A classic of the French 'New Wave' films."
(0)
Reviewed on:
January 23rd, 2001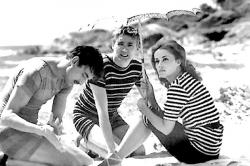 Jules and Jim
One of the classic movies of the French 'New Wave' period Jules and Jim is quirky, nostalgic and ultimately tragic. Directed and co-written by Francois Truffaut it tells the story of Jules (from Austria) and Jim (from France) who meet and become best friends in Paris shortly before World War I breaks out. They soon meet the beautiful and free spirited Catherine played by the radiant Jeanne Moreau and become an inseparable threesome. The coming war complicates things when the two friends must fight for opposing countries. The story continues through the war and about a dozen years after during which Jules and Catherine are married and have a child. One interesting aspect is the directors decision to not show his characters age physically even though twenty years passes during the course of the movie.
In 1961 when it was released Jules and Jim was banned even in France for its adult subject matter and today it remains far ahead of most American movies in terms of the complexity of the character relationships. And especially the uncompromisingly tragic ending.
Paris shortly after the turn of the 20th century is perfectly captured and really is like a fourth character in the story. Perhaps the most famous scene is where Catherine dresses as a man complete with penciled on mustache and the three 'boys' race across a bridge. This movie may not be for everyone but it is hauntingly evocative and original if a bit bizarre.
Did you enjoy Patrick's review?
+
3
-
0
You may only thumbs up or thumbs down a review once.
Photos © Copyright Sédif Productions (1962)