Movie Review
Ice Age 2: The Meltdown
The Pack Is Back.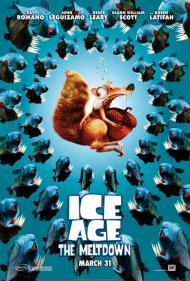 US Release Date: 03-31-2006
Directed by: Carlos Saldanha
Starring
▸
▾
Ray Romano

,

as

Manny (voice)
John Leguizamo

,

as

Sid (voice)
Denis Leary

,

as

Diego (voice)
Seann William Scott

,

as

Crash (voice)
Josh Peck

,

as

Eddie (voice)
Queen Latifah

,

as

Ellie (voice)
Will Arnett

,

as

Lone Gunslinger Vulture (voice)
Jay Leno

,

as

Fast Tony (voice)
Alan Tudyk

,

as

Cholly
Joseph Bologna

,

as

Mr. Start
Renee Taylor

as

Mrs. Start

Reviewed on:
April 2nd, 2006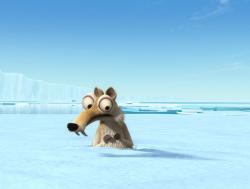 Scrat from Ice Age 2: The Meltdown.
Four years after the first Ice Age was released, Fox finally releases its sequel and unlike most sequels, this one is actually a worthy successor to the original. With Romano, Leguizamo and Leary all reprising their roles, the writing being sharp and funny, and of course the return of Scrat, the acorn chasing squirrel, Ice Age: The Meltdown is an easy and enjoyable way of spending an hour and a half.
The plot is fairly simple. The valley in which a group of animals are living, is surrounded by glaciers that are beginning to melt. With the possibility of an impending flood, the animals head off for the other end of the valley where rumor has it there is a large boat. To add to the sense of a danger, two large carnivorous prehistoric fish are thawed out as well and they begin to follow the herd in the rising water, picking off those who stray behind.
Of course the main focus is on Manny the wooly mammoth (Romano), Sid the sloth (Leguizamo) and Diego the saber-toothed tiger (Leary). Manny is worried that he is the last of his kind, Sid is looking for a little respect and Diego comes to terms with his fear of water. Scrat, meanwhile, just wants his nut and is prepared to go through hell or high water to get it, with particular emphasize on the high water.
Manny's concern is laid a little to rest when he discovers a female mammoth named Ellie (voiced by Queen Latifah), but unfortunately for him, she's convinced that she's a possum. Sid finds the respect he's looking for when he's kidnapped by a group of mini-sloths who think he's a god, but who unfortunately also want to sacrifice him in a volcano. And Diego is forced to choose between saving his friends and facing his fear.
All of the "drama" is of course handled with humor and heart rather than any kind of melo-drama. The writing is as sharp as the original and features some very funny moments. There is even the occasional musical number thrown in, the best of which is courtesy of a group of vultures who break into their rendition of "Food, Glorious Food" from the musical Oliver.
Also like the original, the jokes are aimed at both children and adults alike. As has become required in cartoons these days, there are plenty of pop-culture references, most of which make no sense in a prehistoric setting, but add to the laughs. Sid refers to a few songs that won't be written for thousands of years as "the classics" and some younger animals are disappointed that when they whack Sid with sticks, candy doesn't fall out.
So long as they can maintain this quality, let's hope it isn't another four years before the next Ice Age.

Reviewed on:
April 4th, 2006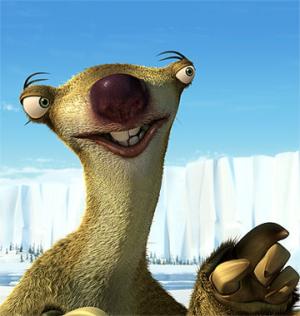 John Leguizamo as Sid steals the movie in Ice Age 2: The Meltdown.
Sid again steals the movie. Manny is a moody bore and Diego has lost all of his edge. Sid's scene of being worshiped by fellow sloth's is one of the best. The additions of Eddie and Crash are a plus. Their hyperactive antics keep the pace moving along every time the boring Manny and Diego threaten to slow it down. Queen Latifah's character is good for a few laughs but her's is a one joke character.
Scrat has more screen time this time around and his scenes elicited the most laughs from the children in the nearly sold out theater I watched this movie in. His scenes are quick and painless but they have nothing to do with the actual plot of the film. Plot? Plot? Oh Yeah! A bunch of prehistoric animals journey to a safe locale. That plot has already been done to death. Does anyone remember Disney's Dinosaur or Land Before Time?
Ice Age 2: The Meltdown will keep the kiddies in their seats. Plenty of action and jokes get thrown around but it comes from the secondary characters. Manny and Diego could have been left behind and the movie should have centered on the more entertaining characters of Sid, Eddie and Crash.
Reviewed on:
March 5th, 2013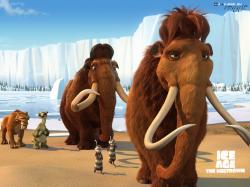 The entire gang in Ice Age 2: The Meltdown.
It's immediately apparent that CGI technology improved quite a bit between 2002 and 2006. The details, especially in the movement of the animal's fur, is strikingly more realistic in this sequel than in the original Ice Age. Unfortunately the plot wasn't improved on at all. The idea that the glaciers are melting and causing a flood is really nothing more than a silly excuse to include giant prehistoric fish. As Eric said the plot of having a bunch of animated prehistoric animals journeying to a safe location has been done before.
The addition of several musical numbers brings a mixed bag. They provide some fun but also pad the run time, which is a good ten minutes longer than the original. The new characters do provide some laughs and they mesh well with the already established stars. I agree that Sid, once again, gets the best jokes and funniest bits. Leguizamo knows how to deliver a line and make it funnier than it seems, like when he says to the saber-toothed tiger, "Ah, come on, Diego, the ice may be thin, but it's strong enough to hold a 10 ton mammoth and a nine ton possum." Referring to Ellie, the mammoth who thinks she's a possum. Speaking of Ellie, she and Manny provide some humor with their awkward courtship. Check out the following conversation between them...
Ellie: What about me is attractive?
Manfred: Your... butt?
Ellie: What about it?
Manfred: It's... big?
Ellie: [flattered] You're just saying that.
Manfred: No, I mean it. It's huge. Biggest darned butt I've ever seen.
Ellie: That is really sweet.
Ice Age 2: The Meltdown is funny and it's nice visiting these old friends again, but somehow it lacks the original movie's heart and sense of wonder. Scrat once again provides some of the funniest moments in his solo vignettes eternally chasing that damn acorn. Still it's easy to see that, at least as far as I'm concerned, this "herd" of misfits is quickly running out of steam as a movie franchise.
Photos © Copyright 20th Century Fox (2006)
Related Reviews