Movie Review
Hush...Hush, Sweet Charlotte
What Ever Happened to Cousin Charlotte?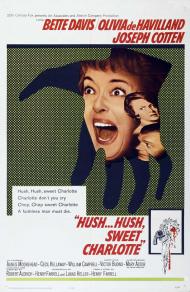 US Release Date: 12-15-1964
Directed by: Robert Aldrich
Starring
▸
▾
Bette Davis

,

as

Charlotte Hollis
Olivia de Havilland

,

as

Miriam Deering
Joseph Cotten

,

as

Dr. Drew Bayliss
Agnes Moorehead

,

as

Velma Cruther
Cecil Kellaway

,

as

Harry Willis
Victor Buono

,

as

Big Sam Hollis
Mary Astor

,

as

Mrs. Jewel Mayhew
Bruce Dern

,

as

John Mayhew
George Kennedy

as

Foreman
Reviewed on:
August 5th, 2004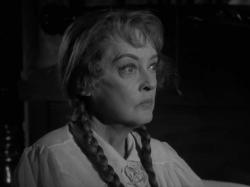 Bette Davis in Hush...Hush, Sweet Charlotte.
After the enormous, if unexpected, commercial success of What Ever Happened to Baby Jane? director Robert Aldrich began quickly planning a follow-up movie reteaming Bette Davis and Joan Crawford. The story would have a similar macabre theme about madness with the gore level being upped significantly. When Joan Crawford got sick she was replaced with Olivia de Havilland who had worked with Bette Davis more than twenty years earlier in In This Our Life. This was a reunion in other ways too. Joseph Cotten starred opposite Davis in Beyond the Forest and another old friend and coworker of Davis' was given the small but pivotal role of Jewel Mayhew. This would turn out to be the final screen appearance for the legendary Mary Astor.
The story concerns a Lizzie Borden like character named Charlotte Hollis (Davis of course) who everyone thinks killed her married boyfriend when she was a young woman. Set in the deep south the movie opens with a flashback in 1927, the infamous night of the murder, and then as the credits begin to roll the story moves to 1964 and shows some neighborhood children teasing the now aging Southern Belle. We quickly find out that Charlotte has lived alone all these years with only her servant/friend Velma (Agnes Moorehead playing white trash) as company and that her old plantation mansion is about to be torn down to make way for a highway. Charlotte fires her shotgun at some construction guys (George Kennedy has a small part) when they show up with a bull dozer.
Olivia de Havilland plays Charlotte's poor relation Yankee cousin Miriam. She shows up to 'help' Charlotte with the assistance of the charming family doctor (Cotten) and slowly the secrets of the past and present are revealed.
Like Baby Jane, there is a surprising plot twist that reveals just who the real villian of the piece is.
The two female leads go toe to toe. De Havilland gets to come out of her 'nice' shell and be a bitch for once. Her delivery of the title line is great. Bette Davis, never one to be upstaged, pulls out all the stops with a blood curdling primal scream of insanity complete with eyes rolling in the back of her head.
Hush...Hush, Sweet Charlotte, while not quite as big a hit as its predecessor, made a tidy profit. It would be Bette Davis' last real hurrah as an above-the-title box office attraction and Charlotte Hollis would be her last great Southern Belle in a long line of them stretching back to the early 30's. While it's not psychologically as intense as Baby Jane, Charlotte is more purely entertaining and well worth a look.
Photos © Copyright 20th Century Fox (1964)