Movie Review
How to Marry a Millionaire
The Most Glamorous Entertainment Of Your Lifetime in CinemaScope.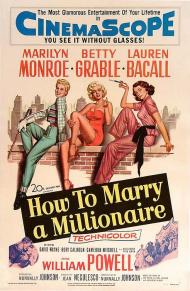 US Release Date: 11-05-1953
Directed by: Jean Negulesco
Starring
▸
▾
Betty Grable

,

as

Loco Dempsey
Marilyn Monroe

,

as

Pola Debevoise
Lauren Bacall

,

as

Schatze Page
David Wayne

,

as

Freddie Denmark
Rory Calhoun

,

as

Eben
Cameron Mitchell

,

as

Tom Brookman
Fred Clark

,

as

Waldo Brewster
William Powell

,

as

J.D. Hanley
Alex D'Arcy

as

J. Stewart Merrill


Reviewed on:
November 4th, 2009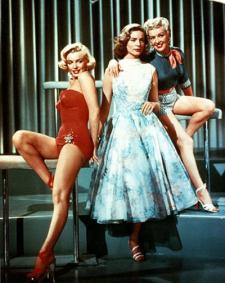 Monroe, Bacall and Grable are gold diggin.
Long before Sex and the City, there was How to Marry a Millionaire, where three single female friends have romance issues while living in New York. These girls go to great lengths to find eligible millionaires for marriage. Of course they end up finding true love in the end.
Bacall is the ring leader who dreams up an idea of moving into a very expensive Manhattan apartment, assuming that location alone will help her and her two friends, Monroe and Grable, find rich husbands. All three girls are models, but they apparently put all of their money into their clothes. They cannot really afford the place, and start selling away the furniture to make rent, as they flirt with any man who seems to have money.
Each actress has her own storyline with occasional cross overs into each others. At one point Grable brings home William Powell, whom she proudly announces she met in the Mink department of Bergdorf's. "You don't think he's a little old?" She asks Bacall, who responds, "Wealthy men are never old." Bacall ends up making a play for him. Bacall's most memorable line in the film is when she is trying to convince Powell that he is not too old for her, "Look at Roosevelt, look at Churchill, look at that old fella what's his name in The African Queen." In reference to her real life husband, Humphrey Bogart.
Each girl is presented with two men to choose from. It is obvious who each will end up with. Bacall has Powell, while she catches the eye of a younger man she assumes is poor, but is actually rich. Grable starts dating a grumpy married man and later meets a park ranger. Monroe is being pursued by a shady looking character. "We'd better put a check on that one. Nobody's mother lives in Atlantic City on Saturday." Bacall warns her. She also meets the nerdy owner of the apartment they are leasing.
Monroe is the best thing about this movie. Many jokes are made of her refusing to wear her glasses. "Men aren't attentive to girls who wear glasses." She explains. She can barely even see what her date looks like. Grable tells her in the ladies room that he is not bad looking for a guy with one eye. "Is that all he's got? I thought some one belted him." She replies. She then has her best slapstick moment. You have to see it, to appreciate it. Monroe really had some decent comic talent.
Although How to Marry a Millionaire has some great moments, it also is saddled with some filler. For some unexplainable reason, the movie starts with a lengthy orchestra playing scene. It has nothing to do with the rest of the film. By all means fast forward through it. Another scene is when the three actresses do a fashion show. It features the three stars as well as other models. At least Monroe is in a bathing suit.
A couple of years later, How to Marry a Millionaire was turned into a short lived television show with Barbara Eden in the Monroe role. It made sense as this movie is very episodic. Much like Sex and the City, it could work better as a half hour comedy than a feature film.
Reviewed on:
March 10th, 2013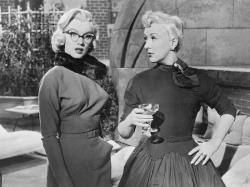 Marilyn Monroe and Betty Grable in How to Marry a Millionaire.
Sex and the City definitely owes a debt to this movie. Although the women in that HBO series are more modern, in the sense that they have careers and a greater sense of independence, there's no denying that there are similarities between that series and this movie. Both of them deal with a group of single women looking for love in New York City and in both of them, the city itself seems to play a character, despite the fact that this movie was filmed in Los Angeles. Thanks to the use of a great many establishing, iconic views of the New York City skyline and landmarks, it feels as if it were filmed there.
The reason the movie opens with a lengthy scene of an orchestra is because this was the first movie to be shot using the new widescreen CinemaScope format in stereophonic sound, although it would be the second one to be released. This orchestra shot was the producers way of showing off the new technology that was meant to draw moviegoers away from their televisions and back into theaters. As Eric said, there's no reason to bother watching it today. We should only be grateful they didn't try filming this movie in 3-D, another popular gimmick of the day aimed at keeping cinema goers in their seats. Although seeing Monroe's full figure in 3-D, might not have been such a bad idea after all.
I agree that Monroe's blind-as-a-bat, ditzy blonde, character is a scene-stealer, but so is Grable's Loco. She gets many of the film's funniest lines, such as, "Where is Maine, anyway?" Reportedly, the press expected a catfight between Grable, who was nearing the end of her career, and Monroe, whose career was just beginning to skyrocket. Instead, all three actresses were said to have gotten along very well, with Grable even telling Monroe near the beginning of filming that, "Honey, I've had mine. Go get yours." Bacall is quite good too, but more often than not she's playing the straightwoman to the two blondes. Interestingly, Grable was contractually given top-billing, while the studio promoted it as a Monroe film on posters and other materials, while it's actually Bacall who is the star.
As Eric said, there's an episodic feel to the way the stories are told, which only adds to the sense that this was the Grandmother of Sex and the City. It's almost a pity that so much of the film is taken up with the girl's individual storylines because the movie really shines when all of them are together in one scene.
At less than 90 minutes (especially if you skip the overture), this delightful little comedy just flies by. Sure, it's a little dated now, but that just adds to its charm. I would certainly rather watch this movie than sit through either of the bloated, self-indulgent, Sex and the City films.
Reviewed on:
March 25th, 2013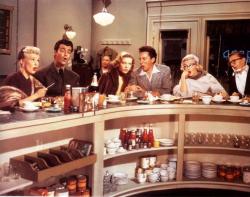 Betty Grable, Rory Calhoun, Lauren Bacall, Cameron Mitchell, Marilyn Monroe and David Wayne in How to Marry a Millionaire.
How to Marry a Millionaire is a delightful comedy with a great cast. Visually it is quite stunning. The colors really pop and the CinemaScope is put to great use. It enhances the wonderful penthouse view of the city from the girl's terrace and it gives certain scenes a greater sense of depth, such as when Monroe and David Wayne are on the airplane together.
As Scott pointed out this was the very first movie shot using CinemaScope, although The Robe would beat it to theaters. On September 23, 1961 How to Marry a Millionaire aired on the very first installment of NBC Saturday Night at the Movies. It made history as the first 1950's color and CinemaScope film ever to be shown on prime time network television.
Eric mentioned Marilyn's line about girls wearing glasses. What he didn't say is that it was taken from a famous quote by Dorothy Parker. It was purposely misquoted by the screenwriter for Monroe's ditzy character. What Parker actually said was, "Men seldom make passes at girls who wear glasses."
This movie marked a changing of the guard in Hollywood. Betty Grable would make only two more pictures after this one, Three for the Show and How to Be Very, Very Popular. William Powell would appear in just one more movie, Mister Roberts, before retiring from the screen. Monroe's star was just reaching its zenith and Lauren Bacall is still alive and taking the occasional film role as she approaches her 90th birthday.
Eric mentioned the reference Bacall makes to her husband, Humphrey Bogart. In real life he was just 7 years younger than William Powell just to put the age difference in perspective. Betty Grable also references her real life husband at the time, bandleader Harry James, in one scene.
More than any other movie this one demonstrates Marilyn Monroe's natural skills at physical comedy. She is downright hilarious in several scenes, whether walking into a wall or tripping blindly over a step in the modeling scene. This modeling scene, by the way, gave Grable the chance to show off those famous million dollar gams. She was 36 and time was beginning to show on her face but the legs were still there. The script features many witty lines about the sexes. Here's one of my favorite exchanges between Bacall and Grable.
Schatze Page: "You wanna catch a mouse, you set a mouse trap. All right so we set a bear trap. Now all we gotta do, is one of us has got to catch a bear."
Loco Dempsey: "You mean marry him?"
Schatze Page: "If you don't marry him, you haven't caught him, he's caught you."
Photos © Copyright Twentieth Century-Fox Film Corporation (1953)
Related Reviews