Movie Review
Hollywood Canteen
62 Stars in Warners' Biggest Ever!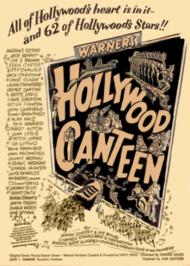 US Release Date: 12-31-1944
Directed by: Delmer Daves
Starring
▸
▾
Robert Hutton

,

as

Corporal Slim Green
Dane Clark

,

as

Sergeant Nowland
Janis Paige

,

as

Studio Guide
Joan Leslie

,

as

Herself
Bette Davis

,

as

Herself
John Garfield

,

as

Himself
The Andrews Sisters

,

as

Themselves
Jack Benny

,

as

Himself
Roy Rogers

,

as

Himself
Trigger

,

as

Himself
Joe E. Brown

,

as

Himself
Eddie Cantor

,

as

Himself
Joan Crawford

,

as

Herself
Barbara Stanwyck

,

as

Herself
Jack Carson

,

as

Himself
Kitty Carlisle

,

as

Herself
Sydney Greenstreet

,

as

Himself
Alan Hale

,

as

Himself
Paul Henreid

,

as

Himself
Peter Lorre

,

as

Himself
Ida Lupino

,

as

Herself
Dennis Morgan

,

as

Himself
Eleanor Parker

,

as

Herself
S.Z. Sakall

,

as

Himself
Zachary Scott

,

as

Himself
Alexis Smith

,

as

Herself
Jane Wyman

,

as

Herself
Jimmy Dorsey and His Orchestra

,

as

Themselves
Sons of the Pioneers

as

Themselves
Reviewed on:
October 24th, 2010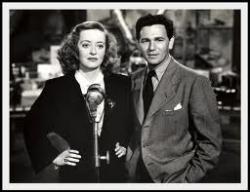 Bette Davis and John Garfield emcee at the patriotic Hollywood Canteen.
Patriotic all-star musical revues were popular during WWII. Hollywood Canteen was one of the most successful when it was released by Warners' on New Year's Eve of 1944. It takes place almost entirely in the actual eponymous nightclub on Cahuenga near Sunset Boulevard. Bette Davis and John Garfield were the two stars instrumental in the opening of the club which ran for the duration of the war.
Any serviceman in uniform (regardless of race at a time when the military was still segregated) was guaranteed free admission, food and entertainment. The many soldiers shown in the club throughout the movie represent an impressive range of races and nationalities; all fighting for the Allied cause. All the major studios contributed to the formation of the Hollywood Canteen including carpenters, painters, electricians, musicians and especially the stars themselves. They could be found waiting tables, sweeping floors and washing dishes after working long days at their various studios. Their time was donated as their contribution to the war effort.
What passes as a plot is really just an excuse to get inside the club for a series of movie star cameos. Robert Hutton and Dane Clark play two GI's on medical leave from the South Pacific. Hutton plays Slim a shy guy with a huge crush on Joan Leslie. Clark is Sergeant Nowland a loudmouth from Brooklyn and Slim's best pal.
The story is any soldier or sailor's shore leave fantasy come to life. Slim gets to experience Hollywood by rubbing shoulders with many famous Warners' stars (they originally approached Paramount, MGM and other studios about contributing stars for cameos but were turned down). He is crowned the one millionth service member to enter the Canteen and wins a date with Joan Leslie, a hotel suite for the night and the use of a fancy car.
The list of stars is quite impressive; see cast list above. The best ones are Ida Lupino and Joan Crawford who both have amusing scenes with Clark. Sydney Greenstreet and Peter Lorre have a funny moment where they scare an overly exuberant soldier who has been dancing with Patty Andrews and Jack Benny does one of his silly violin routines.
The musical numbers include Cole Porter's "Don't Fence Me In" sung twice, once by Roy Rogers and once by The Andrews Sisters, "You Can Always Tell A Yank" sung by Dennis Morgan and Joe E. Brown, "We're Having A Baby (My Baby and Me)" performed by Eddie Cantor and Nora Martin, "The General Jumped At Dawn" by the African-American Golden Gate Quartet and "Sweet Dreams, Sweetheart" another song performed twice, this time by both Joan Leslie and Kitty Carlisle. Jimmy Dorsey and his orchestra provide most of the music.
Bette Davis and John Garfield act as emcees and Davis gets the final screen close-up to make a patriotic statement. Hollywood Canteen is pure propaganda from start to finish; it wears its heart and patriotism right out in the open on its sleeve. Times have sure changed. Can you imagine Hollywood running a free night club for service members today?

Photos © Copyright Warner Bros. Pictures (1944)
Related Review