Movie Review
High Anxiety
Danger, Intrigue, Romance... and a Touch of Kinkiness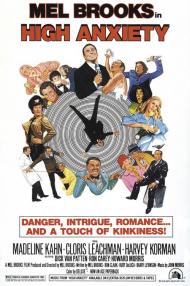 US Release Date: 12-25-1977
Directed by: Mel Brooks
Starring
▸
▾
Mel Brooks

,

as

Richard H. Thorndyke
Madeline Kahn

,

as

Victoria Brisbane
Cloris Leachman

,

as

Nurse Diesel
Harvey Korman

,

as

Dr. Charles Montague
Ron Carey

,

as

Brophy
Howard Morris

,

as

Professor Lilloman
Dick Van Patten

,

as

Dr. Wentworth
Jack Riley

,

as

The Desk Clerk
Charlie Callas

,

as

Cocker Spaniel
Barry Levinson

as

Bellboy

Reviewed on:
March 22nd, 2009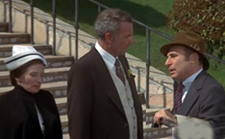 Cloris Leachman, Harvey Korman and Mel Brooks in the Hitchcock inspired, Brooks directed, High Anxiety.

High Anxiety is Mel Brooks comic tribute to Alfred Hitchcock. It lampoons many of Hitchcock's standard plot devices and directorial techniques, but not in a mean-spirited way. However, having said that, you don't even need to have seen a Hitchcock movie to find this one funny. I remember seeing this as a kid and not recognizing any of the references except perhaps one or two, and still laughing. Sure, it's one of Brooks lesser comedies from the 1970s, but it beats hands-down any of his later work.
Brooks also stars in the film as Dr. Richard Thorndyke (reportedly after Gene Wilder had to turn the part down because of scheduling difficulties), the newly appointed head of the Psychoneurotic Institute for the Very, VERY Nervous. He was hired following the previous head's untimely death. Once at the institute he discovers there are some very suspicious goings-on, although Nurse Diesel (Leachman) and Dr. Montague (Korman) seem determined to keep him from getting to the bottom of matters. The two of them will stop at nothing, even murder, to keep things going their way. Matters are muddled by Dr. Thorndyke's fear of heights, here known as "High Anxiety". And matters are muddled even further still by the arrival of femme fatale, Victoria Brisbane (Kahn), the daughter of one of the patients at the institute.
Many of Hitchcock's most famous movies are sent up here. My personal favorite is the shower scene lifted from Psycho, but here done with Brooks in the shower and the knife being a rolled-up newspaper delivered by the bellboy. Spellbound and Vertigo are the source of the plot's main inspiration, but North by Northwest, The Birds, Dial M for Murder and many others are also referenced.
Hitchcock was also known for his clever cuts and camera angles and much is made of that here. The camera pans in from way outside a room at one point, moving slowly inward only to inadvertently smash through the glass door. Later the camera is positioned under a glass coffee table, looking straight up, but Nurse Diesel and Dr. Montague keep placing cups and plates above the camera so it constantly has to move to keep them in shot.
The tension is also heightened throughout the movie by musical zings, often at quite innocent times. During the opening credits, Thorndyke is arriving at an airport and the music is quite tense as is the filming style, prompting him to proclaim as he exits, "What a dramatic airport!". And while traveling to the institute dramatic music begins, causing the doctor to look for the source only to see a bus carrying a orchestra pass by playing their instruments.
Most of Brooks' usual repertory company appears, apart from Wilder. Madeline Kahn's part is small, but she still manages to steal the scenes she is in. I particularly like her reaction to the heavy-breather on the phone. Leachman and Korman are also quite good as the least sexy couple to participate in a bondage scene in any movie ever filmed.
Sure, not every joke is a winner and a couple are overused, but the jokes that do work, more than make up for those that don't.
If you're a fan of Mel Brooks, you'll like this movie, but if you're a fan of both Brooks and Hitchcock, you'll love it.
Reviewed on:
March 24th, 2009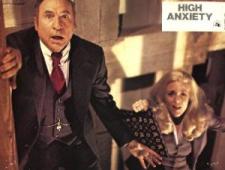 Mel Brooks and Madeline Kahn spoof a scene from Vertigo.

I like the scene where Mel Brooks croons the title song. Also Harvey Korman pretending to be a werewolf in order to make a patient act insane is hilarious. Cloris Leachman as Nurse Diesel (who's in need of a shave) saying "Those who are tardy do not get fruit cup" always makes me laugh. I agree that Madeline Kahn steals the scenes she is in, but then when didn't she?
Although Gene Wilder would have been good as Dr. Thorndyke, I'm glad Brooks played the part himself. This is his best performance in any movie that I have seen. He brings an easy-going charm to the part and manages to be - almost - the lone voice of reason in this gang of nuts.
The Hitchcock tributes come so fast and furious that you need to be a real aficionado, not to mention very observant, to catch them all. Yes, this may be one of Brooks lesser 70's comedies, but it is head and shoulders better than Silent Movie and everything he did after History of the World.

Reviewed on:
July 19th, 2011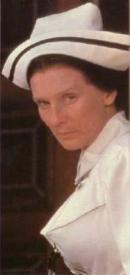 Cloris Leachman as the masochistic Nurse Diesel.
It is a shame Gene Wilder did not play the lead. Mel Brooks is quite the writer and director but not much of a lead actor. Wilder could have added so much more to the role. Just imagine him giving the sanitized penis envy speech. Brooks comes across more as a straight man, leaving the jokes to smaller roles such as the rude, hysterical, high pitched bellboy, Dennis.
The real treat is Cloris Leachman as Nurse Diesel. She carries herself with an absurd posture, holding her head down so as to not have a neck. Her breast stick out, pointed like cones long before Madonna got attention for wearing them. "I'll let you wear my underwear." She says to Korman, who somehow finds that offer attractive.
Madeline Kahn is good as usual, but she does not show up until 45 minutes into the film. My favorite scene of hers is when she gets a call from Brooks while he is being choked and she thinks it is sexual. "How did you, ummmm... get my room number? I am not going to listen to any more of this, I mean, I've had just about enough! What are you wearing? Jeans? You're wearing jeans? I bet they're tight."
As my brothers wrote, High Anxiety has plenty of good comedic moments, but you will enjoy it all the more if you know Hitchcock's work.
Photos © Copyright 20th Century Fox (1977)