Movie Review
Head of State
"The Only Thing White Is The House."
(2)
Reviewed on:
March 30th, 2003
Chris Rock in Head of State.
I couldn't help but think of my brother Eric as I watched this movie. He often goes on about Hollywood's liberal and simplistic attitude towards politics, and recently he wrote in his Bringing Down the House review how that movie joined a long line of movies where 'an outspoken black shakes things up for some tight ass white folks.' Well this movie definitely has a liberal and simplistic attitude towards politics and easily fits into the category of movie he described. Mixed in with the politics and the stereotypes however, there are some funny almost Pythonesque moments, that made me laugh. There just weren't enough of them to save this movie.
Chris Rock (Who also directed, co-wrote, and co-produced the movie) stars as Mays Gilliam, an Alderman of one D.C.'s worst wards. At the beginning of the movie, he makes the local news when he saves a woman from a condemned house that is about to be demolished.
That same day, a presidential nominee and his running mate are killed in a mid-air collision. The political party of the nominee who was killed (Although it is never named, I think that it is safe to call them Democrats.), need to find someone to run in the dead nominee's place. When no one will run due to the fact that the opposition (The Republican Candidate) seems to have a lock on the election, they decide to find someone to run that won't have a chance of winning, but that might help them clinch the minority vote in 2008, or so goes their dubious reasoning. They select Mays after seeing him on the news, and he agrees to run, not knowing that they want him to lose.
Some funny, surreal moments are scattered throughout this movie as we follow Mays' presidential campaign. Robin Givens, who plays Mays ex-fiancée, gets a few laughs as the social-climber who wants to reunite now that Mays is running for President. The opposition candidate who is running on the platform that he has been 'Vice-President for 8 years, a war hero, and Sharon Stone's cousin', is also good for a few chuckles. The best moments are when the movie is spoofing the entire campaigning process. For instance, one of the negative ads that the opposition runs against Mays says, "Mays Gilliam didn't attend the 'Rally to Fight Cancer' last year. Does this mean Mays Gilliam is for Cancer? A vote for Mays Gilliam is a vote for Cancer." If only there had been more moments like this.
Instead the movie tries to have heart as well. Mays spouts out a simple view of what he thinks is wrong with the country, but with no mention of a solution, and suddenly the entire country is behind him. At the beginning of the movie, in Mays ward there is the threat of a bus driver's strike. He assures a member of his ward that if the strike happens, he will personally drive the man to work. Sure enough at the end of the movie, on the very eve of the election, the strike happens and Mays, after seeing the man he promised commenting on the strike in a 'man on the street interview' on TV, returns to his old neighborhood to drive everyone to work in his campaign bus. By the end I felt like I'd just watched a long Saturday Night Live sketch directed by Frank Capra. Not a good combination.
As a straight out spoof of politics and campaigning, this movie could have worked, instead it ends up generating a few good laughs that just aren't enough to carry the rest of the movie.
Did you enjoy Scott's review?
+
6
You may only thumbs up or thumbs down a review once.
Reviewed on:
February 25th, 2014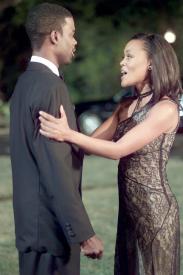 Chris Rock and Robin Givens in Head of State
Oh dear, oh dear! Where do I begin? As a conservative, I found myself shaking my head in dismay at some of the ignorant liberalism on display here. It has some surprisingly dark jokes, such as Robin Givens constantly getting security called on her. Mays Gilliam's body double provides one of the biggest laughs. The humor however, does not make up for the ignorant liberal bias.
The portrayal of Republican Brian Lewis and his constituents is wrong and offensive. A KKK member proudly states, "Hi, I'm a Klansman. I hate niggers, Jews, and fags, but I love Bryan Lewis!" Osama Bin Laden adds, "Yo yo wassup I'm Osama Bin Laden. I hate America but I love Bryan Lewis." It is wrong on every level. First of all, the KKK was founded by Democrats. Second, terrorists love Democrats because they are notoriously easier on them than Republicans. Saddam Hussein partied when Bill Clinton was elected.
Even though this is a comedy, I cannot let such lies go uncorrected. This film is also racist. Gilliam has this line, "They shut up Muhammad Ali. They shut up Richard Prior. They gave Magic Johnson AIDS. They even turned Michael Jackson white! Now, do you really think these people give a damn about you?" "They?" Ross Perot had his ass handed to him by the liberal media when he addressed a group of African Americans as, "You people." But Chris Rock can dismiss whites as, "They."
As we have since learned, a black man can be elected President but certainly not by acting like Mays Gilliam does here. This guy appeals to voters with such high school notions as, "If we had laws on the Destiny's Child Video, we'd have less crime." And, "America is the richest, most powerful country on earth. If America was a woman, she would be a big-tittied woman. Everybody loves a big-tittied woman!"
As if the dialogue was not amateur enough, there is a scene at an elegant fund raiser where Gilliam plays some contemporary pop music. Suddenly, all of the formal dressed old rich white people break out with hip hop dance moves. Yep, all tight ass rich white people need is an outspoken common black person to shakes things up for them to make the world a better place.
Although this is all political bullshit, I did laugh when Lewis said, "God bless America. And no place else." It is how liberals like to think of Conservatives and I am certainly able to laugh at myself.
Did you enjoy Eric's review?
+
5
You may only thumbs up or thumbs down a review once.
Photos © Copyright Dreamworks LLC (2003)