Movie Review
A Guide to Recognizing Your Saints
(0)
Reviewed on:
September 30th, 2006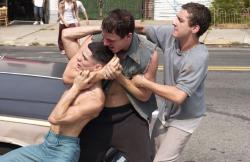 A Guide to Recognizing Your Saints.
The main reason I wanted to see this movie is because it is set and was filmed in Astoria, Queens, which is the New York neighborhood where I live. Since the movie takes place mostly during the 1980s and claimed to tell the story of the "mean streets" of Astoria, I was curious to see how the neighborhood would be represented. If it's an accurate depiction of what life was like in Astoria during the 1980s, all I can say is that the Astoria of today bears as much resemblance to the Astoria of the 80s as the Times Square of today does to the Times Square of 20 years ago, which is to say, no resemblance at all. While here, Astoria is shown as a gang-ridden, graffiti covered area of violence, today it is a gentrified area where those fleeing the high prices of Manhattan mingle freely with long time residents and all enjoy the ten minute subway ride into Manhattan.
It is a trip back in time for not only the neighborhood, but also for Dito (Downey), the movie's main character, who returns to Astoria at the urging of his mother and old friends. They are anxious for his father who is sick, but refuses to go into the hospital. Dito, who hasn't been back to the old neighborhood for many, many years, eventually relents and agrees to come see his father, whom he has been estranged from since leaving.
The story, which is really a coming of age story, is then told with two plots interwoven together. In the one, Dito journeys home and is reunited with his old friends and family. In the other story, Dito relives in his mind the fateful summer that led to his fleeing New York for California where he has become a successful writer. In the past Dito dealt with rival gangs, conflict with his father, first love, and a burgeoning restlessness brought on by the arrival of a new student from Scotland who shows Dito that there is more to the world than this small neighborhood. That summer culminates in emotional and physical violence from which Dito flees rather than face. His present journey is an emotional one that involves him finally returning to face his childhood fears. There have been many coming of age movies. So many that there might not seem to be a need for another one, but this one stands on its own as an excellent example of the genre.
With Downey leading the way, the cast is universally excellent. Palminteri is great as Dito's father, as is Wiest as his mother. Dawson's part is really just a glorified cameo, but she does well in her small scenes. Even Channing Tatum does a good job as Antonio, Dito's friend whom Dito leaves behind.
Dito Montiel, who wrote the book based on his own life, writes and directs the movie. While the writing is excellent, his direction falls prey to too many gimmicks and gets in the way of the story sometimes. Not irreparably, but in a way that distracts the viewer. There are too many hand held camera scenes and moments when the characters either talk to or look directly into the camera. There are a couple of scenes with subtitles and some with overdone editing. None of these things enhance the movie, they just yank you out of it and remind you that you're watching a movie. I hope if he keeps making more movies that he learns from this one.
As for seeing Astoria in a movie, I was happy to see that Montiel made good use of the area, even though he does his best at times to make it look unattractive. We've all seen Manhattan and Brooklyn in movies so often, it's nice to see Queens get its fair time.
Did you enjoy Scott's review?
+
2
You may only thumbs up or thumbs down a review once.
Reviewed on:
August 13th, 2007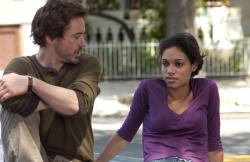 Robert Downey Jr. and Rosario Dawson in A Guide to Recognizing Your Saints.
This is a coming of age story, but the heart and soul of it is the friendship between Ditto and Antonio. Ditto comes from a working class family. His parents treat Antonio as if he is more of a nephew than their son's friend. He is always welcome at their home. Antonio is always shown beat up. His father is abusive. Their friendship is about convenience. Antonio acts like Ditto's bodyguard and Ditto and his family provide Antonio with a bit of normalcy.
Ditto uses Antonio when it serves him but abandons him as soon as it benefits him. When threatened by a bully his first thought is to get Antonio. When he gets a job walking dogs he ignores Antonio, even when he asks if he can get a job doing it too. Antonio certainly has some social issues, but he cares for Ditto, who is very self serving. One of the most telling scenes about their relationship is when Ditto talks to Antonio at the funeral. Ditto tells him how sorry he is about his brother. Antonio tells Ditto that he will get the guys that threatened him. It is his way of telling Ditto that he loves him. Ditto doesn't catch on and they end up at odds.
Plenty of other foul mouthed kids are around Ditto and Antonio but they are just filler. Ditto's girlfriend is just a girlfriend in name only. The other boys are just around to waste time with Ditto until he out grows them. The real conflict in the movie is that he outgrows and ultimately betrays Antonio's friendship.
Montiel has a really good story going on at the heart of this film but it is buried under too much crap. He should have pushed everyone else into the background and centered completely on Ditto and Antonio. Like Scott, I also think he should have gotten the direction out of the way. Like too many journalists, Montiel cannot just let the story speak for itself. He tries to be creative with the direction and editing but only succeeds at creating a distraction from an otherwise good story.
Did you enjoy Eric's review?
+
2
You may only thumbs up or thumbs down a review once.
Photos © Copyright First Look Pictures Releasing (2006)