Movie Review
The Girl from Missouri
The original ditzy blonde of the movies is The Girl from Missouri!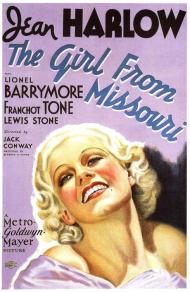 US Release Date: 08-03-1934
Directed by: Jack Conway, Sam Wood
Starring
▸
▾
Jean Harlow

,

as

Eadie Chapman
Lionel Barrymore

,

as

T.R. Paige
Franchot Tone

,

as

Tom Paige Jr.
Lewis Stone

,

as

Frank Cousins
Patsy Kelly

,

as

Kitty Lennihan
Clara Blandick

,

as

Miss Newberry
Nat Pendleton

,

as

Lifeguard
Hale Hamilton

,

as

Charlie Turner
Alan Mowbray

as

Lord Douglas


Reviewed on:
December 9th, 2003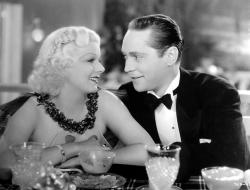 Jean Harlow and Franchot Tone in The Girl from Missouri.
The Girl from Missouri was made right around the time the film code was going into effect. This film stresses virtue and high morality yet it still has some lines and scenes that would not again be seen in Hollywood movies for decades to come.
Jean Harlow plays a chorus girl, named Eadie, on the make for a millionaire. She chases an old rich guy (Lionel Barrymore) to Palm Beach. Once there, she meets and falls in love with his son, Tom. The old man wants his son to stay away from her. He assumes she is nothing more than a gold digging slut.
To open his son's eyes to her, he shows Eadie around his home. He ends up leaving Tom and Eadie in Tom's bedroom. The idea is that his son will get some and realize Eadie is just a slut looking for money. However the plan backfires as Tom's sexual advances to Eadie reveal that she is actually a virgin and intends to stay that way till marriage. To his dad's dismay, Tom then gets engaged to Eadie. Desperate to get rid of her, Tom's dad then sets Eadie up for stealing and gets her put in jail. To save herself, Eadie finds herself on the brink of sacrificing her virtue to a married man. Tom of course comes to the rescue.
The film is fast and funny. At a mere 72 minutes it is over before you know it. The dialogue is classic. Early in the movie Harlow and a friend (Patsy Kelly) are at a party full of rich older men. Harlow tells her friend to act like a lady. Her friend responds, 'If they wanted ladies they'd go home to their wives.'
This movie also contains some dark subjects. Early in the movie a man kills himself by gunshot (played by Andy Hardy's dad Lewis Stone). In one scene Harlow loses a job because - as she explains it - she '...wasn't friendly enough to the boss.' In another scene Harlow tells a friend that she just got engaged to a man she just met. Her friend asks, 'Did someone have you sniff a little white powder.' In another scene, Harlow gets thrown in a shower fully dressed. When she emerges you can clearly see some nipple action through her soaked dress.
For being a simple little comedy it was very well-written. Right after Tom's dad frames Eadie he is shown speaking at a banquet. Later he gives a little speech to some reporters. Both speeches contain the subjects of honor, sincerity and dignity, all of the things that he does not show to Eadie.
The lead male role played by Franchot Tone should have been played by a bigger star. Sure he does a decent job, but Harlow sucked up scenery better than any actress of her day. She was best when opposite a major lead actor like James Cagney or Clark Gable. Made during the depression, this is just another of the thousands of Hollywood movies that show the rich as self-centered stuck-ups. The Hays Movie Code forbade direct references to drugs or sex. Too bad it did nothing to stop the stereotypes of blacks who are shown here as simple laborers, and rich whites who are always shown as snobs.
Reviewed on:
December 16th, 2012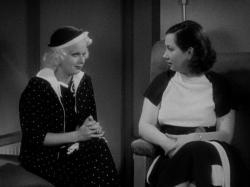 Jean Harlow and Patsy Kelly in The Girl from Missouri.
The girl might be from Missouri, as indeed Jean Harlow was, but the wit is from the wand of prolific screenwriter, Anita Loos. This was the second of three films Loos wrote for Harlow, after 1932's The Red-Headed Woman and before Saratoga, Harlow's last film in 1937. The combination of Loos' snappy patter and Harlow's delivery was a potent one and guaranteed to amuse.
Loos' most famous work is undoubtedly Gentlemen Prefer Blondes and there's echoes of that tale in this one. Harlow's Eadie isn't nearly as ditzy as Lorelei Lee, but if they had drinks together, they would find plenty to talk about. And both of them could invite along their brunette best friends.
As Eric mentioned, the dialogue is terrific. When Eadie sees Kitty flirting with a bellhop and gives her a dirty look, Kitty tells her, "If you can't afford to tip 'em, you have to be polite!" When Barrymore's Paige is at a party and watching Harlow and the rest of the chorus line dancing, another guest tells him, "You're looking well." To which he replies, "I'm looking as well as a I can without my glasses."
I agree that Franchot Tone is no Clark Gable and that Harlow shared a great chemistry with the King, but he is better suited to this part than Gable would have been. The character of Tom Jr. is dominated by his father and by Eadie in a way that it's difficult to picture Gable being. Also, this is clearly a Jean Harlow movie rather than a Harlow and someone else movie.
This was the first of Harlow's movies to receive the seal of approval from the Hays Office, but Eric is right that even with the code in effect, this movie gets away with much more than later movies. Harlow's outfits and braless state alone would be enough to keep the Code from approving it in the future. I mean, just look at those short shorts that Harlow wears when she rehearses. The flirtatious antics of Kitty would be another no-no under the Code. One thing the Hays Office did demand be changed was the title, which originally was Born to Be Kissed.
Fast paced and quite funny, The Girl from Missouri is a delight from start to finish.
Reviewed on:
December 18th, 2012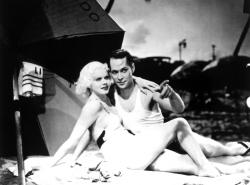 Jean Harlow and Franchot Tone in The Girl from Missouri.
The Girl from Missouri was begun before the enforcement of the Hays Code. It was rewritten after censorship became the norm in Hollywood in the summer of 1934. Fortunately the end result works. Eadie still looks and sounds as cheap as any of the fast talking dames Harlow played pre-Code. The difference is in the fact that Eadie is a virgin and plans on staying that way until she has a ring on her finger. As she tells Lewis Stone's character early in the movie, "A girl couldn't accept an expensive gift like that from a gentleman unless she was engaged."
In a way The Girl from Missouri has the best of both pre and post-Code Hollywood movies. It still titillates on the surface but because of Eadie's forced chastity the ending packs a much more potent romantic punch. It also helps that the over used mistaken identity plot device is settled in a hurry. The script doesn't drag it out to the final scene like so many screwball comedies.
I agree with Scott that Gable would have been miscast. And besides by this time Harlow was a big enough star that she didn't need an equally famous costar. She is absolutely terrific as usual. I don't think she ever gave a truly bad performance. Sure she wasn't a great dramatic actress but she was every inch the Movie Star and one of the great sexy screen comediennes. She left an impressive body of work for someone who died so tragically young.
Franchot Tone is actually very good as Tom. He was certainly handsome enough and he has an easy charm about him that is quite appealing. He could also deliver a comic line with style. In the scene aboard the yacht where Eadie first discovers Tom is T.R.'s son, she jumps overboard and right before Tom goes in after her his father tells him to watch out for her. Tom (who had overheard Eadie and Kitty plotting together in the previous scene) replies incredulously to his father, "You're warning me?!"
Patsy Kelly makes a great comic best friend as the man hungry Kitty (a much less sexually ambiguous role than the rather butch lesbian actress often played). She gets some of the best lines. Patsy Kelly would have a long career in show business. She spent time as Tallulah Bankhead's personal assistant (and sometime bed partner) and continued to appear in the occasional movie well into the 1970s. Her later credits include Please Don't Eat the Daisies, Rosemary's Baby and Freaky Friday as well as numerous television roles. She won a supporting actress Tony Award in 1971 for the Broadway revival of No, No, Nanette. Her final role was as a passenger on a 1979 episode of The Love Boat. Patsy Kelly passed away in 1981 at the age of 71.
Eric mentioned that Lewis Stone famously played Andy Hardy's dad, but what he didn't say was that he shares a scene with Lionel Barrymore, who was the original Judge Hardy in the very first Andy Hardy movie called A Family Affair. Barrymore is quite good here as the cynical father, skeptical about Eadie's motives. He's not really a snob though as the script makes a point of mentioning that he was a self made man. Once he realizes that Eadie genuinely loves his son, and that she isn't some easy floozy, he quickly comes around to her side. All of which makes for a very satisfying ending to a wonderful little romantic comedy.
Photos © Copyright Metro-Goldwyn-Mayer (1934)
Related Review