Movie Review
For Love of the Game
Billy Chapel must choose between the woman he loves and the game he lives for.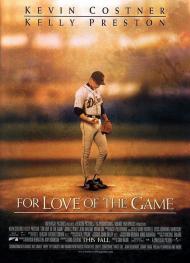 US Release Date: 09-17-1999
Directed by: Sam Raimi
Starring
▸
▾
Kevin Costner

,

as

Billy Chapel
Kelly Preston

,

as

Jane Aubrey
John C. Reilly

,

as

Gus Sinski
Jena Malone

,

as

Heather Aubrey
Brian Cox

,

as

Gary Wheeler
J.K. Simmons

,

as

Frank Perry
Vin Scully

,

as

Himself
Steve Lyons

,

as

Himself
Larry Joshua

as

Yankee Fan in Bar

Reviewed on:
March 28th, 2011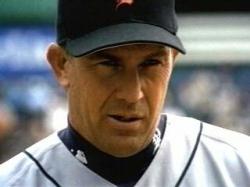 Kevin Costner in For Love of the game.
When it comes to playing aging athletes, Kevin Costner was the go to guy for a while. He has the man's man charm and yet he appeals to the ladies as well, and he had the build and ability to make you believe he really could be an athlete. Bull Durham was his successful baseball romantic comedy and with For Love of the Game he tried to make a baseball romantic drama. Although there are some entertaining moments, he definitely doesn't come close to equaling his earlier success.
Costner plays Billy Chapel, a star pitcher for the Detroit Tigers whose best years are behind him. He's due to pitch a meaningless last game of a losing season in New York against the Yankees. The morning of the game he learns that Jane, his long time girlfriend, is breaking up with him to move to London. To make the day even worse, he is told that the owner of the Tigers is selling the team and the new owners first order of business will be to trade away his expensive contract (Surely a star of his supposed stature would have a no-trade clause in his contract?).
The rest of the movie takes place with Billy on the mound, with flashbacks interspersed between the innings of his relationship with Jane. We see how they met, how their relationship matured, weathered stormy times, and finally disintegrated. As the game wears on, almost without the distracted Billy being aware of it, he starts throwing a perfect game. But does Billy have enough gas left in the tank to finish it? And what will he do for love of the game and for love of a woman?
Where in Bull Durham, it was the relationships that made the movie, here in this movie it is definitely the scenes of baseball that are the most entertaining. Billy talks to himself on the mound and reminisces about some of the players on his and the opposing team. Even though because this is a Hollywood movie, you know how it will end, the suspense of whether or not he will finish pitching the game, is still quite good. I felt more emotion in the final inning as he and his team struggle to get the final outs than I ever did about his and Jane's relationship.
And at over 2 hours, a tighter editing job was really needed. They should have cut way back on the scenes between Jane and Billy. There's just not enough spark between the two of them. And it's not a fault of Costner or Preston. The writing just isn't good enough to provide any chemistry. There's better chemistery between Billy and his catcher (John C. Reilly) than there is between him and her.
I also have to admit that I didn't enjoy having to root against my beloved Yankees in the movie either. Although I did enjoy the moment when Billy is booed so rudely and vehemently that he mutters to himself, "I can always tell when I'm in New York." I didn't find it realistic though that the fans in the stands kept berating him so deep in the game. New York fans know enough to respect a perfect game when they see it unfolding. If Billy was pitching for the Sox then yeah, I could see the fans booing him all the way through, but not against a Detroit team on the final day of the season when Detroit is already out of contention.
If someone edited out all of the flashbacks and just kept the baseball scenes, you might have a pretty enjoyable (and short) movie. All the dull and rather heavy romance just drags down the pace. It's called For Love of the Game after all and not For Love of Jane.

Reviewed on:
August 16th, 2013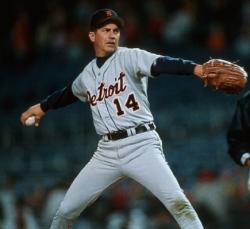 Kevin Costner in For Love of the Game
For Love of the Game completed Kevin Costner's baseball movie trilogy. Although all are complete and individual stories, they all have some similar themes. All hold baseball in high regard and all have a bit of sadness about them. Mostly they all deal with baseball as a metaphor for regret. In Bull Durham (1988) Costner played a minor league ball player whose best moment was a brief visit to the show. Field of Dreams (1989) was about helping several characters relive an important baseball moment from their past including Costner's character Ray, who once refused to have a catch with his father.
In For Love of the Game, Costner plays a Detroit Tiger pitcher who, as Scott wrote, has seen better days. Through flashbacks we see his five year relationship with Jane, a woman who truly loves him and all the mistakes he made during their time together. He is in the sunset of his baseball career and other than his rotating team mates and a masseuse/hooker, seems to not have many people in his life. He and Jane have recently broken up and as he pitches a good game, he reflects on how he has always made his career more important than his relationship with Jane.
This is a love story about a man whose heart has always belonged to baseball and a woman with plenty of defenses in place to protect herself. As real as these characters become, I agree with Scott that the real love story is between Costner and America's pastime. He looks like an emotionally wounded child after the Tiger's owner says baseball stinks. Costner practically pouts when he responds, just before leaving the room, "The game doesn't stink, Mr. Wheeler. It's a great game." The best piece of dialogue and most telling moment is when Jane asks Billy, "You ever gotten your heart broken?" and Billy responds, "Yeah. When we lost the pennant in '87."
Baseball players and most major league sports players are men I find hard to empathize with. They are adored by thousands and many get paid more money in a year than most of us will make in a lifetime. What's more, they get all that money and accolades for doing what many of us do for fun. Billy Chapel drives a nice sports car. He beds beautiful women. Men beg for his autograph on the street. Even with all of that, Costner shows us that Chapel is a man of regret wishing he did not have to succumb to the passage of time. Major league sports players are blessed with good genetics and a drive to succeed, but as Costner shows us here, they are also men who want to share their life with someone they care about.
The big glaring problem with For Love of the Game is the length. As Scott wrote, the flashbacks should have been trimmed drastically. We could have understood Billy's and Jane's relationship in half the time this film takes. This is Billy's story and only Jane's in relation to Billy. Her screen time should have been trimmed, allowing us to spend more time with Billy's true mistress, baseball.
Reviewed on:
November 23rd, 2013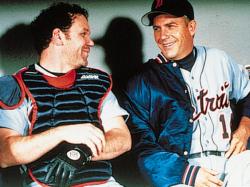 John C. Reilly and Kevin Costner in For Love of the Game.
Sometimes I disagree with my brothers' assessments of a movie. This is one time, however, when I am on the exact same page. The baseball scenes are as hot as the love story is tepid. The scenes with Jane and/or her daughter (a young Jena Malone) serve only to slow down the pace of this overly long movie. It wants to be both a great sports picture as well as a great love story. It almost succeeds at the former but fails entirely at the latter, which brings down the entertainment value of the entire movie.
Costner is perfectly cast as the aging star athlete. I liked the fact that he isn't your typical underdog who goes out and pitches a perfect game against all odds. The fact that he's one of the all time greats at the tail end of a Hall of Fame career adds to the poignancy. Athletes are forced to face retirement at a much earlier age than the rest of us. This gives sports pictures an added layer of sentiment that For Love of the Game takes full advantage of.
Just listen to real life longtime Brooklyn/Los Angeles Dodgers announcer Vin Scully as he calls the game. He was the perfect choice as he has called four perfect games in his long career. During his announcing, he eloquently sums up Billy's motivation as he attempts to pitch an elusive perfect game. He says, "He isn't pitching against the Yankees. He's pitching against time. He's pitching against the future, against age, and even when you think about his career, against ending. And tonight I think he might be able to use that aching old arm one more time to push the sun back up in the sky and give us one more day of summer."
And just when it gets too close to Cornville a heckler in the stands calls out insults like, "Hey Billy, you couldn't pitch a tent!" You gotta love those New York fans.
The best scene between Billy and Jane is when they first meet cute on the freeway. He stops to help her and she doesn't realize he's a famous ballplayer. The tow truck guy does though, and when Jane hesitates to answer when Billy invites her to the game he is on his way to, the tow truck guy chimes in eagerly with, "Hell, Billy, if she won't, I'll go." It's a great scene that demonstrates just how much other men look up to and admire big shot athletes.
Unfortunately Billy's and Jane's relationship loses whatever enjoyment it had at this point. I honestly never cared if they reunited at the end or not. Echoing my brothers, I don't think the movie is about Billy and Jane. Or at least it shouldn't be. It's really about Billy Chapel saying farewell to the sport he loves and that has made him rich and famous. And perhaps even more, it's about him saying farewell to his youth and going out on his own terms with one last great hurrah. And that's about as good as it gets.
Photos © Copyright Universal Pictures (1999)
Related Reviews