Movie Review
The Five-Year Engagement
"A comedy about the journey between popping the question and tying the knot."
(1)
Reviewed on:
April 28th, 2012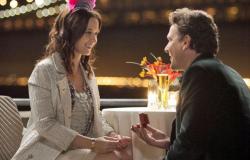 Emily Blunt and Jason Segal in The Five-Year Engagement.
The movie is titled, The Five-Year Engagement, which tells you how long it takes for the characters to make it to the altar, but what it doesn't tell you is that it was filmed in real time, or at least feels like it as the story seems to drag on for half a decade. With a much tighter editing job and the removal of the excess supporting characters this could have been a great romantic comedy, but instead it feels more like a rough cut than a final film.
Jason Segal and Emily Blunt, who previously played a couple in 2010's Gulliver's Travels, play Tom and Violet, the couple whose engagement is in the title. The movie starts on the night of their engagement. Tom is a sous chef at a trendy restaurant in San Francisco. Violet is looking for a psychology related postdoctoral assignment at Berkeley. Life looks sunny and rosy. When instead of Berkeley, Violet gets accepted at the University of Michigan, they decide to put off their engagement for the two years they expect to be in Ann Arbor. When two years becomes longer and Tom finds the adjustment of moving to Michigan difficult, their walk down the aisle seems to be in jeopardy.
Segal doesn't have typical male lead good looks, but he does have a certain average schlub charm. He doesn't have much range, basically playing variations of his character from How I Met Your Mother in every movie, but he's likable and funny so he makes it work. Blunt is both funny and beautiful. She's charming and an able comedienne. Apart from being way out of Segal's league, looks wise, they make a believable and likable couple that you want to see get together by movie's end.
Since having a couple to root for is the most important ingredient in a romantic comedy, you'd think that would be enough, but unfortunately, that's only one aspect of the movie. The script is filled with far too many supporting characters and scenes that appear to be improvised and should have been cut.
Way too much time is spent with Tom's friend Alex (played by Chris Pratt who isn't nearly as funny as he seems to think he is) as well as several unnecessary scenes with Tom's parents. There's an extended sequence in Michigan where Tom goes back to nature that feels completely out of place and seems to go on for 20 minutes. There are also scenes with Violet's fellow psychologists at U of M that are actually occasionally amusing, but again feel out of place and aren't central to the plot at all.
The movie's best scenes are those that deal directly with Tom and Violet's relationship. The scenes with just Jason Segal and Emily Blunt, work well. They play off of each other and share a believable chemistry. Their relationship is fairly predictable, but then all relationships in romantic comedies always are, but most romantic comedies have the good sense to keep that relationship as the focus of the film without as many, frankly, unfunny deviations.
There's also plenty of vulgar humor. I don't know if they were in the script or improvised on the day, but too many punchlines involve variatons of the words dick and vagina. Shock humor only shocks if it's used sparingly, but here nearly every character uses foul language as a punchline, which is par for the course on a film produced by Judd Apatow, who apparently never found a profanity that didn't make him laugh.
If they put out a director's cut of this movie on DVD that brought the running time down to 90 minutes or less, keeping only the best bits, this movie would probably be enjoyable. As it is though, there are a few nice moments, but they're each surrounded by dozens of cringeworthy ones.
Did you enjoy Scott's review?
+
11
-
0
You may only thumbs up or thumbs down a review once.
Photos © Copyright Universal Pictures (2012)