Movie Review
The Firm
"They made him an offer he should have refused"
(0)
Reviewed on:
June 6th, 2012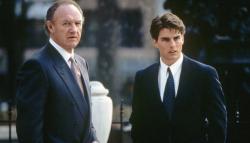 Gene Hackman and Tom Cruise in The Firm
John Grisham was Hollywoods go to author of the 1990s. Seven of his novels were made into major releases in that decade. The Pelican Brief would be released later in 1993. Although it was not his first published book, The Firm was his first novel to film.
At the very peak of his fame, Tom Cruise plays Mitch, the typical Grisham hero. He is a young idealist Harvard Law Graduate, who gets recruited by a small but very successful law firm in Memphis Tennessee. He and his wife Abby move there, where their future seems financially set.
It does not take long before Abby starts to see how intrusive the firm is to their private life. All of the firms lawyers are white married men. They had one female lawyer, but she died in a mysterious diving accident. Abby hears from some of the wives that the firm encourages the wives to stay at home and have babies. This firm seems straight out of the 1950s.
Mitch busts his ass at work with long hours and studying for the bar exam. He also soon discovers that the firm is not what he first thought. Not only does some of the dealings seem shady but two more lawyers get killed in another diving "accident." At this point, the movie is working. The mystery of what has Mitch and Abby gotten themselves into keeps you guessing and watching.
The films biggest problem is that it never seems to end. At 154 minutes it should have been trimmed many times over. Mitch gets in deeper and deeper with the firm, and seems to take forever to get out. His plan changes and is very complicated. Things happen that he does not even know about that is helping him. A simpler exit plan would have done wonders for this film.
The Firm establishes Mitch and Abby as fairly real characters. Abby came from money while Mitch was from a poor single mother. He worked his way through college. It is one of the reasons the firm is interested in him. He is hungry for money and they assume he will be easy to manipulate.
The Firm works best when Mitch and Abby find themselves in situations out of their control. The tension mounts and we wait with much anticipation for them to extricate themselves from this dilemma. Unfortunately, we wait and wait and wait.
We root for this couple. They clearly love each other. Tripplehorn has the films most romantic line. After Cruise asks if he has lost her, she replies, "I've loved you all my life. Even before we met. Part of it wasn't even you. It was just a promise of you. But these last days... You kept your promise. How could you lose me?" That sweet line comes late in the film and if Cruise had asked the audience that same question he may have gotten a different answer.
Did you enjoy Eric's review?
+
3
-
0
You may only thumbs up or thumbs down a review once.
Photos © Copyright Paramount Pictures (1993)