Movie Review
Fighting Caravans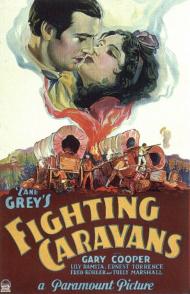 US Release Date: 02-01-1931
Directed by: Otto Brower
Starring
▸
▾
Gary Cooper

,

as

Clint Belmet
Lili Damita

,

as

Felice
Ernest Torrence

,

as

Bill Jackson
Tully Marshall

,

as

Jim Bridger
Fred Kohler

,

as

Lee Murdock
Eugene Pallette

,

as

Seth Higgins
Charles Winninger

,

as

Marshall
Roy Stewart

,

as

Couch
May Boley

,

as

Jane
Jim Farley

as

Amos


Reviewed on:
March 7th, 2007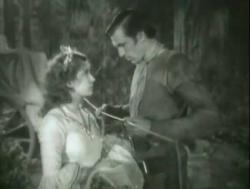 Lili Damita and Gary Cooper in Fighting Caravans.
Fighting Caravans is a very old, yet still entertaining western. It has one of the best stars of the golden era, Cooper. It has a big climactic fight with some Indians. It has two great comic relief characters. And just for good measure there is a love story thrown in as well.
Two old crusty scouts, Bill and Jim, along with a younger scout, Clint, that they raised, take a wagon train across the country during the early 1860s. Early in the movie, a French girl, Felice, is given a hard time about wanting to join the caravan as a single woman. When Clint gets into trouble with the law she pretends to be his wife in exchange for going along with the wagon train.
Once the wagon train makes a stop for the night, Clint comes onto Felice. He says that single people on a wagon train drink around a fire at night telling each other lies. The married folk go to bed, and since they are pretending to be married..... Felice turns him down, but Clint's parents, Bill and Jim, notice that they like each other and attempt to break them up. They tell the man in charge of the wagon train that they are not married in hopes that he will send Felice back. He doesn't and Clint and her spend the rest of the movie flirting and arguing as Bill and Jim scheme to keep them apart.
Bill and Jim give the movie most of it's humor. They have lines like, "Any man who doesn't drink with us is a double bladdered skunk."and "Your shooting like a cross eyed squaw." They act like an old married couple. Years before Brokeback Mountain, Bill and Jim were gay cowboys. They raised a child together and were inseparable. They drink together and look to get into fights together. The movie, of course, never says that they are actually gay, but when they die in a shoot out the one falls next to the other with his arm around him.
Fighting Caravans ends with a huge battle with some Indians at a river. Considering the name of the movie, I had hoped for more action than just the big finish. Early in the movie, a stagecoach passes the slow moving wagon train. A few scenes later they come across the burned remains of the stagecoach after it was attacked by Indians. Shortly their after, Bill, Jim and Clint go and attack the Indians and take the horses, from the stage, back. It never shows them do it. They just talk about it afterwards. There was plenty of room for more action in this movie but, for what ever reason, they left it out.
I know that westerns are not in vogue these days, but this movie, based on a Zane Grey story, could be remade into an exciting, action filled film. Hell, you could even play up Jim and Bill's unrequited relationship for more laughs.
Reviewed on:
December 31st, 2012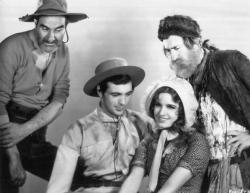 Ernest Torrence, Gary Cooper, Lili Damita and Tully Marshall in Fighting Caravans.
The Western genre has been around since The Great Train Robbery in 1903. During the 1920s several big budget Westerns had been produced, most notably The Covered Wagon in 1923. The arrival of sound, however, ensured that it would remain a strictly B-movie genre for some time as early sound recording techniques seriously limited the range of movement in film. It would not be until 1939 with the one, two punch of John Ford's Stagecoach and Cecile B. DeMille's Union Pacific that the Western would truly achieve big budget A-list prestige.
Fighting Caravans is one of dozens of B-movie Westerns made in those early talkie days. It is remembered today only because it stars Gary Cooper. The story is weak, it lacks action, and the acting is pretty bad. Gary Cooper hadn't yet fully developed his onscreen persona. Clint Belmet is goofier and a bit more of a dandy than the stoic, taciturn type Cooper would become known for playing.
Eric mentioned the lack of action and how some of it happens offstage. This probably had something to do with the cumbersome immobility of early recording equipment. Notice how most of the talking scenes have very little actual movement.
It was fun seeing Bill and Jim as an old gay couple. They are certainly inseparable and provide the movie with much needed comic relief. They are easily the most entertaining characters in the movie. Here's a sample of a conversation they have concerning Clint's behavior around Felice...
Bill Jackson: "He ain't been himself for the last three days. I've been watching him pretty close. Yesterday, he only had eleven drinks."
Jim Bridger: "And he's been a-working too. Doing things he don't have to do."
Bill Jackson: "She's got him all right."
Jim Bridger: "Let's get drunk!"
Fighting Caravans is a minor entry in the venerable career of one of Hollywood's most enduring leading men, but other than that it is a completely forgettable little Western.
Photos © Copyright Paramount Pictures (1931)