Movie Review
Enough Said
(0)
Reviewed on:
October 3rd, 2013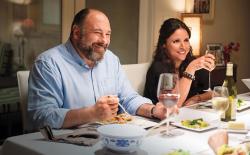 James Gandolfini and Julia Louis-Dreyfus in Enough Said.
Written and directed by Nicole Holofcener (Friends with Money), Enough Said is a nice little romantic comedy aimed at grown-ups. It's a gentle comedy about two 50-somethings falling in love while individually dealing with the impending departure of their daughters, who are off to college. It is only marred by a central plot device that feels as though it would be more at home in a sitcom than a theatrical movie.
Julia Louis-Dreyfus stars as Eva, a divorced masseuse with a daughter graduating from high school. At a party she meets Albert, played by James Gandolfini in one of his final performances before his death. Albert is likewise divorced and also has a daughter about to leave for college. From just a small spark between them when they both joke that there is not a single person at the party that they find attractive, a relationship begins. It's not a grand passion, filled with the drama that youth brings to everything, but is more relaxed and comfortable, with both sides warily approaching it, probing it gingerly with the experience that age brings.
The silly element of the plot is introduced when Eva takes on Marianne as a new client who coincidentally turns out to be Albert's ex-wife. Eva becomes Marianne's confidant and as they discuss relationships Marianne tells Eva all about her ex-husband and the reasons they divorced, which includes a long list of his bad habits. Eva, who until this point has at least seemed somewhat sensible, decides to not mention to either Albert or Marianne that she knows the other. This allows for a reveal at the end of the film that causes drama, but it feels forced, as if a reason was needed for some conflict in the third act.
Although not a laugh-out-loud comedy, there is plenty of humor. Dreyfus still has the comedic timing she perfected over the years on television. She also manages, for the most part, to escape from the shadow of Elaine Benes, her long-running character on Seinfeld. Some of the comedy is provided by Toni Collette and Ben Falcone who play a bickering married couple who are two of Eva's best friends. Collette's ongoing struggle to fire her maid is worth a chuckle or two.
Gandolfini plays a gentle bear of a man in sharp contrast to his most famous role. His character of Albert isn't as clearly defined as Eva and his is definitely the supporting part. He and Dreyfus do share a nice chemistry, both comic and romantic, although this isn't a passion for the ages.
Eva's relationship with her daughter and her daughter's best friend also provides some heart to the story. Eva saying goodbye to her at the airport prompted plenty of sniffling from the rather aged audience with whom I watched it.
Enough Said isn't a perfect movie, but with so many movies aimed at teenagers, it's nice to see one aimed at grown-ups that doesn't feature explosions, super-powers or even a trace of CGI.
Did you enjoy Scott's review?
+
6
You may only thumbs up or thumbs down a review once.
Photos © Copyright Fox Searchlight (2013)