Movie Review
Elaine Stritch: Shoot Me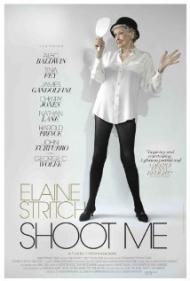 US Release Date: 02-21-2014
Directed by: Chiemi Karasawa
Starring
▸
▾
Elaine Stritch

,

as

Herself
Alec Baldwin

,

as

Himself
Rob Bowman

,

as

Himself
Tina Fey

,

as

Herself
James Gandolfini

,

as

Himself
Cherry Jones

,

as

Herself
Nathan Lane

,

as

Himself
Tracy Morgan

,

as

Himself
Harold Prince

,

as

Himself
John Turturro

as

Himself

Reviewed on:
July 17th, 2014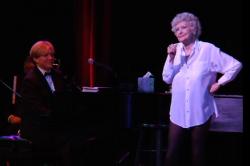 Rob Bowman accompanies the incomparable Elaine Stritch in Elaine Stritch: Shoot Me.
Elaine Stritch's enthusiasm for life and incredible love of performing ooze from every scene in this wonderfully fitting documentary tribute to the legendary entertainer. I watched this movie the night before last and just a few hours ago I heard the sad news of her death. She passed away at her home in Michigan at the age of 89. Last year Stritch moved back to the Detroit suburb where she had grown up, after spending nearly 70 years in Manhattan. A good portion of which she spent at the top of the Broadway heap. In the film she jokes about her young nephew who, after learning his famous aunt was moving back to Michigan, quipped, "At least you can't say you didn't give it a chance."
A tremendously unique talent Stritch was as memorable in life as any character she played. And she got a shot at some of the greatest roles in Broadway history. Highlights of her superlative career are showcased but the focus of Shoot Me is on Miss Stritch's final years. She faced the onslaught of advancing age with grace and dignity, never losing her zest for life. She may have been crumbling physically but she kept her verve and her nerve right up to the end.
In the film she battles memory loss. Frequently forgetting lyrics in rehearsals only to deliver a phrase with a power and emotional clarity that leaves you in awe once she's in front of an audience. She may have been brittle and stooped but she still ran out on stage in her trademark blouse and leggings, barking out "I'm Still Here" for the ten-thousandth time.
Alec Baldwin, Tina Fey, and Tracy Morgan show up to pay their respects. In addition to her 30 Rock cast mates she is joined by Nathan Lane, John Turturro, and the late James Gandolfini. We also see her walking the streets of Manhattan, an unmistakable figure wearing a mid-length fur coat that partially concealed her long slender legs, large eyeglasses and an ever present hat perched atop her head. She demanded to be seen and loved making an entrance. This movie is frank and it's to the great ladies' credit that she allowed such an intimate look, warts and all, at herself. She was cantankerous and filled with self doubt. And, as all Great Stars must be, she could be extremely self-involved. And, like all Great Stars, she was never less than fascinating to watch.
I had the unforgettable pleasure of seeing her one woman show, Elaine Stritch at Liberty, on Broadway a dozen years ago. She held sway all alone on that stage for several hours, belting out her trademark songs, and telling colorful anecdotes concerning the likes of Marlon Brando and Judy Garland. She met or worked with absolutely everybody. Elaine Stritch: Shoot Me stands as a tribute to, as well as an invaluable record of, her incredible life and career. It can never take the place of seeing her in person but it's the closest thing we've got now.

Reviewed on:
July 19th, 2014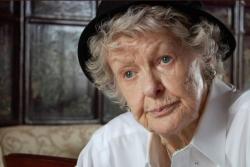 Elaine Stritch
I never saw Elaine Stritch on Broadway or for that matter any of her films. In fact, I had no clue who she even was until I watched this film and realized that she played Alec Baldwin's ornery mother on 30 Rock. I recall watching the show religiously and found her familiar but I never knew she had such a career. The confident way she carried herself broadcasted an eccentric star quality.
As Patrick noted, Stritch met or worked with absolutely everybody. My favorite story of hers is when she went on a date with John F. Kennedy in the late 1940s. She had a picture of them at a club together where Kennedy looks drunk off his ass. At the end of the date, Elaine describes how she asked Kennedy up for coffee but Kennedy responded that if "coffee" meant listening to Glenn Miller records and eating scrambled eggs, he was not interested. Stritch was a virgin at the time and that was exactly what she meant. She then stated that she knew someone who laid it on the line like that was going places. (and here I always thought it was his father's money and connections)
Patrick has always been fascinated by brassy old broads. Auntie Mame is one of his favorite films and I wonder why Stritch never played that part on Broadway as it would have been a natural fit. I was honestly bored with her about half way through the film. The entertainment value of her loud and crass shtick only goes so far. She is all personality and her larger than life presence seems to absorb all of the energy in any room she enters. She always has people around her but she comes across as quite lonely.
What struck me about her was just how healthy she was for her age. It gave me to pause. How many people do you know younger than her who seem far older. I know plenty. I guess she had a secret that others also know. What do Paul McCartney (72), Hugh Hefner (88), Joan Rivers (81) and Regis Philbin (82) all have in common? Like George Burns, who died at 100, and Mickey Rooney, who died at 93. All of these entertainers, including Stritch, worked well after most have retired. I thoroughly believe they are, or were, all just too busy to die.
The most fascinating aspect to the film, for me, is near the end when Stritch broaches the subject of death. She knows the, "beginning of the end" is nigh and so she decides to move back to Detroit. I saw it as a message to Death, that she was finally making time in her schedule for him. She quotes 18th century English actor Edmund Keane, who, supposedly said on his death bed, "Dying is easy. Comedy is hard."
Reviewed on:
July 22nd, 2014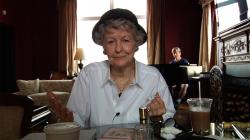 Elaine Stritch in Elaine Stritch: Shoot Me.
On my first trip to London, my driver from the airport told me the following story. He once had Elaine Stritch in his car and he was driving her from the theater to her hotel. Someone had given her a potted plant as a congratulation present after the show, which she was clutching in the back seat. As he drove her through the late night streets, she suddenly asked him in that distinct voice of hers, "Driver, do you like plants?" When he said, "No.", she replied, "Neither do I." and tossed the plant out of the moving car window. I mention this story because it rather sums up how I feel about Elaine Stritch. She was entertaining and could be funny to watch or hear about, but she seemed like she could be one hell of a pain in the ass in person.
Like Eric, I found her shtick to be a bit tiresome, even while I found her interesting and often sympathetic, despite her annoying theatrical tendencies. This film is only an hour and 20 minutes, but at times feels longer and that's because the only thing it has going for it is Stritch's shtick. She had a very long career and knew many famous people, but we only get to hear about a few of them and we learn only the briefest of basics about her early life and career. We see a few clips of a young Stritch, but it would have been nice to see a few more. I would have appreciated a more factual look at her life interspersed with the (then) present day footage.
One recurring refrain in the film is Stritch's statement that she only has one drink a day. She says this several times during the film and speaks of drinking with the wistful longing of a true addict. Before going on stage she takes a drink and excuses it as medicinal. Given how long she survived and how old her sisters were when they passed away, I couldn't help but wonder how long she might have lived had she never drank or smoked at all. Although given how lovingly she speaks of alcohol, I have the feeling she would have gladly traded those few extra years for the pleasure she derived from drinking.
I agree with Eric that it was undoubtedly her work that kept her going and her decision to move back to Michigan does seem as though she knew she was going home to die. Despite finding her demanding antics and bad temper to be annoying, by the end of the film, Stritch had earned my respect. She quotes Bette Davis in the film when she says, "Getting old isn't for sissies." As we see Stritch carry on, still performing into her eighties, battling the physical and mental ravages of time, it's obvious she was no sissy.
Photos © Copyright isotopefilms (2014)