Movie Review
Despicable Me 2
"When the world needed a hero, they called a villain."
(0)
Reviewed on:
July 4th, 2013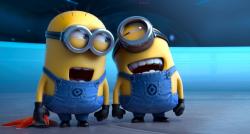 The minions steal the show in Despicable Me 2
This sequel to 2010's Despicable Me is nearly as entertaining as the original. It may not be quite as fresh, but it still produces laughs and once again it is the little yellow minions who steal the show.
Although the plot revolves around Gru, the former super-villain, voiced by Steve Carell, saving the world, the film's best bits are the smaller moments. I was more entertained by trying to see him fit into normal suburban life as the father of three daughters than I was watching him foil the deeds of El Macho.
The film opens with Gru and his many minions putting on a birthday party for scene stealing Agnes, the youngest of Gru's daughters. He has to put up with hordes of children and a neighbor anxious to set him up on a date. Shortly after the party he is recruited by the Anti-Villain League who decide that the best way to catch a Super-Villain is to hire a Super-Villain. They send Gru undercover at a mall where they believe a Super-Villain is hiding. Assisting him, along with his minions of course, is AVL Agent Lucy (Wiig), for whom Gru begins to develop romantic feelings.
In between helping to save the world, Gru must deal with his oldest daughter's first crush and his own blossoming feelings for Lucy. It's often in the smaller moments rather than the big ones that the movie most succeeds.
It is those little yellow minions, with their odd little language and bumbling antics, who once again produce the most laughs. From doing household chores to singing their version of YMCA, they never fail to put a smile on your face. They were the highlight of the original and they are the highlight here. It's not surprising that they are getting their very own prequel, origin story in 2014's Minions.
Visually the film is a treat. It's a stylized form of animation and it's quite enjoyable in an almost old fashioned way. Pixar and other animation studios have advanced the art form to a very realistic degree, but sometimes it's nice to see animation that is more concerned with fun than realism. As with most movies that are offered in 2-D and 3-D, I opted for the sans glasses option and don't feel as though I missed a thing.
Despicable Me is exactly what a cartoon should be. A lot of fun, with jokes that both kids and grown-ups can enjoy.
Did you enjoy Scott's review?
+
5
-
0
You may only thumbs up or thumbs down a review once.
Photos © Copyright Illumination Entertainment (2013)