Movie Review
The Curse of the Jade Scorpion
"Love stings"
(0)
Reviewed on:
October 31st, 2006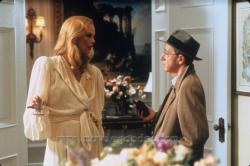 Charlize Theron and Woody Allen in The Curse of the Jade Scorpion.
The Curse of the Jade Scorpion is not among the worst movies of Woody Allen's long and storied career, but neither is it one of his best. It helps that it is set in the past. Allen has done most of his best work in movies set from the 1920's to the 1940's. Curse is set in 1940.
Allen plays an investigator for an insurance company. Yes, he's a bit old for the part but it works because he surrounds himself with other male actors his age and also by subtly pointing out that back in 1940, 50 year old guys looked more like 65 year old guys look today.
Helen Hunt plays the female lead, an efficiency expert at the same insurance company, where she is having a secret affair with the married boss (Aykroyd). Like all screwball comedies of the era she and Allen detest each other until they fall in love.
The plot kicks in when Allen and Hunt are both brought up on stage and hypnotized as part of a night club act. They are each given a key word that puts them under hypnosis. Allen's is Constantinople and Hunt's is Madagascar. Later the hypnotist phones Allen's apartment says the magic word and sends Allen off to steal some jewels.
As it sounds this is a fairly successful tribute to the comedies of the era. Charlize Theron shows up as a rich seductress making like Veronica Lake. She is much better than Helen Hunt who seems incredibly bland in the Rosalind Russell type role.
As for Allen he is pretty good here, and the script and dialogue are fine if not really inspired. The flaw is in the pacing. This is the most essential ingredient in making a successful screwball comedy. It has to be rapid fire from start to finish. I don't know if it is just his age showing but the direction seems to plod instead of zip along.
Still, for all its flaws, (and for what it's worth) The Curse of the Jade Scorpion is probably Woody Allen's best comedy thus far in the new millennium.
Did you enjoy Patrick's review?
+
7
-
0
You may only thumbs up or thumbs down a review once.
Photos © Copyright DreamWorks SKG (2001)