Movie Review
Conan the Destroyer
"The most powerful legend of all is back in a new adventure."
(0)
Reviewed on:
August 15th, 2011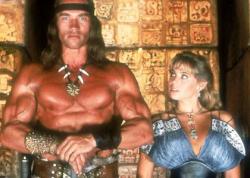 Arnold Schwarzenegger and Olivia d'Abo in Conan the Destroyer.
While Conan the Barbarian was a financial and critical success, reportedly the producers felt that they could make even more money on this, its sequel, if they toned down the graphic content to get a PG rating. This lightening of the mood coupled with the loss of John Milius as director, gives the movie a much broader, jokey feel that spills over into campiness too many times. There are still enjoyable elements in it, but it feels as different from its predecessor as a Roger Moore Bond feels from a Sean Connery.
The story opens an undetermined amount of time after the original. Conan is still mourning his lost love, Valeria and still traveling with a thief, only not Subotai from the original, but instead - for reasons never explained - with Malak, an idiotic coward whose only purpose seems to be to provide comic relief and not very much of that. Subotai's absence or fate is never commented upon. Rumors of the original script containing a death scene for him persist, but he's nowhere to be found in the finished product. Oddly though, Conan and Malak have an exchange that seems to be referencing a scene from the first movie where Conan punched a camel, but since Malak wasn't there, I have to wonder if the scene was originally written with Subotai in mind.
After an opening battle scene, Conan is approached by Queen Taramis with a proposition. She wants him to accompany her niece on a quest. It seems that this niece is the one chosen to reclaim the horn of Dagoth, the Dreaming God. If Conan does this, Taramis claims that she will be able to resurrect Valeria. With that as bait, Conan agrees, but what he doesn't know is that Tamaris plans to have him killed as soon as the quest is done.
Like Dorothy on her way to Oz, Conan picks up a motley crew on his journey. Grace Jones (who briefly had a movie career around this time) plays Zula, a female warrior with a staff. Mako returns as Akiro, the wizard and narrator from the first film. Making his feature film "acting" debut, Wilt Chamberlain plays the captain of the guard assigned to protect Princess Jehnna's virtue. And playing one of the most beautiful pieces of jail bait ever put on film is Oliva d'Abo as the aforementioned princess, just fifteen at the time, but smoking hot already. She develops a crush on Conan, but he's so in love with dead Valeria that he doesn't even give her a second look.
Where the first movie was gritty and as realistic as the budget and setting could allow, this one is brightly lit, gaudily colored and sanitized. No matter how far out in the wilderness, Jehnna is always perfectly coifed and made-up. The sets and monsters, while impressive at the time, seem now like something out of an old Star Trek episode. The ape-man in particular seems phony, while also featuring some of the worst fighting this side of a WWF grudge match.
Although it seems out of character and silly, Arnold does deliver some decent comedy. The campfire scene where he becomes drunk is perhaps the movie's best comic moment, even if it will make you ask if this is the same character from the first film. Conan also comes across as dumber this time around as well. At one point Jehnna mentions that Zula is outnumbered 6 to 1. Conan starts to count and gets to 3, before agreeing that Jehnna is right, implying that he can't count higher than that.
Schwarzenegger was under contract with Dino De Laurentiis for three films and so there was supposed to be another Conan movie. The finale was to finally tell the tale of Conan becoming King, as the ending of both the first two films kept hinting at. Instead, the horrible Red Sonja movie was produced, with Arnold playing, not Conan, but a character pretty close to him. Either way, it fulfilled his contract and so the third Conan languished in development hell. Given the quality of this installment though, maybe that wasn't such a bad thing.
Did you enjoy Scott's review?
+
3
-
0
You may only thumbs up or thumbs down a review once.
Photos © Copyright Universal Pictures (1984)