Movie Review
Clockwise
"If you've ever been late... you'll know what this film is all about!"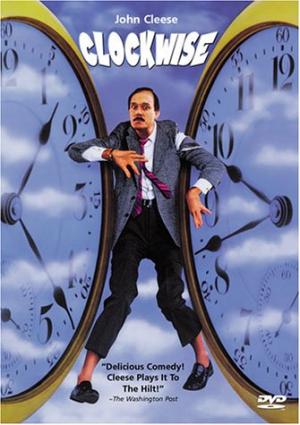 US Release Date: 10/10/1986

Reviewed on:
January 21st, 2009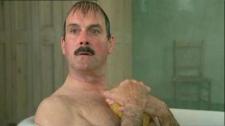 John Cleese can make almost anything funny.
John Cleese is a member of the British comedy troupe Monty Python. He wrote and starred in Fawlty Towers, one of the greatest sitcoms of all time. He's appeared in many supporting roles, written books, voiced cartoons, hosted documentaries and he's participated in a large number of ad campaigns. And yet despite all his work and his legendary status in comic circles he's only truly (if you discount the Monty Python films where he was part of the group) starred in three films. A Fish Called Wanda is of course his most famous film and Fierce Creatures was its less successful follow-up, but back in 1986 he starred in Clockwise, a small British film that barely got noticed in the United States and probably hasn't been seen by too many people here other than by those like myself who will watch anything in which he appears.
The story of Clockwise centers on Mr. Stimpson, the Headmaster of a school, who is obsessed with time and likes to keep everything running like clockwork. He is due to make a speech at a Headmaster's conference in the afternoon and the entire movie takes place over the course of that one day. Mr. Stimpson's life for that day is ruled by Murphy's Law and everything that can happen to stop him from getting to the conference does happen. When he misses his train and his wife has taken the car out for the day, he ends up hitching a lift with a female student. The student, Laura, is secretly having an affair with one of the teachers at the school, which further complicates matters. Things go further awry when Mrs. Stimpson sees Mr. Stimpson with Laura at a petrol station. Mr. Stimpson ends up stuck in the mud (literally) at one point and in a monastery at another, all the while racing the clock.
Cleese can make almost anything funny and he generates most of the laughs here. His Stimpson character is a bit reminiscent of his Basil Fawlty, but Stimpson comes off as slightly more sympathetic, but I can't help but feel that the movie would have worked better if he had been a little more likable. He comes across as a bit stiff and pompous and you don't feel as if you're really rooting for him to succeed as much as you might. Also the ending, despite all he goes through, still seems out of character to me. Having said that, he still manages to generate quite a few laughs and chuckles. With his six foot six inch, gawky frame, Cleese is sometimes funny just moving around as in his scene in the muddy field where he kicks the car.
In smaller roles the supporting cast also gets a few laughs in. The trio of old ladies have some funny moments and Stephen Moore (the voice of Marvin in the original Hitchhiker's Guide to the Galaxy) is good as the teacher who never manages to finish a sentence throughout the movie.
Any fan of Python or of Cleese in general will enjoy this movie. If you're not but still have a sense of humor, you should still find things to enjoy here, but don't expect a classic. It's a nice small film with some laughs to be had, just don't expect much more than that and you won't be disappointed.
Did you enjoy Scott's review?

+7
You may only thumbs up a review once.
Reviewed on:
April 3rd, 2013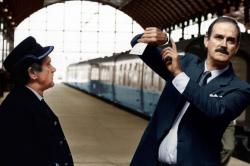 John Cleese in Clockwise.
"The first step to knowing who we are... is knowing where we are and... WHEN we are." So says John Cleese as Headmaster Brian Stimpson in Clockwise. As a boy he was always running late so naturally when he grew up he became obsessed with time and punctuality. Since this is a John Cleese character in a John Cleese comedy you just know that he will make many bad decisions resulting in his complete mismanagement of time over the next 90 minutes.
The original opening scene, as written in the screenplay, called for Cleese to appear completely nude in the shower after waking up to his clock radio. While that would have been an amusing sight gag given his gangly physique, the audience was spared. Just for the record, the events depicted in this movie occur on Wednesday, May 15, 1985. Such specificity would surely meet Brian Stimpson's approval.
This is a fast-paced farce that involves split second timing and near miss coincidences. Cleese really shines in the lead role. At the Evening Standard British Film Awards' annual ceremony he won the Peter Sellers Award for Comedy in 1987 for playing Brian Stimpson. It was well deserved even if Stimpson does bear a passing similarity to Basil Fawlty, as my brother already mentioned.
There's no denying that John Cleese belongs in the pantheon of great funnymen. He could deliver a line with just the right amount of hilarious desperation in his voice and he was skilled at taking a pratfall as well as other forms of slapstick. Very few actors have mastered the art of being silly as well as John Cleese has.
One of my favorite lines of his is when he says, "It's not the despair, Laura. I can take the despair. It's the hope I can't stand." Cleese makes a funny line even funnier with his overly precise enunciation and fuss budget manner. Clockwise should be enjoyed by fans of British humor or John Cleese fans in general. I know I found it amusing. Now if only he had starred in more movies...
Did you enjoy Patrick's review?

+10
You may only thumbs up a review once.
Photos © Copyright Thorn EMI (1986)