Movie Review
Calendar Girls
They dropped everything for a good cause.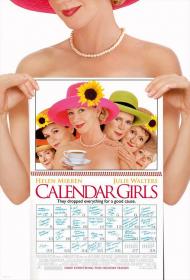 US Release Date: 12-19-2003
Directed by: Nigel Cole
Starring
▸
▾
Helen Mirren

,

as

Chris Harper
Julie Walters

,

as

Annie Clarke
Penelope Wilton

,

as

Ruth
Ciaran Hinds

,

as

Rod Harper
John Alderton

,

as

John Clarke
Geraldine James

,

as

Marie
Celia Imrie

,

as

Celia
Linda Bassett

,

as

Cora
Philip Glenister

,

as

Lawrence
Marc Pickering

,

as

Gaz
Jay Leno

,

as

Himself
Patton Oswalt

,

as

Larry
John-Paul Macleod

as

Jem

Reviewed on:
December 20th, 2003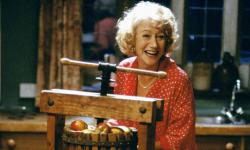 Helen Mirren in Calendar Girls.
Calendar Girls is a very funny comedy based upon the true story of a group of middle-aged British women who decided to put out a calendar in an effort to raise money to pay for a new Family room at the local hospital. They are inspired when one of them, Annie (Julie Walters), loses her husband to Leukemia. Before he died, he wrote that the flowers of Yorkshire are like the women of Yorkshire; their final phase is the most glorious. With his words, they find the theme for their calendar. They will do it in the nude.
The group is led by Chris (Helen Mirren), who talks all of the others into posing for the pictures. She constantly reassures them that they won't be naked they'll only be nude. In fact, flowers, knitting, cakes, and the like carefully hide all of their nudity. Some of the movie's funniest moments are as the women prepare for their pictures, embarrassed by the male photographer and worried that the other women will look better than they will.
When the calendar is a success beyond their wildest dreams, all of the women are stunned. They are the celebrities of the moment and are even invited to appear in the U.S. on the Tonight Show. The rest of the film shows how the women come to terms with their newfound success and fame.
While it's easy to compare Calendar Girls to The Full Monty, the similarity between the two movies is only skin deep. They're both feel good movies that involve nudity, but Calendar Girls is much lighter and fluffier than The Full Monty. And while The Full Monty climaxed with the strip tease, the Calendar Girls nudity sparks the events of the plot. It might just be because I'm a man, but I also felt that The Full Monty had greater emotional depth. But in the end, they are both good films.
This movie does try to have some drama along with the humor, but it is definitely the comedy that works best. Chris' husband feels neglected, another one of the women's husband turns out to be cheating on her, and various other little life dramas unfold, but at its heart, the movie never strays too far from its light hearted center.
A small movie with a big heart, Calendar Girls succeeds as a feel good comedy that will leave you with a smile on your face.
Reviewed on:
September 25th, 2013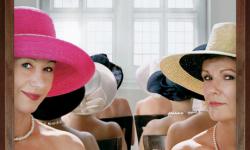 Helen Mirren and Julie Walters pose in Calendar Girls.
A small movie with a very large payoff, Calendar Girls grossed an impressive 96 million dollars worldwide on a budget of just 10 million dollars. A play based on the film debuted in 2008 and went on -in various productions- to out gross the movie. As for the real life calendar girls, they have to date raised more than 3 million pounds for the UK based charity Leukaemia & Lymphoma Research. After the unexpected success of their original 2000 calendar they subsequently released calendars for 2004, 05, 07, a special recipe calendar for 2008, and a 10 year anniversary calendar in 2010.
I agree with Scott about the movie working best in the lighthearted moments. What little tension and drama there is in the movie was mostly fabricated for the screen. For example, in real life there was no opposition to the nude calendar from the Women's Institute. On the contrary they were wholeheartedly behind the idea from the start. Also in the movie it is made to look as if they had a difficult time finding sponsorship when in fact they were supported by British Parliamentarian, and two time Oscar winning actress, Glenda Jackson.
The movie's most emotional plot device did actually happen. The calendar was in fact inspired by the death of one of the women's husbands from non-Hodgkin's lymphoma. Scott paraphrased his words but I'd like to quote them precisely. "The flowers of Yorkshire are like the women of Yorkshire. Every stage of their growth has its own beauty, but the last phase is always the most glorious. Then very quickly they all go to seed."
That last line keeps it from becoming maudlin and puts a smile on your face, which, as my brother said this movie will do. I will just add that Helen Mirren, Julie Walters, Penelope Wilton and all the other women who take it off for the camera give wonderful performances. And for once it's refreshing to see a British movie with lots of roles for women that features neither Maggie Smith nor Judi Dench.

Reviewed on:
October 23rd, 2013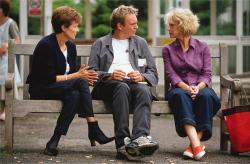 Julie Walters, Phillip Glenister and Helen Mirren in Calendar Girls
The idea of nudity can be scintillating and this film could have been gratuitous. So many dirty jokes and sexual innuendoes could have been milked for this movie, but it pleasantly went in a different direction. As Scott wrote, the women are embarrassed by the male photographer, who truly is an artist. He is as embarrassed by the women as they are of him. His scenes with the women posing are played with subtle awkwardness instead of brassy mature humor as so many film makers may have been tempted to do.
As a man I related more to the men in the film than the women. Some of the husbands are supportive, "You're nude in The Telegraph, dear. Can you pass the bacon?" while others are offended and as Scott wrote, neglected. My favorite male character though is Chris's teenage son, Jem. He sees his mother discover his porn magazine under his bed and assumes he is in for a lecture but she instead smiles knowingly and puts it back. Even though most mothers would have done otherwise, Chris's reaction was the correct one, much to Jem's relief. Later, Jem and a friend walk in on his mother posing topless. Her fame causes her to not only neglect her husband but also her son. His mother posing nude acerbates Jem's normal growing pains. It makes him rethink his and his friend's favorite subject, breasts.
The male characters are however, not in much of the movie. This left a bunch of middle aged and older women for me to try and emotionally connect to. Patrick wrote that some of the drama is real while some was manufactured to make this thin plot a bit thicker. What these women did for charity is commendable but the story of them doing it is better suited to a Sunday morning newspaper article than an entire feature film.
Photos © Copyright Touchstone (2003)