Movie Review
Calendar Girls
"They dropped everything for a good cause."
(0)
Reviewed on:
December 20th, 2003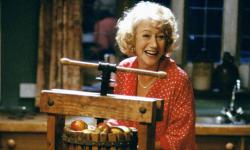 Helen Mirren in Calendar Girls.
Calendar Girls is a very funny comedy based upon the true story of a group of middle-aged British women who decided to put out a calendar in an effort to raise money to pay for a new Family room at the local hospital. They are inspired when one of them, Annie (Julie Walters), loses her husband to Leukemia. Before he died, he wrote that the flowers of Yorkshire are like the women of Yorkshire; their final phase is the most glorious. With his words, they find the theme for their calendar. They will do it in the nude.
The group is led by Chris (Helen Mirren), who talks all of the others into posing for the pictures. She constantly reassures them that they won't be naked they'll only be nude. In fact, flowers, knitting, cakes, and the like carefully hide all of their nudity. Some of the movie's funniest moments are as the women prepare for their pictures, embarrassed by the male photographer and worried that the other women will look better than they will.
When the calendar is a success beyond their wildest dreams, all of the women are stunned. They are the celebrities of the moment and are even invited to appear in the U.S. on the Tonight Show. The rest of the film shows how the women come to terms with their newfound success and fame.
While it's easy to compare Calendar Girls to The Full Monty, the similarity between the two movies is only skin deep. They're both feel good movies that involve nudity, but Calendar Girls is much lighter and fluffier than The Full Monty. And while The Full Monty climaxed with the strip tease, the Calendar Girls nudity sparks the events of the plot. It might just be because I'm a man, but I also felt that The Full Monty had greater emotional depth. But in the end, they are both good films.
This movie does try to have some drama along with the humor, but it is definitely the comedy that works best. Chris' husband feels neglected, another one of the women's husband turns out to be cheating on her, and various other little life dramas unfold, but at its heart, the movie never strays too far from its light hearted center.
A small movie with a big heart, Calendar Girls succeeds as a feel good comedy that will leave you with a smile on your face.
Did you enjoy Scott's review?
+
2
-
0
You may only thumbs up or thumbs down a review once.
Photos © Copyright Touchstone (2003)