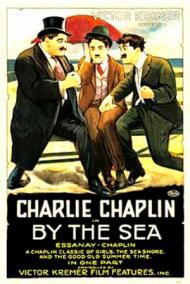 US Release Date: 04-29-1915
Directed by: Charles Chaplin
Starring
▸
▾
Charles Chaplin

,

as

Little Tramp
Billy Armstrong

,

as

Man in Straw Hat
Margie Reiger

,

as

Wife of Man in Straw Hat
Bud Jamison

,

as

Man in Top Hat
Edna Purviance

,

as

Sweetheart of Man in Top Hat
Paddy McGuire

,

as

First Cop
Ernest Van Pelt

as

Second Cop

Reviewed on:
October 21st, 2010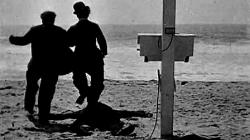 Billy Armstrong and Charlie Chaplin in silhouette by the sea.
After less than a year under contract at Keystone Pictures, Charlie Chaplin moved to Essanay Studios. By the Sea is a one reel short he made in 1915. It was shot around Crystal Pier in Los Angeles in just one day. Chaplin often bragged that all he needed was a park bench, a pretty girl and a cop to make a movie. Here he uses two benches, two girls, two men and two cops on a windy day at the beach.
It begins with one of the oldest gags in the business. The little tramp is eating a banana. He then throws the peel on the ground and - wait for it - slips on a banana peel. He then gets into a shoving match with a man that quickly escalates to a full-on fight on the beach. A cop comes along but gets knocked unconscious. They then make up and go buy some ice cream.
Soon they are shoving the cones into each other's faces and fighting again. Another cop and a very large scary looking man get involved. In between fighting Chaplin finds time to woo a couple of women. One is the guy he has been fighting's wife and the other is the very large man's sweetheart. The movie ends with Chaplin and both couples falling over backwards on a bench on the beach.
The best way to gauge these early comedies today is whether or not they make modern audiences laugh. By the Sea does produce a few chuckles. Chaplin's pantomime remains mirthful and his coy facial expressions when trying to seduce a girl are priceless. Other gags don't stand the test of time. The fight with the other guy goes on a bit too long. Still it is pretty amazing what Chaplin could do with a few actors and a few simple props.


Reviewed on:
January 7th, 2012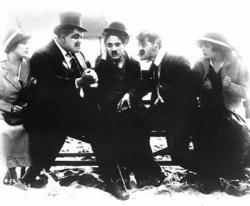 Charles Chaplin with the cast of By the Sea
As Patrick wrote, By the Sea was clearly made in a single day. It looks like Chaplin was bored and decided to take some friends to the beach and throw together a movie. It looks so thrown together that any acting troupe could improvise a film as good as this one. Did they even write scripts. By the Sea looks as if Chaplin and Armstrong got together and decided to film themselves pretending to get into a fight. Clearly a few of the stunts were worked out ahead of time, but it would be easy to believe that this film went from conception to birth in a single day.
The lice joke is one of my favorite bits. Chaplin really sells it. The best scene is when they buy ice cream. They start out pretending to be friends but it quickly becomes obvious that their recent alliance was not solid. The gag of the hats getting tangled together runs on far too long.
I have noted this before, but Chaplin made many a joke out of someone's butt. In one scene he smacks a passing girls butt and blames it on the unconscious Armstrong. He then shoves him face first in to the sand. Chaplin then adjusts the guys butt and proceeds to sit on it as if it were a stool. Add this to the scene where Chaplin and Armstrong kiss on the lips and you have some seriously gay sexual tension by today's standards.
Reviewed on:
January 7th, 2012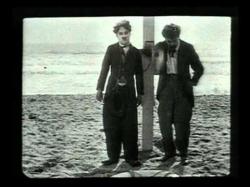 Charlie Chaplin and Billy Armstrong in By the Sea.
By your gauge Patrick this short was almost a complete failure for me. I laughed exactly once during its entire length and that was when Chaplin sits down on the bench with the girl and hooks his cane around her arm to slide himself closer to her. The other antics made me give the slightest of smiles occasionally, but as has been well established on the pages of this site, slapstick is my least favorite form of comedy, even when it's done by a master such as Chaplin.
Chaplin, Arbuckle, Keaton and others would learn how to develop characters, plot and pathos in their shorts, but none of that is on display here. This is just a series of slapstick gags following one after the other. I'm not denying Chaplin wasn't adroit at this sort of thing, but it's definitely not my thing.
While, as always, I am fascinated by the glimpses into the time period when these movies were shot, not much is on display in this one. Although I suppose you might have a hard time finding a beach as empty as this one in Los Angeles these days.
I have no trouble believing this movie was conceived and produced all in one day. In fact, I'd have a harder time believing it took longer than that to make.
Photos © Copyright The Essanay Film Manufacturing Company (1915)