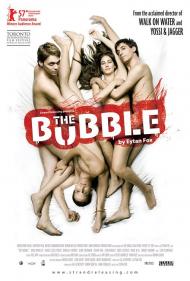 Israel Release Date: 06-29-2006
Directed by: Eytan Fox
Starring
▸
▾
Ohad Knoller

,

as

Noam
Yousef Sweid

,

as

Ashraf
Daniela Virtzer

,

as

Lulu
Alon Friedman

,

as

Yelli
Zohar Liba

,

as

Golan
Tzion Baruch

,

as

Shaul
Oded Leopold

,

as

Sharon
Ruba Blal

,

as

Rana
Shredi Jabarin

,

as

Jihad
Yael Zafrir

,

as

Orna
Noa Barkai

,

as

Ella
Lior Ashkenazi

as

Himself

Reviewed on:
October 27th, 2010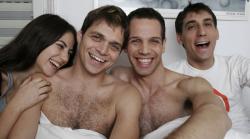 Daniela Virtzer, Ohad Knoller, Yousef Sweid and Alon Friedman in The Bubble.
Although I have only seen a few of his movies, Eytan Fox seems to always include political and social issues in his films. The Bubble is the most heavy handed. In fact, they are the central issues of the movie.
Three twenty something roommates, Noam, Lulu and Yelli live in contemporary Tel Aviv. Noam is an Israeli Army reservist. The movie opens with him at a checkpoint. While checking some Palestinians' ID's, a pregnant Palestinian woman goes into labor. The baby is a still born, causing the Palestinian's present to think it is the fault of the Israeli medics who helped in the delivery.
Among the Palestinians is Ashraf, who immediately catches Noam's eye. Of course their is a gay love story, this is a Eytan Fox film after all. Ashraf is with his militant future brother in-law, who is aptly named Jihad.
Noam and Ashraf meet soon afterwards and immediately start a relationship. Ashraf is very much in the closet when it comes to his family. Noam is out. Yelli, who is gay as well, gets Ashraf a job at his restaurant.
For a brief time all is well with the four friends. Lulu has decided to finally have sex with her boyfriend. She is planning a party called, "Rave for Peace." It is supposed to be a political statement, but like most protests put on by young people, it is just an excuse to party. Noam and Ashraf play house as a gay version of Romeo and Juliet. Nelli is mostly around for comic relief.
Their happiness is short lived. Lulu's decision was the wrong one. Ashraf goes back home to his sister's wedding. His secret comes out and upsets his family. A terrorist bomb goes off in Tel Aviv, wounding Nelli. I told you, Jihad was an appropriate name. The ending is very dramatic, and over-the-top. It is such a manipulative moment, that I did not feel what I should have.
Besides all of the politics and insight into life in Tel Aviv, there is lots of pop culture talk. Noam works at a music store. Some tween girls come in and ask if he has the new Britney Spears CD with My Prerogative on it. He is into rock music, so he shoos them away. In their apartment, they discuss which pop idols they most lusted after, such as George Michael and the boys from Take That.
I have to note this for Patrick, twice Nelli wears a t-shirt with a young Barbra Streisand on it. Scott wrote in his Walk on Water review that Lior Ashkenazi looked like Clive Owen. In this film he appears in the play Bent, playing the same role Owen played in the movie version.
Thank God for movies. I can listen to the news tell me about a bomb going off in Israel, or some such tragedy, but movies take you there. They dramatize it, but seeing the people react to it is far more personal than some news caster just reading from a TelePrompTer. My only qualm is that Fox's films make you think two thirds of Israel is gay.
Photos © Copyright Feingold Productions (2006)
Related Review