Movie Review
Bridget Jones: The Edge of Reason
"Same Bridget. Brand new diary."
(0)
Reviewed on:
November 4th, 2004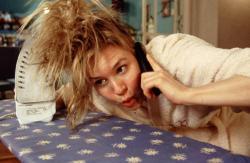 Renee Zellweger in Bridget Jones: The Edge of Reason.
When last we left Bridget Jones (Zellweger), she had finally found true love with Mark Darcy (Firth) and apparently her single days were gone for good. She was ready for new, bigger, and better things. Unfortunately, the creators of the sequel were not. Rather than build on the original, Bridget Jones: The Edge of Reason is just more of the same.
Unable to be happy in her new relationship, Bridget is soon feeling insecure about herself. Mark's new leggy intern seems to be constantly flirting with him and Bridget's friends soon have her convinced that he's having an affair. Before too long, of course, Bridget is single again. And when Bridget is sent on a television assignment to Thailand with Daniel Cleaver (Grant), who inexplicably has moved from publishing to travelogue narrator, she soon finds herself tempted back into a relationship with him. The result is that Bridget, as in the first movie, is caught between choosing between the bad boy and the good guy.
The strength of the Bridget Jones' movies lies in its characters. Bridget is every woman's insecure persona projected onscreen. Daniel is the bad boy, the man's man, ladies' man, man about town who simply oozes charm. And Mark is the stiff, stuffy, upper class Brit, whom you just know is always going to do the right thing. Those are the characters as created in the first film and they remain unchanged for the sequel, which is part of the problem with this movie. Too little has changed.
That's not to say that there aren't some funny moments in the movie. One of the best lines is at Mark's expense, when Daniel asks Bridget, "Tell me, is it true that during sex he says, 'Pardon me, but I'm about to cum.'?" Bridget is her usual hapless self, which I'm sure will resonate with some single women, although it seems that by now, after finding professional success as well as true love, that she should have matured slightly. And just how the filmmakers thought the scenes in the Thailand prison were funny, is quite beyond me. The movie's not zany enough for the scenes there to be taken as complete comedy and not played seriously enough for them to resonate emotionally.
The final analysis of Bridget Jones: The Edge of Reason is quite simple. If you enjoyed the original, you'll enjoy this one, only slightly less, since you'll be seeing most of it for the second time. If you didn't enjoy the first one, than you'll dislike this one even more.
Did you enjoy Scott's review?
+
1
You may only thumbs up or thumbs down a review once.
Photos © Copyright Universal Pictures (2004)