Movie Review
The Boy Who Cried Werewolf
"Possible in this day and age? Those who didn't believe... are dead!"
(0)
Reviewed on:
June 28th, 2009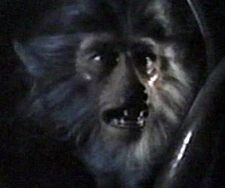 Where once I found it scary, I now found it hilarious, but I enjoyed it both times.
Being that this is my 1,000th movie review, I thought long and hard on what movie it should be to commemorate such a momentous number. I finally decided to go back to the beginning, to one of the very first movies I can remember seeing.
When I was very young my family would often go to see movies at the drive-in. Probably because with 5 kids, it was cheaper to pay by the carload than by the head. I only vaguely remember those times, but what I do remember about them forms my earliest memories of the movies. I recall seeing a Sinbad movie, but only slightly, just the stop-motion skeletons really. I'm pretty sure we saw Diamonds are Forever there because I do remember Sean Connery strangling a woman with her own bra.
Without out a doubt though, the movie at the drive-in that I remember best is The Boy Who Cried Werewolf. It was a double-feature accompanied by Ssssss (a movie's whose classic tagline was "Hiss it, don't say it!"), but although I know Ssssss was about snakes, I possess no clear memories of it. Perhaps it was the second feature and I was asleep by the time it started. The Boy Who Cried Werewolf though, I remember specific scenes and the general plot.
While I was genuinely scared when I saw it the first time, now I found it to be so bad that it's actually quite good. The makeup makes the werewolf look like a fluffy dog that you'd be more likely to scratch behind the ears than run away in fear from. The dialogue is melodramatic and often over-the-top. And oh my god is this movie dated! The hippy Jesus Freaks are proof of that. Their manner of speech is hilarious today and one of my favorite parts this time around.
The story starts with Richie and his dad going up to a cabin in the mountains for some bonding time. Richie's parents are divorced, mainly it seems because Richie's mom had the nerve to want to work instead of be a housewife. While Richie and his dad are walking in the woods, they are attacked by a werewolf. His dad manages to fight off and kill the werewolf, but not before he is bitten and infected as a werewolf. Since the werewolf reverts back to his human form after he dies, no one believes Richie that it was a werewolf that attacked them. This actually was a nice touch, because too often in horror movies people seem to accept the existence of vampires, witches or werewolves very easily.
Most of the rest of the plot is Richie trying to tell everyone that his dad is a werewolf and everyone else not believing it. His dad, as the werewolf, kills a few people and the local sheriff tries to hunt him down thinking that it's just some kind of wild animal.
Although this is supposed to be a horror movie, there's very little horror and even less blood. Instead it is quite funny, most often unintentionally, but occasionally on purpose, as in when the Jesus Freaks believe they can scare away the demon, but then have a very quick change of heart when they come face-to-face with the werewolf.
Most of the unintentional humor comes from the seriousness of the actors. George Gaynes (who would later adopt Punky Brewster) plays a psychiatrist who is very earnest indeed. The rest of the humor comes from just how dated it has all become. The arguments between Richie's parents and the hippies being the most obvious examples.
There were two moments I remembered vividly from when I saw it as a young boy. The first was when the father, as a werewolf, was locked in a shed and was breaking through the door. The mom and the son, on the other side try to get away. I remember being so scared by that scene. The other moment was the ending, which I guess I won't give away, but suffice to say that it made an impression on me. I looked forward to those two moments while watching this time, but must confess they didn't quite make the same impression.
Clearly the seeds of my love for movies were planted early in my childhood at movies like this. We didn't have an overabundance of luxuries when I was a kid, but we always saw plenty of movies. If it weren't for my parents, mainly my father, taking us to see so many, the not-so-good, like this one, along with the good ones, I don't know that I'd be sitting here writing my 1,000th review. So here's to cheesy movies like this one and here's to the next 1,000.
Did you enjoy Scott's review?
+
5
-
0
You may only thumbs up or thumbs down a review once.
Photos © Copyright Universal Pictures (1973)