Movie Review
Blue Jasmine
(3)
Reviewed on:
July 29th, 2013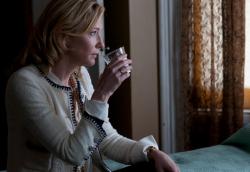 Cate Blanchett in Blue Jasmine.
Woody Allen is 77 years old, but he shows little sign of slowing down. He continues to churn out movies year after year. He doesn't act in them as much as he used to, but he still writes and directs them with stunning regularity, attracting some of the biggest names in Hollywood. With so many films to his credit, the quality of them has varied greatly over the years. Lately though, he has been producing some very well made ones and Blue Jasmine is one of them.
The story seems inspired by Tennessee Williams' A Streetcar Named Desire. Cate Blanchett stars as the titular Jasmine, a sort of Ruth Madoff character, whose husband, Hal (played by Alec Baldwin), was a Wall Street Swindler who went to prison, costing them their personal fortune and the elegant lifestyle that went with it. A penniless Jasmine moves to San Francisco to live with her sister Ginger (Sally Hawkins), a woman much lower on the social and financial scale.
There's not really much story to the film, apart from the details of Jasmine's fall from financial grace. The plot is more of a character study. Given how unlikable Jasmine can be, making a film about her could be a tough sell in the hands of a lesser actress, but Blanchett makes it work. Her performance is a tour de force. Jasmine's sanity is hanging by a thread woven from memories, madness and Xanax. She often speaks to herself, or anyone unlucky enough to be sitting next to her, during times of stress, relating the story of her life and even speaking aloud to figures from her past. She's a cracked china doll who will surely shatter the next time that she's dropped. It's the sort of part and performance for which Oscars were invented. Maybe it's too early to award it to Blanchett, but a nomination seems certain.
The rest of the cast is also good, but they all take a backseat to Blanchett. Sally Hawkins does sterling work as Ginger, even though she never feels quite as real as Jasmine. I have the feeling Allen has known more Wall Street wives than he has grocery store cashiers. Two smaller parts feature some odd casting. Former shock comic Andrew Dice Clay plays Ginger's ex-husband. He once invested his life savings with Jasmine's husband, but lost it all. Another comic, Louis C.K., has an even smaller part as a man who has a brief affair with Ginger. What is most surprising about these parts is that both comics, but particularly Clay, are playing it very straight and serious. Baldwin plays a character rather similar to the one he played so well on 30 Rock, only minus the charm.
Much of the story is told in flashback as we learn about Jasmine's past, including one plot twist that helps put things into perspective. It helps us to learn how Jasmine reached the state that she's in when the movie opens. She's not the most sympathetic of characters, but she is a compelling one. She's a train wreck that you can't look away from and because of Blanchett you won't even want to.
Did you enjoy Scott's review?
+
11
-
1
You may only thumbs up or thumbs down a review once.
Reviewed on:
August 4th, 2013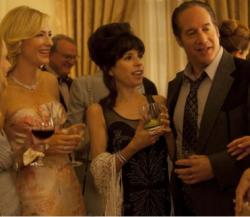 Cate Blanchett, Sally Hawkins, and Andrew Dice Clay in Blue Jasmine.
With well over forty movies to his credit as a writer and director, Woody Allen has proven himself to be a modern day Scheherazade, with a seemingly endless supply of cinematic stories to tell. As Scott mentioned, he keeps churning them out like clockwork at the steady rate of a movie a year. He hasn't missed a year since 1981, the same year as Ronald Reagan's first inauguration. And although he has made a few crappy movies over the years he seems to operate at a higher level than most other filmmakers. Even a run-of-the-mill Woody Allen movie is usually worth seeing. And two or three times a decade he comes up with something that approaches greatness, as Blue Jasmine does.
Allen is so adroit at storytelling that even though certain plot points are formulaic and predictable he makes them seem fresh with his interesting and often funny dialogue. Even though it's obvious that Jasmine is not going to have a happy ending, Allen teases us by dangling one possible salvation in front of her -and us- in the form of Peter Sarsgaard. All the while we just know that Woody is going to pull the rug out from under her none-too-steady Prada pumps at some point. But when this scene -that we all knew was coming- arrives, it still manages to surprise because of just who Allen chooses to spill Jasmine's secrets.
Cate Blanchett has been getting the lion's share of attention and praise for her performance as Jasmine and deservedly so. Her interpretation of this woman -a Blanche DuBois / Ruth Madoff hybrid- is spot on with her brittle elegance and fading sanity. Watching her nervous breakdown is fascinating. I agree Scott, it is like watching a train wreck, only in slow motion. Her final scene puts the icing on this moist and flavorful performance that lingers on the palate.
Hopefully all the attention on Blanchett won't keep Sally Hawkins from getting the recognition she deserves for her performance as Ginger. She may not be quite as fully developed a character as Jasmine but Hawkins makes her quite real. One thing these sisters have in common is the fact that they are both selfish people. Jasmine wanted nothing to do with her poor relation until she needed her, and Ginger drops her boyfriend like a hot potato as soon as another man shows her the slightest interest.
Scott pointed out that this movie seems inspired by A Streetcar Named Desire. This is most apparent in the scene where Jasmine and Ginger first meet at Ginger's apartment in San Francisco. Ginger -like Stella- tries to make her big sister feel at home while Jasmine looks around at her new accomodations in dismay. When Ginger asks how Jasmine flew first class if she is broke, comes the exasperated reply, "I don't know how, I just did that's all." This is a woman that is so clueless about money that she has spent her last bit of cash or credit on an expensive plane ticket because she has probably never flown coach in her life and couldn't possibly imagine doing so. A later scene pays direct homage to the poker scene in Streetcar, only it doesn't end with Bobby Cannavale standing out in the street and screaming "Ginger!" at the top of his lungs.
This time around Allen keeps the focus on his female characters. The men are definitely in supporting roles as they move in and out of Jasmine's and Ginger's lives. In particular the character played by Alec Baldwin seems purposely kept out of focus. He is always just entering or exiting a scene. Everyone knows he's cheating on his wife except her, but that's only because she doesn't want to know. The usual Allen themes of infidelity and betrayal are dealt with. Cate Blanchett as Blue Jasmine takes us with her on her trip to misty madness. If you listen carefully you can still hear the melody to "Blue Moon" echoing in the distance...
Did you enjoy Patrick's review?
+
10
-
0
You may only thumbs up or thumbs down a review once.
Photos © Copyright Perdido Productions (2013)