Movie Review
Arthur
"Don't You Wish You Were Arthur?"
(0)
Reviewed on:
January 1st, 2001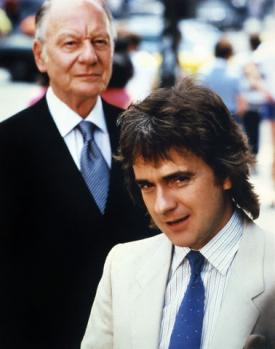 Dudley Moore and John Gielgud in Arthur.
From the very first scene when Dudley Moore is doing his infectious laugh you are drawn in to the humor of this movie. I can't help but smile when I hear it. His character Arthur is so carefree and happy that you like him from the start and as Arthur says 'Don't you wish you were me? I know I do.'
He is rich but falls in love with the very common Linda (Liza Minnelli), when he sees her shoplifting a necktie. Her two scenes with Sir John Gielgud as Arthur's butler are great. The first because it's so funny. Hobson's comments to Linda are sarcastically insulting, yet with Gielgud's manners and accent , they almost come off as compliments. The second scene, they share at Linda's home, because it's dramatic. Hobson attempts to get Linda and Arthur together. He steals the scene with the line 'Young lady, this is a tie that you can not steal.'
Let me not mislead you, this is definitely Dudley Moore's movie. The part where he tries to find Linda's house in a drunken stupor, after getting engaged, is one of the funniest scenes ever.
Did you enjoy Eric's review?
+
11
-
0
You may only thumbs up or thumbs down a review once.
Reviewed on:
January 1st, 2002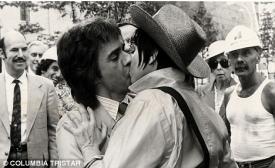 Dudley Moore and Liza Minnelli in Arthur.
Imagine Richie Rich at thirty, older, but not much taller. That's Arthur, a happy, hopeless lush who must marry a woman he doesn't love in order to collect his 750 million dollar inheritance. Things become more complicated when he falls in love with the shoplifting Linda at Bergdorf Goodmans. In this movie Liza Minnelli has her best comedic role. From here, the story moves along at a predictably snappy pace right up to it's joyous conclusion.
I agree with Eric that Arthur is a very funny film. I also concur that Dudley Moore steals the show as the mirthful, multimillionaire, even though John Gielgud's Hobson has the better lines. Like when he dryly tells Liza Minnelli's character 'Usually one must go to a bowling alley to meet a woman of your stature'.
A great movie to watch with friends and it even boasts a hit theme song.
Did you enjoy Patrick's review?
+
11
-
0
You may only thumbs up or thumbs down a review once.
Reviewed on:
January 1st, 2003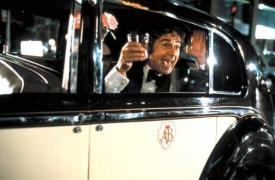 Dudley Moore in Arthur.
This movie is a classic example of poor casting gone incredibly right! The character of Arthur is supposed to be that of a young, American playboy who parties too much and can't settle down. Naturally they cast short, fortyish, Englishmen; Dudley Moore. Linda is supposed to be poor, but beautiful and charming enough to convince Arthur that he would rather have her than 750 Million Dollars. Liza Minnelli wasn't worth 750 Million Dollars 9 years before as Sally Bowles. John Gielgud seems to be the only actor perfectly cast for his role as Hobson; the scene stealing butler. And yet now, I can imagine no other actors in these parts.
Eric and Patrick have both mentioned how funny this movie is, and yet it also has some very sad, touching scenes, especially between Moore and Gielgud.
Don't you wish you were Arthur? I know I do.
Did you enjoy Scott's review?
+
11
-
0
You may only thumbs up or thumbs down a review once.
Photos © Copyright Orion Pictures (1981)