Movie Review
And Then There Were None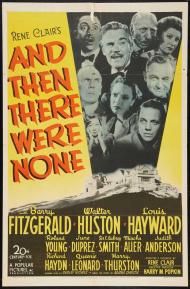 US Release Date: 10-31-1945
Directed by: Rene Clair
Starring
▸
▾
Barry Fitzgerald

,

as

Judge Francis J. Quinncannon
Walter Huston

,

as

Dr. Edward G. Armstrong
Louis Hayward

,

as

Philip Lombard
Roland Young

,

as

Detective William Henry Blore
June Duprez

,

as

Vera Claythorne
Mischa Auer

,

as

Prince Nikita 'Nikki' Starloff
C. Aubrey Smith

,

as

Gen. Sir John Mandrake
Judith Anderson

,

as

Emily Brent
Richard Haydn

,

as

Thomas Rogers
Queenie Leonard

,

as

Ethel Rogers
Harry Thurston

as

Fred Narracott


Reviewed on:
October 17th, 2012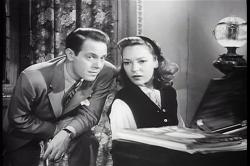 Louis Hayward and June Duprez in And Then There Were None
Having never read the Agatha Christie novel or seen the subsequent play which this film is based on, I had no idea what it was about. I am so glad I did not. And Then There Were None is an extremely entertaining mystery with a simple, yet very fascinating setup.
As the film starts, eight strangers are in a boat on their way to an island due to an invitation from a mysterious Mr Owen. They debark, and the boat leaves. They enter the island's mansion, whose only other occupants seem to be a butler and his cook/wife. They briefly meet each other but things really get interesting that night when the butler plays a record that announces that each "guest" has committed murder in their past.
They also note that there are ten Indian statues on the dining room table. Within moments, one of the ten people in the house dies and one of the statues is broken. Shortly thereafter another dies and another statue comes up missing. The remaining folks search the house and island to see who else is with them, but they find no one. They arrived on a Friday and the boat is not scheduled to return until Monday.
One person then notes, "Mr. Owen could only come to the island in one way. It's perfectly clear. Mr. Owen is one of us." The rest of the film plays out brilliantly as each person now looks at the others as a threat. No one knows who to trust, if anyone. The list of suspects shortens as they get killed off one by one.
The cast is well played. Everyone has an air of suspicion about them. Louis Hayward really stands out. One minute he seems like the hero and the next you question his motives. He acts far too comfortable to be in the company of his potential murderer. You are never sure of what he is capable of.
This was Hayward's first film since 1941. His acting career went on hiatus as he served in the United States Marines as a combat photographer during World War II. He was awarded a Bronze Star for courage under fire during the invasion of the Japanese-held island of Tarawa
And Then There Were None is one of the best mysteries that I have seen in a long time. It will keep you guessing, along with the cast, right up to the very end. It also has a little romantic intrigue and several funny moments. As it is best to discover it all on your own, I will not give away further details, but will encourage anyone who likes a who-done-it, to watch and enjoy this great piece of cinematic entertainment.
Reviewed on:
October 28th, 2012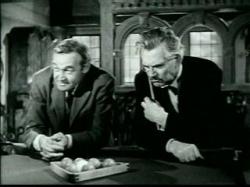 Barry Fitzgerald and Walter Huston in And Then There Were None.
Unlike Eric, I have read the Agatha Christie novel and so knew how it ended. I still enjoyed this movie very much. Instead of trying to guess who the murderer was, I spent my time enjoying the performances and watching how they kept the murderer's identity a secret. I was in for a surprise however, as the script altered the ending from the novel. The identity of the killer remains the same, but the ending is changed to a more upbeat one.
The lighter ending is more in line with the often comic tone of the movie. Although the plot remains a tense one, filled with moments of great suspense, it also successfully works in a few genuinely funny scenes. The butler, Mr. Rogers has a very amusing drunk scene, but perhaps the funniest scene is when each of the guests begins to suspect the other and spy on each other in one memorable daisy chain moment.
This is probably Agatha Christie's most popular novel and the one that has been adapted for other media more times than any of her work. There have been several movie adaptations, under this or the book's title, "Ten Little Indians" (it was originally titled "Ten Little Niggers", but was changed for obvious reasons), a stage play, several television versions, a radio adaptation and even a computer game. It has also been spoofed in various media, perhaps most famously in Neil Simon's Murder By Death.
The plot is not without its flaws. The killer's plans depend upon some coincidences and things that they couldn't have predicted with 100% reliability. If all of the houseguests had agreed to remain in one room together for the weekend and never allow more than one person to leave the room at a time, then everyone could have survived. Instead, everyone simply wanders around the island, remaining relatively calm despite the fact that people are dropping like flies around them. You just have to accept that these people behave in ways that aren't entirely logical.
Eric singled out Louis Hayward, and I agree that he is good, but really there isn't a bad performance in the bunch. Along with Hayward, I particularly enjoyed Barry Fitzgerald, Walter Huston and C. Aubrey Smith. They all manage to balance the mystery and the comedy with equal aplomb.
Although I prefer the original ending from the novel, I still agree with Eric that this is a highly entertaining piece of cinema.
Reviewed on:
October 30th, 2012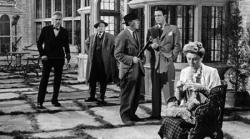 Walter Huston, Barry Fitzgerald, Roland Young, Louis Hayward, and Judith Anderson in And Then There Were None.
Scott, with one hundred million copies sold to date, this is absolutely Agatha Christie's best selling book. It is, in fact, the world's best selling mystery-novel and one of the over-all biggest sellers in history. The setup is so simple yet so classic and the execution of the story, along with the exceptional performances from the cast, makes this a great movie.
One other thing worth mentioning is the fact that, although the ending is very different from the original novel's dour conclusion, Christie herself had written a more upbeat ending for the 1943 stage version. While this movie isn't completely faithful to the revised ending written for the play, it is more similar to that than it is to the one in the book. This more upbeat ending wasn't something just thought up for the film but had sprung from the mind of the author herself.
I have to agree with my brothers that the cast is terrific. Louis Hayward does manage to convey both a sense of devil-may-care heroism and an air of suspicion with just the slightest hint of something sinister about him that really suits the story. I switched back and forth several times in my mind over whether or not he was the killer. In fact every guest on the island conveys this same duplicitous manner. Barry Fitzgerald and Walter Huston are excellent and I agree with Scott that C. Aubrey Smith shines in his small role as the saddest person on the island. He spends his few scenes talking aloud to his dead wife.
Neither of my brothers mentioned the great Dame Judith Anderson, but she is also very convincing as Emily Brent, the outwardly puritanical spinster with a secret she seems very callous about. She had a stellar stage career and also made her mark in the movies. She was Oscar nominated for her role as the evil Mrs. Danvers in Hitchcock's Rebecca and also gave a memorable turn as Big Momma in the film version of Tennessee Williams' Cat on a Hot Tin Roof. Her final big screen role came in Star Trek III: The Search for Spock in 1984.
The script brilliantly balances humor and suspense. Even though murders are happening throughout the story the tone is kept fairly lighthearted. As Scott mentioned, the drunk butler generates several laughs. I chuckled when the other men bring him the key to the dining room where the Indian statues are. He is in the shed and refuses to unlock the door. In reference to the key he tells them, "Shove it (pause) under the door, sir." I also laughed at the running gag of the incompetent detective played by Roland Young who keeps announcing, "I get it!" every time he is about to make a blunder of some sort or other.
It's not always necessary for a movie to be completely faithful to its original source. Some plot devices play better on the screen than they do on the page (or on the stage for that matter) and vice versa. I'm with Eric on this one. Despite the altered ending And Then There Were None is a four star classic.
Photos © Copyright Rene Clair Productions (1945)
Related Reviews