Movie Review
American Psycho
"No Introduction Necessary."
(1)
Reviewed on:
August 10th, 2007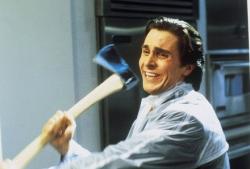 Christian Bale in American Psycho.
Every decade has a cliche about its young people, whether they are accurate or not. The 1950's was about innocence and the birth of rock-n-roll. The 1960's was about rebellion and protest. The 1970's was Disco and drugs. The 1980's reputation was money and greed. American Psycho takes all of the cliches of the Reagan decade and runs with them.
Bale plays Patrick Bateman, a wall street money man. To be more accurate, he is a very self absorbed arrogant money man, "My name is Patrick Bateman. I'm 27 years old. I believe in taking care of myself and a balanced diet and rigorous exercise routine. In the morning if my face is a little puffy I'll put on an ice pack while doing stomach crunches. I can do 1000 now. After I remove the ice pack I use a deep pore cleanser lotion. In the shower I use a water activated gel cleanser, then a honey almond body scrub, and on the face an exfoliating gel scrub. Then I apply an herb-mint facial mask which I leave on for 10 minutes while I prepare the rest of my routine. I always use an after shave lotion with little or no alcohol, because alcohol dries your face out and makes you look older. Then moisturizer, then an anti-aging eye balm followed by a final moisturizing protective lotion."
Patrick is very insecure. The most telling scene is when he is in a board room with a bunch of other suits and they are all comparing business cards in minuted detail. Patrick burns with jealousy as someone pulls out a card better than his. He always compares himself to other people. "Marcus and I even go to the same barber, although I have a slightly better haircut." Another time he goes into a co-workers apartment and says, "There is a moment of sheer panic when I realize that Paul's apartment overlooks the park... and is obviously more expensive than mine."
Patrick has a fiancé, Evelyn, that he really cares little for. She is played by Reese Witherspoon, who seems to be auditioning for Elle in Legally Blonde. At one point, Patrick says to her, "I don't think we should see each other." The emotionally uninvolved Evelyn Responds nonchalantly, "But your friends are my friends and my friends are your friends. I don't think it would work."
So what does this self absorbed yuppy do with all of his frustrations and pent up feelings of inadequacies? He murders people. He hacks them up. He kills with the driest sense of humor. He tells one disbelieving girl, "You're a fucking ugly bitch. I want to stab you to death, and then play around with your blood." He invites a co-worker, that he is jealous of, over to his apartment that has newspaper on the floor and then proceeds to put a raincoat on, all the while discussing his fondness for Huey Lewis and the News.
Patrick has a habit of talking about pop music when he is in a lascivious mood. In one scene he is talking about Phil Collins and Genesis while giving instructions to two girls he is video taping and about to have sex with. "In Too Deep is the most moving pop song of the 1980s, about monogamy and commitment. The song is extremely uplifting. Their lyrics are as positive and affirmative as anything I've heard in rock. Christy, get down on your knees so Sabrina can see your asshole. Phil Collins' solo career seems to be more commercial and therefore more satisfying, in a narrower way. Especially songs like In the Air Tonight and Against All Odds. Sabrina, don't just stare at it, eat it."
The book, this movie is based on, made a social impact on the literary world as the liberal media thought it gave some gruesome insight into the stressed lives of 1980's Reaganites. The movie, however, made little to no impact. Perhaps it was a lack of interest in the "me" decade or the very mature scenes of sex and violence. I think it was the twist ending. When a movie has a surprise ending it is supposed to add to the film, not take away. This movie is worth seeing for Bale's performance and the dark humor, but the ending ruined the entire plot for me.
Did you enjoy Eric's review?
+
5
-
2
You may only thumbs up or thumbs down a review once.
Photos © Copyright Universal Pictures (2000)