Movie Review
Hondo
"Hondo Rides to the Rescue!"
(0)
Reviewed on:
November 27th, 2001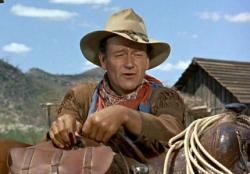 John Wayne in Hondo.
Hondo is a vintage John Wayne western from the early fifties. Running a tightly edited 83 minutes and originally filmed in 3-D and Technicolor it is also one of the better John Wayne westerns I have seen.
Wayne is Hondo Lane an army dispatch rider who once lived with the Apache's. He discovers a mother and her young son living alone in Apache territory and assumes the role of their protector. A romance quickly blossoms between the cowboy and the mother. Stage actress Geraldine Page made her movie debut opposite Wayne and even garnered an Academy Award nomination in the supporting actress category. Her acting chops definitely add to the realism of this movie.
The story is pretty standard stuff, up to and including the climactic showdown. Hondo finally convinces the mother to leave with him just as a small cavalry contingent rides out to do battle with the warring Apache's. The soldiers are nearly wiped out and soon Hondo, the mother, her son and the remaining soldiers are in a race for their lives with the Apache's in hot pursuit. At the end of the movie one of the soldiers makes the statement that a larger army will come back to slaughter the Indians, to which Hondo replies, 'That's a shame since the Apache way of life will be forgotten. And it's a good way.'
If you are in the mood for a fast-paced classic Hollywood western then look no farther. Ward Bond and James Arness costar.
Did you enjoy Patrick's review?
+
7
You may only thumbs up or thumbs down a review once.
Photos © Copyright Warner Bros. (1953)