Movie Review
5 Card Stud
A card cheat was hung... then all hell broke loose!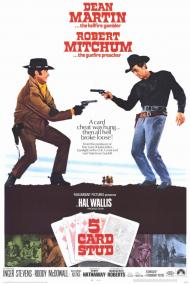 US Release Date: 11-22-1968
Directed by: Henry Hathaway
Starring
▸
▾
Dean Martin

,

as

Van Morgan
Robert Mitchum

,

as

The Rev. Jonathan Rudd
Inger Stevens

,

as

Lily Langford
Roddy McDowall

,

as

Nick Evers
Katherine Justice

,

as

Nora Evers
John Anderson

,

as

Marshal Dana
Ruth Springford

,

as

Mama Malone
Yaphet Kotto

,

as

Little George
Denver Pyle

,

as

Sig Evers
Bill Fletcher

,

as

Joe Hurley
Whit Bissell

,

as

Dr. Cooper
Ted de Corsia

,

as

Eldon Bates
Don Collier

,

as

Rowan
Roy Jenson

as

Mace Jones

Reviewed on:
February 28th, 2014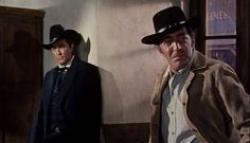 Robert Mitchum and Dean Martin in 5 Card Stud.
5 Card Stud is a rather obscure Western from 1968. It stars Dean Martin and Robert Mitchum in the Autumn of their acting careers. The plot revolves around a mild mystery and features some decent action. Really though, the presence of Martin and Mitchum is the main reason to watch what would be a B-movie without them.
Martin is the star and he was 50 years old when he made this film, but he still had that easy going charm of his, but it was now tinged with a touch of world weariness that works for the part. He plays Van Morgan, a gambler living in the small western town of Rincon, Colorado. When the film begins, he is in the middle of a card game late one night in a saloon. After one of the gamblers is caught cheating, the card game turns into a lynching party despite Van's best attempts to stop it. Van decides to blow town for awhile following this incident and he heads for Denver. Martin also performs the catchy title tune over the opening credits.
While Van is away, gold is discovered near Rincon and a host of strangers come to town, including the new pistol packing preacher played by Robert Mitchum. Also in all the hubbub of the gold strike, two murders take place, both of the victims being members of that opening card game. Van hears of the deaths from his old friend George, the bartender from the saloon where the card game took place. Suspecting that someone might come looking to kill him too, Van heads back to Rincon to try to discover who might be behind the killings.
One of the more interesting aspects of the film is its central mystery, but unfortunately, the identity of the killer is very easy to deduce. This doesn't detract from the overall enjoyment of the movie, but it does make the coy way the script tries to hide the culprit seem rather pointless.
The supporting cast is filled with recognizable character actors. Roddy McDowall plays the son of a local rancher. At first his effeminate, Englishness seems out of place, but he plays slimy so well that he soon overcomes it. His father is played by Denver Pyle. Yaphet Kotto, whose name you may not know, but you'll sure recognize his face, plays George.
Along with the main plot there's a superfluous love triangle between Van and the nice rancher's daughter and the local Madam who runs a barber shop/whore house combination. Martin has an easy charm with the ladies, but the chemistry between he and Inger Stevens as the madam is much stronger than it is between he and Katherine Justice, with whom he seems much closer to a father figure, or a much older brother. Fortunately the romance doesn't get in the way of the gunfights.
The film is directed by Henry Hathaway, who is another person connected with this film who you might not recognize by name, but will surely recognize his work. He has 67 directing credits to his name on IMDB, stretching from 1930 to 1974. He directed James Cagney in 13 Rue Madeleine, Marilyn Monroe in Niagara, and John Wayne in True Grit, among many, many others. His biggest contribution here is to keep the pace moving and letting his stars do their thing. He also directs the action scenes well, even if they don't truly break any new ground.
It is the pairing of Mitchum and Martin that provides the film's real joy. They both do great work on their own, but their spark when they share a scene is the movie's highlight. Martin wasn't a great actor, but he had charisma enough to play this part convincingly. Mitchum, with that great voice of his, had presence of a different kind. He was always able to play one of those characters where you weren't sure what he was capable of and the same is true here. Something about his darkness contrasting with Martin's smoothness made a potent combination.
There are very few Westerns that I've watched more than once, but this one I've seen several times over the decades and I've enjoyed it every time. It's not a classic by any means, but sometimes pure entertainment value trumps artistry.
Reviewed on:
September 19th, 2014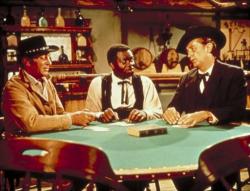 Dean Martin, Yaphet Kotto, and Robert Mitchum in 5 Card Stud.
5 Card Stud is like a mash-up of the 1945 Agatha Christie adaptation And Then There Were None and the 1950 film noir Dark City (Charlton Heston's film debut). The fact that all the members of the poker game are picked off one by one is reminiscent of And Then There Were None, while the basic plot of 5 Card Stud is a ripoff of Dark City. Only in that movie the guy who's being cheated at cards commits suicide and his psychotic brother seeks vengeance on the other card players.
The basic plot may be borrowed but the fact that this is a western whodunit is the most unique thing about 5 Card Stud. As far as I know there haven't been too many of those. Although the mystery is fairly weak since, as Scott pointed out, it isn't difficult to figure out who the killer is and it takes the Dean Martin character far too long to connect the dots.
The direction is quite good. But that's hardly surprising since, as Scott wrote, Henry Hathaway had a long and illustrious career as a director. He had been working in Hollywood since the silent era. He started out as an assistant director to Victor Fleming and Josef von Sternberg. His most famous work during this period would be as Fred Niblo's AD on Ben Hur. His last film was 1974's The Hangup. Hathaway specialized in westerns and he brings an experienced eye to 5 Card Stud.
Martin and Mitchum play an interesting game of cat and mouse. Neither was the world's most versatile actor but, again agreeing with my brother, they make a compelling duo. Martin's breezy charm contrasts nicely with Mitchum's stoic, larger than life screen presence. Both play their stock character. Martin's a womanizing gambler and Mitchum's an enigmatic preacher.
The supporting cast is memorable as well. Roddy McDowall is completely vile as the soulless Nick Evers. Ruth Springford gets a few decent scenes as the colorful saloon owner Mama Malone, a Thelma Ritter type. My favorite character is Little George played by Yaphet Kotto. His actions play a key role in Van Morgan's investigation. Inger Stevens is good as Lily Langford. In real life the Swedish actresses' life ended tragically as she took an overdose of sleeping pills in 1970, just two years after making this movie.
Scott's right, 5 Card Stud is no classic but it is pretty darn entertaining.

Reviewed on:
May 28th, 2015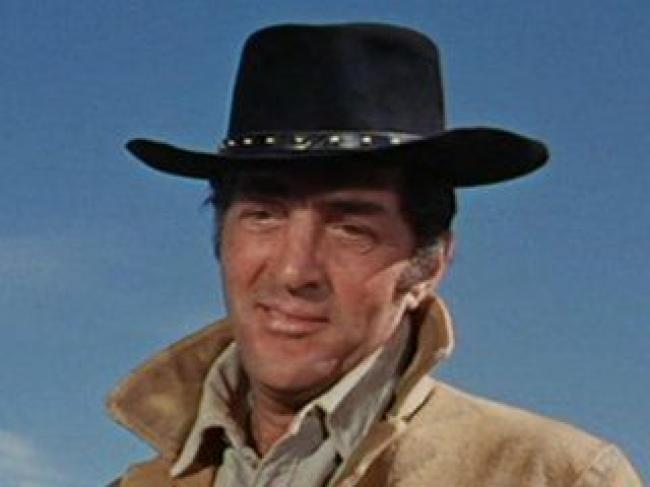 Dean Martin in 5 Card Stud
In the past, Dean Martin's charm had kind of eluded me. As a kid I watched some of his films because Jerry Lewis made me laugh. As an Italian singer/actor he seemed to always come in second to Frank Sinatra. After downloading the Sinatra/Martin live duet of "Guys and Dolls", I got it. Sinatra's singing sounds natural while Martin sounds like velvet. My brothers described his charm here as smooth and it showed in his singing as well as in his acting.
Martin was a decent actor but he was first and foremost, a movie star. Here he plays a gambling, drinking cowboy. Sure he is wearing a costume, but he seems in his element sitting in a bar playing cards and drinking. Come on, the tuxedos he wore in concert or for celebrity roasts were costumes as well. Martin never changed his look and rarely his persona for a film, Rio Bravo (1959) being his biggest stretch, where he made drinking not look glamorous. He always kept his hair the same, in a style that William Shatner seemed to base his toupees on.
Van Morgan is a role Martin could play in his sleep. Besides hanging out at bars, he has to charm some ladies but I wonder if sweet talking a prostitute is considered flirting or negotiating? He also occasionally has to do a fight scene. As a teenager, Martin was a professional boxer.
I found that I like Martin best when playing scenes with a wink and a smile, such as when he asks Inger Stevens what "Miscellaneous-$20" gets him at the barbershop/whorehouse. After Robert Mitchum explains to him that, "The funeral is for the living, Mr. Morgan. I'll say what his folks want to hear: that Nick Evers was a good son, a good brother, a loyal friend and a respected citizen." As he is referring to a cowardly backstabbing snake of a man, Martin asks, "You think you won't gag on all that?" The single best line though, belongs to Mitchum. After Roddy McDowall complains that a black man should have been buried in another grave, Mitchum states, "Well, they all look alike to the worms."
As Scott wrote, it is the pairing of Mitchum and Martin that provides the film's best moments. Their contrasting screen personas complement each other. Their screen presences are so vastly different from each other's that they make each other look like better actors when they share the same scene. As Patrick noted, these guys are playing their stock characters and it works. Martin's lounge singer image contrasted nicely with Mitchum's saggy eyed loner.
At its worst, 5 Card Stud is fairly predictable. It is, sort of, obvious who the killer is and we know which woman Martin will end up with. At its best are solid demonstrations of these two movie stars milking their celebrity reputations for a nice paycheck. As an added bonus, Martin croons the shit out of the theme song.
Photos © Copyright Paramount Pictures (1968)