Article
Comments for
The 84th Academy Awards Show
Written by Scott, Patrick, Eric
First Posted: February 27th, 2012
(0)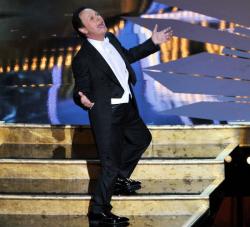 Billy Crystal returned for his 9th hosting gig.
Welcome back Billy Crystal! The 9 time host proved once again that he is perfect in the role and should be invited back every year until he decides he no longer wants to do it. He opened with his usual comedic montage of nominated films, which included being kissed by George Clooney, meeting Justin Bieber in a gentle dig at the Oscars trying to court younger viewers, before Tintining himself onto the stage. He then went into one of his trademark Oscar songs, commenting, "You didn't think I wasn't going to do this?" He would likewise reprise his, "What the stars are thinking" routine.
His jokes were spot on. One of his earliest and best was, "Nothing takes the sting out of these tough economic times like watching a bunch of millionaires giving golden statues to each other." Another amusing line, "After I saw The Help I just wanted to hug the first black woman I saw, which from Beverly Hills is about a 45 minute drive." He also threw in several jokes at Kodak's expense, who recently withdrew their sponsorship of the Academy Award theater because of financial problems, commenting "We're here at the beautiful Chapter 11 Theater."
Of all his introductions, his best was for Christian Bale, "A Dark Knight an American Psycho, a charismatic crack addict. You'll get to choose one on Super Tuesday." That was about as political as the show got. Bale also received the harshest commentary from Crystal when he continued, "....Academy Award winner -and be careful if you're in his eyeline- Christian Bale."
Crystal has the knack of poking fun without being mean. Something Ricky Gervais, who toned down his act for this year's Golden Globes, hasn't quite learned yet. Where Gervais seems like an outsider sniping at Hollywood, Crystal is an insider, which takes the sting out of comments as when he poked fun at Christopher Plummer's age.
The 82 year old Plummer became the oldest ever winner and he delivered one of the best acceptance speeches of the night. "You're only two years older than me, darling. Where have you been all my life?" Meryl Streep seemed genuinely moved at winning her third Oscar in 17 nominations for her role as Margaret Thatcher in The Iron Lady and Woody Allen won his third Best Screenplay statuette for penning Midnight in Paris. The notoriously reclusive filmmaker was a no show.
The producers attempted to give the ceremony a "Going to the Movies" theme, but it never quite gelled. The filmed inserts showing movie stars such as Barbra Streisand commenting on the movie going experience worked well, but it also produced the one moment that seemed out of place when Cirque De Soleil performed a routine about going to the movies that wasn't bad in and of itself, but served merely to slow the ceremony down. The change that sped things up the most was having the same presenters give out multiple awards, including the cast of Bridesmaids handing out the awards for all three short films.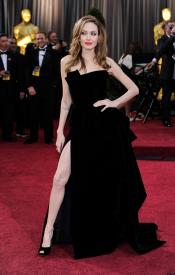 Angelina Jolie flashes some leg at the 84th Annual Academy Awards
It was two movies about the early days of cinema that were the big winners. Hugo, an American made movie that paid tribute to the early days of the French cinema, swept most of the technical awards, while The Artist, a French produced homage to early Hollywood, took Best Picture, Actor and Director, becoming just the second silent film in the history of the Academy to take the top prize and the first all black and white film to win it since 1960's The Apartment.
This wasn't the most eventful of Oscar ceremonies. There really wasn't that one water cooler moment, like Jack Palance doing one handed push-ups or Crystal coming on stage dressed as Hannibal Lecter. The closest the ceremony came was when Angelina Jolie flashed her leg in a thigh high split dress causing Twitter to light up like a Christmas tree or when Sacha Baron Cohen spilled "ashes" all over Ryan Seacrest on the red carpet preshow. Instead it just felt classy and familiar, like seeing an old friend after being separated for too long. It was good to see you Billy. Here's hoping it's not such a long time until we see you again.
Did you enjoy this article?
+
16
-
0