Article
Comments for
Rita Hayworth: The Love Goddess
Written by Eric
First Posted: November 23rd, 2003
(0)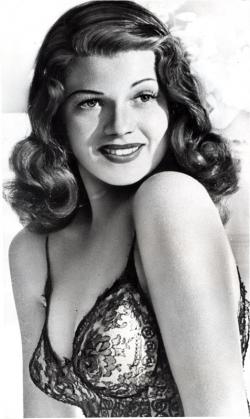 Rita Hayworth: sex goddess.
Rita Hayworth is timeless. Watch old movies and you see former sex symbols who really no longer have much appeal. Betty Grable had grandma hair. Jayne Mansfield looked like an overweight prostitute. Audrey Hepburn had class but no curves. Greta Garbo was always considered a beauty but she comes across as dull. Of all the classic female sex symbols, Rita Hayworth stands out. With the exception of Marilyn Monroe, no pre 1960's movie sex symbol has left such a legacy as Rita Hayworth.
Born Rita Cansino, Hayworth changed her name and look to appear more Caucasian. She had electrolysis done to give herself a bigger forehead and she dyed her hair red.
She made musicals, comedies, dramas, westerns and film noir. She was the sexy ingénue and the tempting seductress. Rita Hayworth could be all things to all men. She was a popular pin up for the armed forces during World War II.
Often, in musicals, she was the near innocent girl who fell in love with the likes of Fred Astaire or Gene Kelly. She played a Greek goddess and a prostitute on the run. However, It was in Gilda, that Rita Hayworth cemented an image that will forever keep her memory alive.
How many sex symbols have actually carried a dramatic film all by themselves? Sure, Glenn Ford is in Gilda, but who has ever watched it for him? Gilda is a sexual creature who is fully aware of her effect on men. She teases and flirts to exhaustion, and she looks damn good doing it to. Not until Sharon Stone's break out performance in Basic Instinct, did an actress do such a like character.
Rita Hayworth is so amazingly gorgeous as Gilda that one of her husbands, Prince Ali Kahn, fell in love with her watching it. The marriage didn't work and thus her famous line that Julia Roberts uses in Notting Hill, "Men go to bed with Gilda and wake up with me."
Rita Hayworth's look has lived on in movies. In 1954's Beat The Devil, Humphrey Bogart's captured character promises an Arab Captain that he will introduce him to Hayworth if he will let him go. Hayworth's photos adorn the Captains wall.
Goldie Hawn's character dyes her hair red in 1981's Private Benjamin. When her mother sees her, her first remark is to call her Rita Hayworth.
Even sexier in color.
In 1990's Memphis Belle, a distraught World War II airmen attempts to give away his treasured possessions. He offers up his Rita Hayworth poster. Interesting, is that the writers of this movie chose Rita over 40's pinup Betty Grable.
In 1992's A League of their Own, Geena Davis does a Hayworth impersonation. One of Hayworth's early pinups was a side view of her on a bed wearing a sexy nightgown. Davis's character had Hayworth's hairstyle and color. In one scene, she is sitting profile on a bed in a nightgown.
The Hayworth poster Davis imitates is prominently featured in 1994's The Shawshank Redemption. The movie is based on Stephen King's story, "Rita Hayworth and the Shawshank Redemption." Hayworth also appears in the movie when the prison population watches Gilda.
Mariah Carey appears to channel Rita Hayworth in her 1998 music video "I Still Believe," Carey has Hayworth style hair and wears a top that resembles the top of Hayworth's famous dress from Gilda. And what is Carey doing in the video? She is flirting and entertaining soldiers, much as Hayworth did some 50 years earlier.
Rita Hayworth was nicknamed "The Love Goddess." She did the sexy, open mouth Monroe smile before Monroe. She could dance like a classy stripper. She had a body that dreams were wasted on. Rita Hayworth was one of the most desirable women in the world.
Did you enjoy this article?
+
5
-
0