Article
Comments for
Peter Lorre: The Greatest Supporting Actor of His Time.
Written by Eric
First Posted: March 14th, 2004
(0)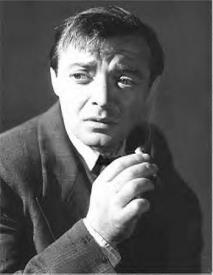 Peter Lorre
Peter Lorre rarely had a starring role. Yet, Peter Lorre's presence in film is amazingly strong. His voice and mannerism have lasted longer than some of his movies. Most film buffs could do some sort of imitation of Peter Lorre. His image is that memorable.
Peter Lorre, whose real name is Ladislav Loewenstein, was born June 26th, 1904, in Hungary. His first film was Fritz Lang's M, in which Lorre played a child serial killer. In 1933, Lorre escaped Nazi Germany and fled to England. There he made The Man Who Knew Too Much, directed by Alfred Hitchcock.
He would then come to Hollywood where he made many unmemorable films of the 1930's. He tried unsuccessfully to play the lead in Hunchback of Notre Dame. His big success at this time was playing the Japanese detective Mr. Moto. So popular was this role, that Lorre would make 9 Mr. Motto movies until 1939.
The 1940's gave Lorre his most memorable roles. He had a small role in Clark Gable's 1941 They Met in Bombay. He played a Chinese man. Lorre got typecast a lot. That same year, Lorre appeared in The Maltese Falcon, with Humphrey Bogart, as a slimy villain.
The next year he again worked with Bogie, this time as the thief Ugarte, in Casablanca. His screen time is a mere few minutes, yet you remember his character. Casablanca arguably has the greatest dialogue in film history. Lorre's best line is, "You know Rick, I have many a friend in Casablanca, but somehow, just because you despise me you're the only one I trust."
He would appear in many other classic 1940s movies. He played a bad guy in My favorite Brunette, with Bob Hope. He was excellent in Arsenic and Old Lace, with Cary Grant.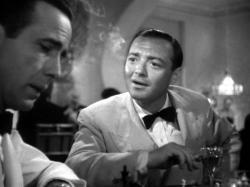 Peter Lorre stealing a scene in Casablanca.
1954 was a busy year for Lorre. He reunited with Bogart and John Houston in Beat The Devil. He made Disney's 20,000 Leagues Under the Sea. Lorre, also in 1954, became the very first James Bond villain. He was in a live television performance of Casino Royale.
He was one of many stars to do a cameo in Around the World in 80 Days, Playing a Japanese steward. By the 1960's he was playing parody's of himself, such as in 1963's The Raven with Vincent Price.
He became such a strong caricature that he found himself in LooneyToons cartoons. The Peter Lorre stereotype of the mad doctor became acemented image. His animated form can even be seen in a small part in2003's Looney Toons Back in Action.
His last film was Jerry Lewis's The Patsy. Four days after it was completed, he died of heart failure. He spent much of his life battling an addiction to morphine. He married three times. He had one child, an illegitimate daughter.
Typecasting plagued his career. He was stuck in many small roles. Yet, no actor has ever done so much with so little. Long after Casablanca, you can still hear him yelling to Rick for help. He stole scenes from some of the greatest movie stars of his time. Peter Lorre was simply the greatest supporting actor of his time.
Did you enjoy this article?
+
10
-
0