Article
Comments for
Movie Debuts: The Long and Short of It
Written by Scott, Patrick, Eric
First Posted: March 25th, 2012
(4)
Harrison Ford in his very first movie role.
Most movie stars work long and hard to become household names with the right to demand million dollar salaries. The majority of stars made their film debuts in tiny dubious roles and if they were lucky they even got a line of dialog. Some squandered their chances, while others made the best of them.
Some ten years before Star Wars put him on the path to being one of the biggest movie stars of all time, Harrison Ford made his film debut as a Bellhop Pager in one scene and spoke one line in Dead Heat on a Merry-Go-Round (1966). Matt Damon made his first screen appearance in a blink and you miss him moment in the early Julia Roberts' film Mystic Pizza (1988). That is Damon at the dinner table.
A rare few make their film debuts in starring roles. This is mostly due to them already being famous in another entertainment medium, such as the music industry. Recording artists such as Elvis Presley, Diana Ross, Olivia Newton-John and Whitney Houston all began their movie careers in starring roles. Even Helen Reddy got a starring role in Pete's Dragon in 1977.
Montgomery Clift and Marlon Brando are examples of actors that headlined their first movies after already becoming stars on Broadway. Both Bette Davis and Katharine Hepburn were likewise stars on the Great White Way before moving West to Hollywood. Although they would end up being the two most revered movie actresses of the 20th Century, their debuts were at opposite ends of the spectrum. Hepburn made an auspicious debut headlining George Cukor's Bill of Divorcement (1932) while poor Miss Davis became a star the hard way after beginning her career in a small part in a forgotten picture called The Bad Sister in 1931.
Julie Andrews and Barbra Streisand had proven their versatility by conquering the stage, recordings, and the small screen before making their movie debuts in Mary Poppins (1964) and Funny Girl (1968) respectively. Both ladies would accomplish the extremely rare feat of winning Oscars for Best Actress in their very first movie outings. Singer Jennifer Hudson didn't win American Idol but she did win an Oscar for her debut movie in Dream Girls (2006), albeit in the supporting category.
Television, in fact, has launched many movie star's careers, Saturday Night Live doing the lion's share. While on SNL, John Belushi made his film debut in Animal House (1978). Eddie Murphy made his big screen debut in 48 Hrs. (1982). Mike Myers made his in a spin off from the SNL skit, Wayne's World (1992).
Often a child actor will make their film debut in a lead role. As children tend to grow up, there is always a need for new child actors. After some television work, Tommy Kirk made his film debut starring in Old Yeller (1957). Natalie Portman made her movie debut in the lead actress role in Leon: The Professional (1994) when she was just 13. Not all child actors with a big debut continue on the "A" list. In Witness (1984) Lukas Haas stole every scene he appeared in when he made his film debut as the character the title refers to. He has continued to work in film and other media but has never again made as much of an impact as he did with his first role.
The single greatest film debut by a child has got to be that of Tatum O'Neal in Paper Moon (1973). At ten years of age she became the youngest person to win a Best Supporting Actress Academy Award. A feat that Anna Paquin would almost match nearly 20 years later when she won the same award for her debut role in The Piano (1993) at the age of eleven. Where O'Neal's career didn't last beyond her teen years, Paquin has found continued success in the X-Men films and on HBO's True Blood.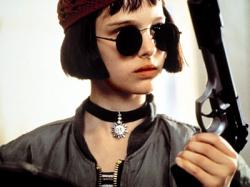 Natalie Portman made an impact in her film debut in The Professional.
Child actors aren't the only ones to make a splash in their first film, but then find it difficult to sustain that success. Mark Hamill made his film debut in Star Wars (1977). Even though he was the lead in one of the biggest films of all time, he was not able to maintain his star status. He made other less successful films and eventually became noted for his voice-over work. I guess when you start at the top there is only one direction you can go in.
Often debuting in a supporting role can lead to bigger things. Oprah Winfrey made her film debut in The Color Purple (1985) and earned a best supporting actress nomination. Madeline Kahn made her first screen appearance in What's Up Doc? (1972) and nearly stole the film from its stars, Barbra Streisand and Ryan O'Neal.
Some stars make big splashy debuts with their name above the title while others spend years struggling to make a name for themselves in bit parts. In the end one thing is certain. Movie debuts are rather like sex. It isn't so much the size of your part that counts as much as how you work it!
Did you enjoy this article?
+
17
-
0