Article
Comments for
Hollywood's Ultimate Survivors
Written by Patrick
First Posted: September 23rd, 2011
(0)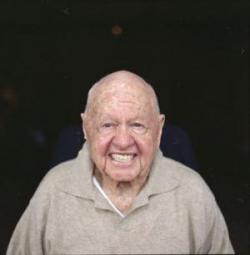 Happy 91st Mickey!
Today, September 23, 2011, is Mickey Rooney's 91st birthday. He represents the ultimate survivor from the Golden Age of Hollywood. Mickey made his movie debut in 1926 at the tender age of 5 playing a midget in the silent short Not to Be Trusted. His latest screen appearance is in this November's The Muppets, giving him a remarkable, record-setting 85 year movie career.
You probably know that Mickey is still alive as well as Kirk Douglas (94), Eli Wallach (95) and Ernest Borgnine (94), all of whom remain active in the film industry to this day. I stand in awe of these relentlessly persevering performers.
I would like to take a moment to recognize a few old time stars that you may not even realize are still here…
Swimmer Esther Williams is still here having recently celebrated her 90th birthday.
Broadway Baby Carol Channing (also 90) is alive and kicking.
The stunningly beautiful Maureen O'Hara has yet to exit the stage at 91.
Lollipop Guild member Jerry Maren (91) (he handed the candy to Dorothy) has yet to set off down that Yellow Brick Road to eternity.
Musical stars Louis Jourdan of Gigi fame and the last surviving Andrews Sister, Patty are both still breathing, at 92 and 93 respectively.
Pioneering female stand-up comic Phyllis Diller is still laughing, while Zsa Zsa Gabor, despite her many physical ailments, is still around. Both women are 94 years old.
Harry Morgan, of Dragnet and MASH fame is now 96.
And then there are the Oscar winning ladies. Celeste Holm (94) and sisters Joan Fontaine (94) and Olivia de Havilland (95) are still with us. Which brings us to back-to-back Oscar winner Luise Rainer, who turns 102 next January.
We three movie buffs are now in our mid-40's. I find it comforting to know there are still movie stars alive today that were older than we are now when we were mere kids. I wish them all many happy returns…

Did you enjoy this article?
+
25
-
0