Article
Comments for
Helena Bonham Carter Gets Her Way
Written by Eric
First Posted: October 7th, 2005
(0)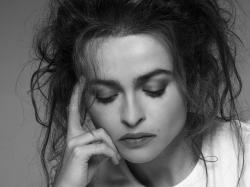 From period-piece poster girl, Helena Bonham Carter's career has moved in unexpected directions.
Helena Bonham Carter is first and foremost too long of a name. But when you're the great granddaughter of a former British Prime Minister, Herbert Henry Asquith, and the great niece of a Baroness, Liliane de Rothschild, a pretentious sounding name seems appropriate. Helena was first noted for playing roles of the British upper class but has gone on to explore many different types of films.
Helena was born May 26, 1966. Her first theatrical movie role was in Lady Jane, playing the doomed young Queen. She then filmed A Room with a View. It was filmed after Lady Jane but was released first in 1985. She was so convincing in these films that it lead to many "costumed" roles. She was Mickey Rourke's leading lady in 1989's Francesco. She played Ophelia to Mel Gibson's Hamlet in 1990. She starred in James Ivory's most successfull film Howards End in 1992. She seemed to very much specialize in playing women of substance from days gone by.
In 1994, Helena again made a costume piece but it was far removed from anything she had done before. She starred in Kenneth Brannagh's Frankenstein. The two became lovers and had a 5 year relationship. Brannagh was married to Emma Thompson when they began filming Frankenstein.
Done with the costumed dramas, Helena moved into comedies. She co-starred in Woody Allen's Mighty Aphrodite in 1995. She played a cross dresser in Shakespeare's Twelve Night: Or What You Will(1996). She worked again with Brannagh in The Theory of Flight in 1998.
In 1999, Helena made a film about as far removed from a Merchant/Ivory film as you could get. She starred in Fight Club with Brad Pitt and Ed Norton. She has the most remembered line from the movie, "My God. I haven't been fucked like that since grade school."
In 2001 Helena continued to play "different" roles than she was first known for. She played a monkey in Tim Burton's Planet of the Apes. During filming, she began a relationship with Burton. Burton was engaged to actress Lisa Marie, whom he had featured in his films since 1994, at the time. Helena has had to answer the home wrecker question more than once in interviews.
Now having done many different roles Helena spent the next couple of years revisiting some genre's. She did the comedy Novocaine in 2001 with Steve Martin. She did the period piece The Heart of Me in 2002 and then the drama Till Human Voices Wake Us in 2003. None were big in the United States.
In 2003 Helena teamed up with her boyfriend Tim Burton for one of his best films, Big Fish. In 2005 they again worked successfully together as Helena played Charlie Bucket's mother in Tim Burton's directed Charlie and the Chocolate Factory. She was now into the family film roles on screen and in real life, she gave birth to their son on October 6, 2003. Helena added her voice to Burton's The Corpse Bride as well as Wallace and Gromit: The Curse of the Were-Rabbit. In an interview to promote Wallace and Gromit, Helena said that Burton was not, at first, happy that her voice would be in his and a competing animated film, but as Helena said in the interview, "I got my way."
Helena Bonham Carter's screen acting career has gone through many stages. From period pieces to comedies to family films, and everything in between, with the exception of musicals. Helena's ever evolving career has proven to have greater range than what people may have first thought of her early on. Apparently she often gets her way.
Did you enjoy this article?
+
2
-
0